Putin's 'Absurd' Ukraine War Reasoning Would Spark Centuries of War: Scholz
German Chancellor Olaf Scholz said Sunday during a speech in Berlin that Russian President Vladimir Putin's reasoning for his invasion of Ukraine could spark centuries of war.
Scholz said that the Russian president launched the war for "completely absurd" reasoning, Deutsche Welle reported, and added that Putin has previously said that Belarus and Ukraine "should not actually be independent states" because of their alleged historical association with Moscow.
However, Scholz said that going after such reasoning will not allow nations to "get out of wars for the next 200 years."
The chancellor also said that NATO "was never a threat to Russia," and that the war in Ukraine shouldn't further escalate. Scholz then explained that Putin had long planned for this invasion even before it began in February.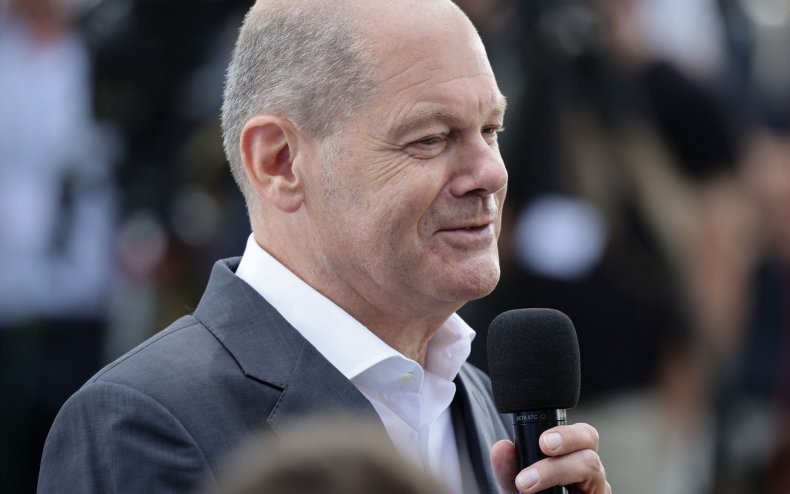 "This is a war that Putin, Russia, started, and clearly with the intention of conquering its neighboring country – I think that was the original goal," said Scholz, according to Deutsche Welle.
The chancellor added that Russia is currently focused on gaining territory in Eastern Ukraine, according to Globe Echo.
"Putin actually had the idea of ​​swiping a felt-tip pen across the European landscape and then saying, 'This is mine and this is yours,'" Scholz said, adding that Germany will not accept that, but will continue having dialogues with Putin.
In February, Germany halted the $11 billion Nord Stream 2 gas pipeline project with the Kremlin, which would have increased its supply of Russian gas, after Putin announced that Moscow would recognize the independence of self-proclaimed "people's republics" of Donetsk and Luhansk in Ukraine.
"We need to reassess the situation also with regard to Nord Stream 2. It sounds very technocratic but it is the necessary administrative step in order to stop certification of the pipeline," Scholz said at the time.
Echoing some of Scholz remarks, biographer Philip Short, who penned a biography about Putin, said earlier this month in a piece he wrote for Time that the Russian president has long had a "fixation" on Ukraine, which became officially independent in 1991 after breaking with the Soviet Union.
The biographer also said that Putin's first major political defeat in his presidency was caused by Ukraine when the Eastern European country saw Orange Revolution protests in late 2004 that prevented Kremlin-backed candidate Viktor Yanukovych from securing the Ukrainian presidency.
Putin and other Russian officials attempt to justify their so-called "special military operation" in Ukraine by bizarrely claiming that Ukraine is led by "neo-Nazis" and needs to be "de-Nazified."
In reality, Zelensky is Jewish, who had family members die during the Holocaust that was perpetuated by the Nazis during World War II. He was elected with about three-quarters of the vote in 2019, when Ukraine's prime minister was also Jewish, which would counter Russia's claims that Ukrainians have adopted a "Nazi" ideology.
Newsweek reached out to the Russian foreign affairs ministry for comment.