Putin's Rally Was 'Best Attempt to Look Like Donald Trump,' Hannity Says
Fox News personality Sean Hannity says Vladimir Putin's stadium-packed Moscow rally mimics events held by former President Donald Trump, who has previously expressed admiration for the Russian leader.
Hannity suggested during his show Friday that Putin was taking a page out of Trump's playbook to rally public support for his invasion of Ukraine. However, in making the comparison, Hannity disparaged Putin, as conservative political and media figures have continued to sour on the Russian leader.
"During a big manufactured pro-Putin rally in Moscow, his best attempt to look like Donald Trump, there was some embarrassing technical difficulties during Vladimir's big speech," Hannity said, in reference to reports that attendees may have been forced to attend.
Putin on Friday held a rally in Moscow to mobilize support for his invasion of Ukraine, which has largely stalled after three weeks. Footage of the rally showed the stadium decked out in the Russian tricolor flags. Putin, dressed in a winter coat, stood in front of a sign reading, "For a world without Nazism," a reference to his stated aim of seeking to "denazify" Ukraine, a rationale dismissed by Western powers.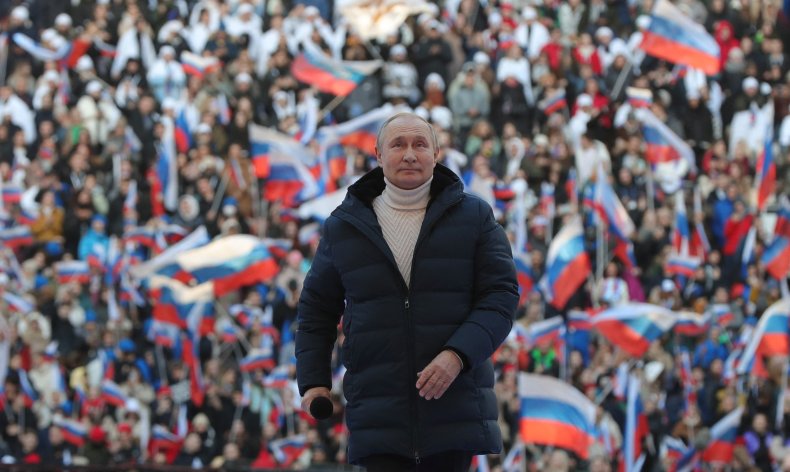 "We know what we need to do, how to do it and at what cost," said Putin, "and we will absolutely accomplish all of our plans."
Moscow police said 200,000 people were in attendance at the rally. However, the Associated Press (AP) reported that thousands were coerced to attend the rally, claims that have yet to be independently verified.
Large, boisterous rallies at stadiums and other venues were a defining trait of Trump's 2016 and 2020 campaigns for president, with the former reality TV star often boasting of the size of his crowds.
Earlier on Friday, Hannity said on his radio show that Putin was "channeling his inner Donald Trump," according to progressive watchdog group Media Matters for America.
"[Putin] had a what looked like, it almost looked like the big house in Michigan—their football stadium I think holds 110,000 people," said Hannity. "Putin had a massive Moscow rally. By the way, if you didn't show up you probably got in trouble. My only guess, I'm sure many people showed up just out of fear. That's what authoritarianism is all about, and we should know that by now."
Hannity has blasted Putin since Russia invaded Ukraine, saying last month the autocratic leader needed to be removed from power "by whatever means necessary."
Trump has refrained from criticizing Putin, even after other Republicans who previously spoke positively of the Russian leader have reversed their stances as the U.S. public has rallied to support Ukraine. Since the invasion, Trump has continued to praise Putin's intelligence and savvy.
Even when Hannity asked Trump during an interview earlier this month if he considered Putin "evil," the former president did not directly answer the question.
Newsweek has reached out to Trump for comment.