Ukraine War Isn't Total Catastrophe for Putin
A year into the conflict in Ukraine, Russia's war might not be a total failure.
When Russia President Vladimir Putin launched his invasion of Ukraine on February 24, 2022, he expected an easy victory. Russia anticipated Kyiv to fall within days and to gain full control over Ukraine in a matter of weeks.
The war, however, has appeared to not go as Putin had planned. Still, Russia's military efforts have not been a complete catastrophe.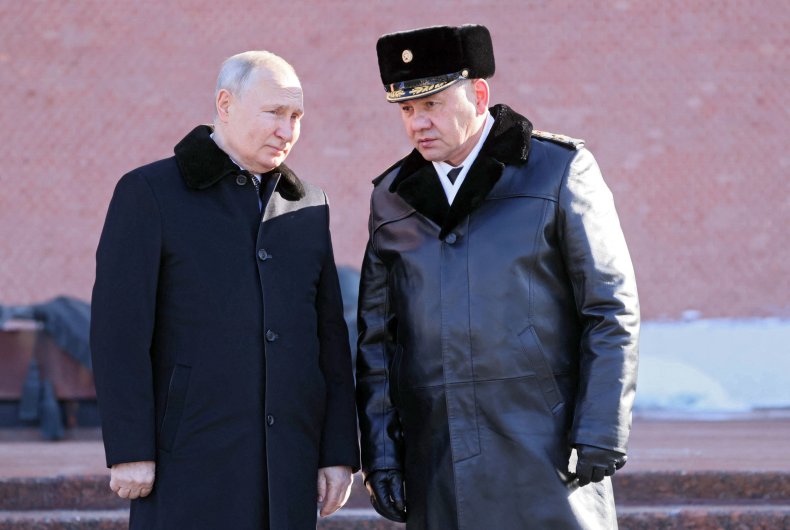 Russian Military Failures
Retired U.S. Lieutenant General Mark Hertling wrote a recent op-ed in the Washington Post outlining Russia's failures in each of the five phases of the war.
He said Russia's military capabilities have been "overestimated" and its inability to adapt has hindered its success on the battlefield.
"Ukraine's armed forces have admirably adapted in each phase of this fight, learning lessons from training they received over the last decade, and from the scars earned on the battlefield itself," he wrote. "And Russia has repeatedly demonstrated an inability to do the same."
According to the Defense Ministry of Ukraine, Russia has lost more than 3,300 tanks, 6,600 armored personnel vehicles, 2,363 artillery vehicles, about 300 military jets, 287 helicopters, 873 cruise missiles, 18 warships and boats, and about 146,820 personnel since the war began one year ago.
Significant casualties have been reported on both sides.
Russia's Economic Losses
Putin has also spent a lot of money to fund his so-called "special military operation," with the price tag for his military efforts estimated in the trillions.
Boris Grozovski, a Russian economics expert from the Wilson Center think tank in Washington, D.C., estimated that Russia's military expenditures continue to rise rapidly and are estimated to already have surpassed $9 trillion.
Grozovski told Newsweek that the entire Russian government spending plan in 2022 was about 23.7 trillion rubles ($346 billion). Of that, about 3.5 trillion rubles ($46.1 billion) was spent militarily and 2.8 trillion rubles ($36.9 billion) went toward police and security services (FSB).
Sean Spoonts, editor-in-chief of Special Operations Forces Report (SOFREP), told Newsweek that Russia could be spending as much as $900 million per day on war efforts.
Besides the high cost to fund the war, Russian has also taken an economic hit after Western allies hit the Kremlin with numerous sanctions.
The European Union is preparing its 10th sanctions package against Russia and the United States announced Friday that it will target 22 Russian individuals and 83 Russian entities with a new round of sanctions and other efforts to ensure that Russian cannot evade the economic measures.
"Over the past year, we have taken actions with a historic coalition of international partners to degrade Russia's military-industrial complex and reduce the revenues that it uses to fund its war," U.S. Treasury Secretary Janet Yellen said in a statement. "Our sanctions have had both short-term and long-term impacts, seen acutely in Russia's struggle to replenish its weapons and its isolated economy."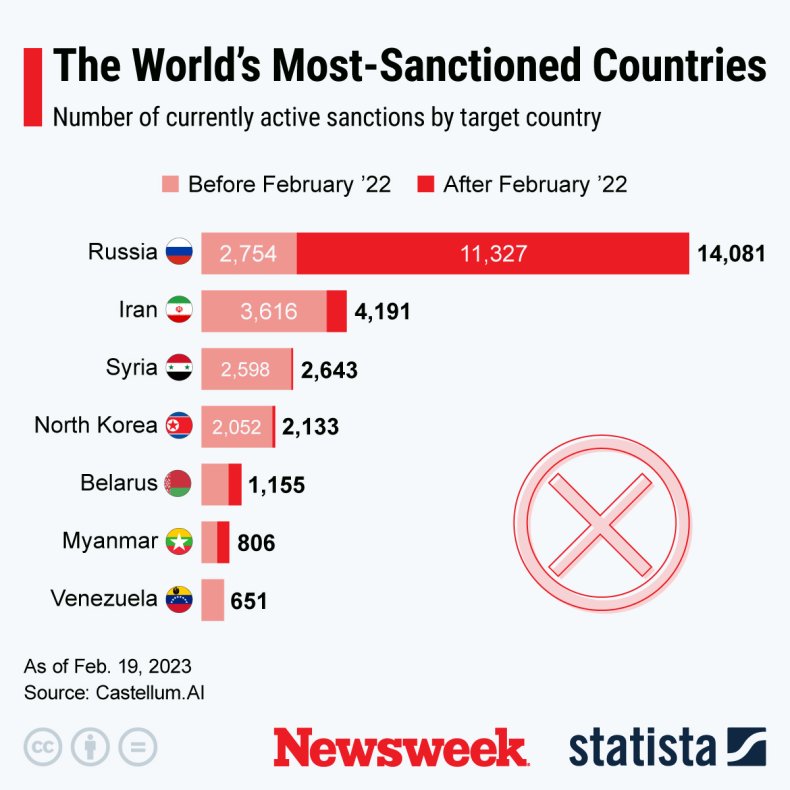 https://www.statista.com/chartoftheday/
Global Economic Issues
Despite the target on Russia, almost every country has faced economic issues since the war in Ukraine began.
U.S. President Joe Biden has continued to blame Putin's war for bolstering inflation.
"Inflation has been a global problem because of the pandemic that disrupted supply chains and Putin's war that disrupted energy and food supplies," Biden said during his State of the Union speech on February 7.
The war raised the price of food, natural gas and wheat across the globe, pushing many countries to the brink of recession.
According to Statista, the March 2022 forecast for the 2022 global inflation rate was increased by nearly 3 percent compared to projections last February due to the Russian invasion.
From December 2021 to June 2022, GDP growth expectations were lowered for many European countries as a result of the war, Statista reported.
For 2023, the global economic outlook is a little more optimistic.
The International Monetary Fund (IMF) raised its 2023 global growth outlook slightly due to "surprising resilient" demand in the United States and Europe, an easing in energy costs and the reopening of China's economy post-COVID-19 restrictions.
The IMF said global growth would still fall to 2.9 percent in 2023, down from 3.4 percent in 2022. Its latest World Economic Outlook forecasts, however, show an improvement from the October prediction of 2.7 percent growth in 2023 with warnings that the world could easily tip into recession.
Russia Has Gained, Then Lost, Territory
Before February 24, 2022, Russia controlled parts of the Donetsk and Luhansk regions, including the area around the cities of Donetsk and Luhansk. It also continued to claim control over annexed Crimea, which remains a contested territory.
Since then, Russia has made significant territorial gains in Ukraine. The Institute for the Study of War (ISW) reported that the assessed Russian control has greatly increased. Russia now occupies most of the Donetsk, Zaporizhzhia and Kherson regions and almost all of the Luhansk region. That includes much of the territory Russia annexed in the Luhansk, Donetsk, Zaporizhzhia and Kherson regions in September.
As of February 22, 2023, Russia holds 41,496 square miles of territory in Ukraine, about 17.9 percent of its total. Ukraine considers the land "temporarily occupied."
The territory Russia holds is roughly doubled what it was before the war began, but it is far less than what Russia controlled earlier.
"In fact, while Russia currently holds [about 25,480 square miles] more land than it held before the invasion, it has lost roughly [20,463 square miles] from its peak," ISW told Newsweek in a statement.
According to ISW, Russia held about 62,467 square miles at its peak control last March.
Since last fall, Russia has not made many territory gains, but Ukrainian officials said they expect Russian forces to launch a new offensive around the anniversary of the invasion.
Thomas Schwartz, a Vanderbilt University professor and historian of U.S. foreign relations, told Newsweek that Putin aims to hold and regain territory in regions that Russia annexed last fall in a new offensive.
"I would think it's more likely that [Russia's] going to continue to pound away in the eastern provinces and try to regain territory there and try and solidify their hold on the four provinces that they've annexed to Russia rather than a campaign that might be designed to go further into Ukraine," he said.
Meanwhile, the Ukrainians will "gamble" as soon as they receive new shipments of Western weapons to try to make "substantial attacks, particularly trying to regain territory that Putin has gained since 2014," like Mariupol.
Global Condemnation
The United Nations General Assembly recently voted to again condemn Russia for its invasion.
In total, 141 countries supported a resolution calling for Russia to leave Ukraine. Seven countries were against the resolution, including Russia, Syria, North Korea and close Russian ally Belarus. There were also 32 abstentions, including China, Iran, India, Kazakhstan and Vietnam.
While most countries condemned Russia, nations representing a total combined population of 5 billion did not.
Schwartz joked that there is an old saying that "diplomacy is, in the end, dependent on results on the battlefield."
He said "the UN will vote what it votes" and the countries that abstained are likely waiting to see what happens on the frontlines.
"If Ukraine makes gains, I think that could have some impact. But if Russia makes gains, that could also," he said. "So in a way, I think things like UN votes are pretty irrelevant."
Putin's Popularity
While Putin might be a pariah globally, he remains popular among his own people.
In January, more than 80 percent of Russians approved of the job Putin is doing, according to Statista. That's an increase from 77 percent approval in September following his mobilization order.
Before the invasion began, Putin's approval rate was about 70 percent. From March to August 2022, it was about 83 percent. His rating has been at 82 percent since December.
Putin held a pro-war rally Thursday when he touted the invasion as a crusade for the Motherland.
"We have gathered here, in fact, for a festive event, but I know—just now I was listening to the country's top military leadership—that right at this moment, there is a battle going on on our historical borders for our people," Putin said. "It is being led by the same courageous fighters who are now standing next to us here. They fight heroically, courageously, bravely. We are proud of them. We are proud, so three cheers in their honor!"
Schwartz said he is not surprised by Putin's popularity among his own people. He said people think Putin should lose popularity amid reports that the war is not going as planned, Western sanctions will continue and tens of thousands of Russians have died.
"But we forget that he does have control of the media, the ability to present the war as this existential threat from the West and call on Russia history and the rest," Schwartz said.
"And the sanctions have been evaded, in a sense, by trade with China and India and other countries. So I guess the anticipation that Putin would suffer at home certainly isn't there."
Newsweek reached out to the Office of the President of Ukraine, Ukrainian Armed Forces and Russian Defense Ministry for comment.
Correction, 2/27/23, 4:45 a.m. ET: This story was updated to correct a reference to the "United National General Assembly" to the "United Nations General Assembly."
Update, 2/24/23, 4:32 p.m. ET: This story has been updated with comment from Thomas Schwartz.