Camilla Tried to 'Help Meghan Adjust' to 'Restrictions of Royal Life'—Book
Queen Camilla attempted to take Meghan Markle under her wing when she joined the royal family, "offering advice" that "landed on stony ground," according to a new biography written by a vocal critic of the duchess.
Angela Levin, who shadowed Prince Harry for a year before his marriage while writing the book Harry: A Biography of a Prince, has written in her new project, Camilla, Duchess of Cornwall: From Outcast to Queen Consort, that Meghan's introduction to the royal family in 2018 was welcomed "warmly" by Harry's stepmother.
Meghan and Harry were seen together with the new queen and other members of their family, side-by-side, for the first time this month following the death of Queen Elizabeth II on September 8.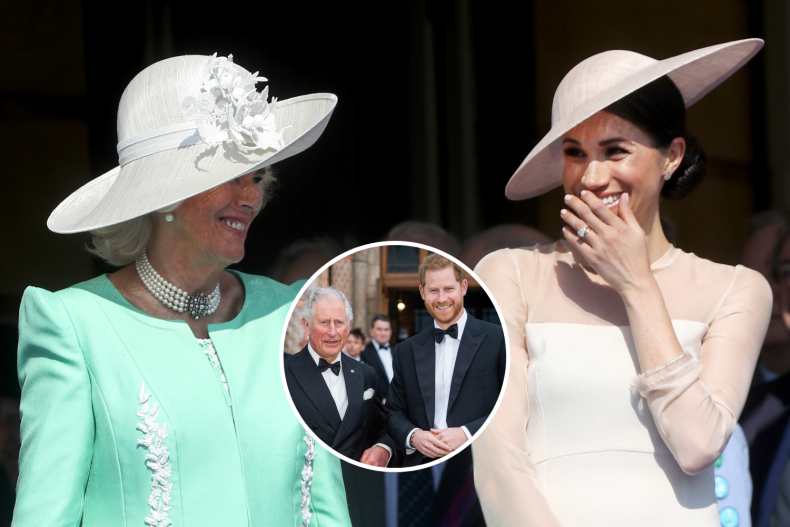 The Sussexes were in Britain on a pre-arranged trip to attend charity events when the queen's death occurred. The couple's attendance at a viewing of floral tributes with the Prince and Princess of Wales at Windsor Castle, and the king asking Harry to appear in uniform for a special vigil before the state funeral has lead some to speculate about a royal truce being drawn up between members of the fractured family.
Whether this truce holds as the Sussexes return to the U.S. now remains to be seen.
In an extract published by The Daily Telegraph of Levin's new work, she writes that Camilla treated Meghan in much the same way she had Kate when she was new to royal life in 2017.
"The Queen Consort knows more than anyone how difficult it is to become accepted into the Royal family and wanted to help any newcomer," she said.
"This worked well with Catherine. Camilla helped her familiarise herself with some of the customs, antiquated protocols and restrictions of royal life."
"Similarly, Camilla warmly greeted Meghan when she came to London," she continued. "Prince Charles enjoyed talking to her, especially about the theatre and arts. Camilla felt the experience she had from coping with public abuse, press insults and frostiness from the Royal family put her in a good place to help Meghan adjust to the restrictions of royal life and was equally keen to help Meghan find her feet."
At the time of her engagement in November 2017, Meghan said that members of the royal family had been "amazing," with Harry adding that the "family together have been absolutely, you know, a solid support."
Of this period, Levin wrote of Meghan and her future stepmother: "They had lunches together and Camilla spent a lot of time offering advice on how to handle the pressure.
"She tried to be supportive, was happy to be her mentor and took her out for private lunches. A source at the time told me: 'She doesn't want to see anyone struggling and she is fond of Meghan.'"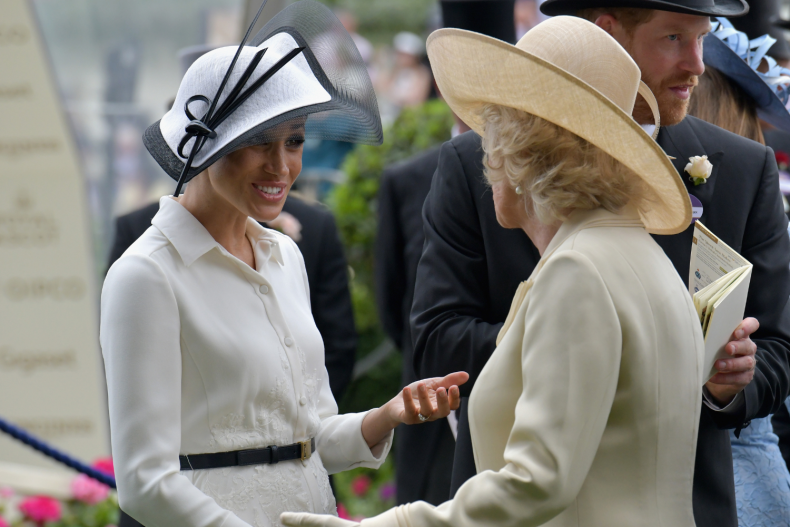 Despite the positive sentiments expressed in her engagement interview, the author claims that, for whatever reason, Meghan seemed "unresponsive" to Camilla.
"Meghan, however, seemed bored, was unresponsive and preferred to go her own way, with the result that the Queen Consort's advice landed on stony ground," she said.
One example of Camilla's outreach to Meghan provided by Levin, is a lunch that is claimed to have taken place at Highgrove House, the country retreat of King Charles III, purchased in the 1980s.
"Meghan had a reputation for being a hard worker. Her first solo project since joining the Royal family was contributing to Together: Our Community Cookbook, showcasing more than 50 recipes from women from the Grenfell community, published a year after the Grenfell Tower fire of 2017," Levin wrote.
"The Queen Consort and King Charles wanted to show their support and invited the Duke and Duchess of Sussex, plus their friend Lucia Santa Cruz, to lunch at Highgrove. Lucia recalls: 'As a surprise, Camilla went out of her way to make sure the lunch consisted only of recipes from Meghan's cookbook, and that included a very hot salsa. It was a really nice gesture.' One that made no impact."
Since both Harry and Meghan stepped away from the royal family in 2020, citing the unsupportiveness of members of the royal family and households in the face of tabloid scrutiny, Camilla has remained silent on the situation.
This was a method adopted during the 1990s when the then Camilla Parker Bowles faced hate and criticism for her role in the breakdown of Charles' marriage to Princess Diana.
Levin provides a single example of this silence being partially broken.
In January 2020, when it was announced that the Sussexes would be leaving the working royal fold and moving to the U.S. the then-Duchess of Cornwall was asked if she would miss them.
"She smiled enigmatically, paused, said 'hmmm,' followed by the word 'course,'" wrote Levin, "then walked smartly away."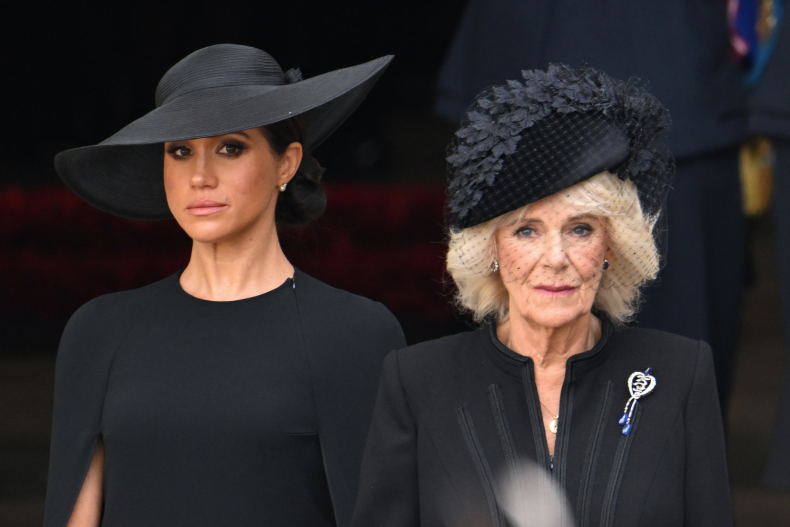 The exact nature of the relationship between the new queen and her step-daughter-in-law remains unknown, though a number of sources claim that Camilla could be a target of criticism in Harry's upcoming memoir.
In a recent interview for The Daily Beast, author and editor Tina Brown claimed that Camilla "lives in dread" of the book's publication, with speculation rising that the prince may criticize his father's second wife's conduct during his parent's marriage.
"Harry's memoir will resurface a particular agony for Charles," Brown said.
"The queen was re-stabilized after the death of Diana, whereas Charles has continually battled to end those ghosts. The rehabilitation of Camilla's image has been utterly successful, but she lives in dread of Harry's book. In some ways, Diana's ghost still rattles at the gate."
So far there have been no updates from publishers Penguin Random House about the release of Harry's book which was slated for a "late 2022" publication. When contacted by Newsweek, the organization declined to comment.
Newsweek approached Buckingham Palace and representatives of Meghan Markle for comment.