Queen Elizabeth Does Not Hug Young Charles After Months Apart in Clip
Video footage of Queen Elizabeth II, when still Princess Elizabeth, in 1951 greeting a three-year-old Prince Charles without a hug after being away for a five-week tour, has gone viral on social media after being uploaded to TikTok.
The reserved formality displayed between mother and son has been contrasted in the clip with footage of Princess Diana greeting Prince William and Prince Harry with embraces during a 1991 visit to Canada.
Harry has recently expressed a desire to break the barrier of formality with his own children that he recounted he felt from his father growing up.
In an interview with Dr. Gabor Maté promoting his memoir, Spare, on Saturday, the prince said his experiences have informed him to "smother" his children, Archie, 3, and Lilibet, 1, with "love and affection."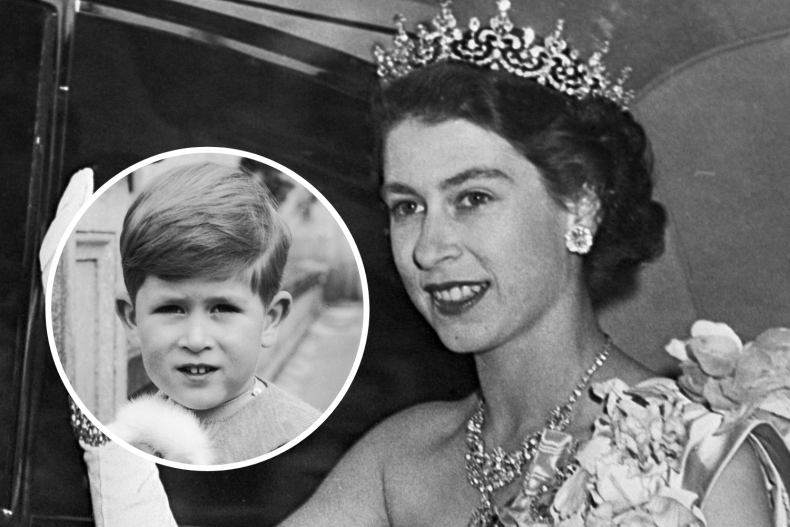 "I, as a father, feel a huge responsibility to ensure that I don't pass on any traumas or any, I guess, negative experiences that I've had as a kid or as a man growing up," he said.
It was not the first time the prince has spoken about the lack of affection shown within the royal family. In 2021 the royal appeared on The Armchair Expert podcast where he discussed the desire to end the chain of "genetic pain."
"I don't think we should be pointing the finger or blaming anybody, but certainly when it comes to parenting, if I've experienced some form of pain or suffering because of the pain or suffering that perhaps my father or my parents had suffered, I'm going to make sure I break that cycle so that I don't pass it on, basically," he said.
Harry is not alone in voicing complaints over the formality of a royal upbringing. In 1994 the then-Prince Charles authorized a biography by journalist Johnathan Dimbleby that described his mother and father as "emotionally reserved," painting a picture of a young prince who turned to staff for support and connection.
The viral video of the 1951 encounter—posted by user princess.diana.spencer—has been viewed more than 1.4 million times on TikTok and received in excess of 118,000 likes.
The footage of Elizabeth and her son was taken at Euston Station in London, on the day that the monarch arrived back in Britain with Prince Philip after a five-week tour of Canada, with a stop off in Washington D.C. on their way home.
The queen and the duke did not take their children Charles or Princess Anne with them on the trip; instead they were cared for by their nannies and grandmother, the recently widowed Queen Elizabeth The Queen Mother.
Though Elizabeth does not hug her son in the video clip, she is shown to offer him a kiss on the forehead before greeting her sister Princess Margaret. After this, the queen offers her son another kiss.
The royal couple returned to Britain on November 17, three days after Charles' birthday.
In 1953 the queen and Philip would leave on another exhaustive tour of the Commonwealth, this time lasting six months. Charles and Anne traveled to the island of Malta to meet up with their parents at the end of the tour, returning via the Royal Yacht Britannia.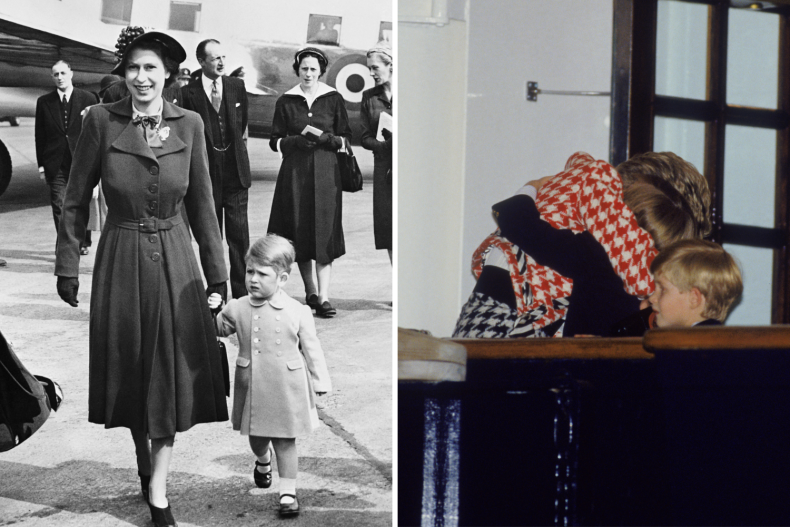 Britannia is also the setting for the news footage which captured Princess Diana's enthusiastic hug of her two sons who had traveled out to meet their parents during a tour of Canada, shown in the viral clip.
Though the caption of the video reads: "Queen Elizabeth 2 after months of not seeing her son vs. Princess Diana after not seeing her sons for months," coverage at the time suggests the princess and William and Harry were separated for days rather than months.
Extended footage of Diana embracing William and Harry shows that Charles followed his wife's lead and also hugged his sons in greeting.
James Crawford-Smith is Newsweek's royal reporter based in London. You can find him on Twitter at @jrcrawfordsmith and read his stories on Newsweek's The Royals Facebook page.
Do you have a question about King Charles III, William and Kate, Meghan and Harry or their family that you would like our experienced royal correspondents to answer? Email royals@newsweek.com. We'd love to hear from you.