Queen and William More Popular Than Harry and Meghan After Interview
Meghan Markle and Prince Harry's favourability ratings in America are below Queen Elizabeth II and Prince William's despite their Oprah Winfrey interview.
The Duke and Duchess of Sussex's royal racism allegations dominated the news cycle after the interview aired in the U.S. on March 7 and the U.K. on March 8. However, the fallout continues to make headlines across the world.
Polling of 1,476 adults, conducted yesterday by YouGov for The Economist, found Prince Harry has a net favourability rating of +28 percent with Meghan on +15 percent.
Queen Elizabeth II is still thought of more positively by Americans, on +42 percent, while Prince William (+34 percent) and Kate Middleton (+33 percent) are also ahead.
Meghan polls only slightly better than Prince Edward, the queen's fourth child, who is on +14 percent.
Prince Harry's own ratings are better than Meghan's despite the fact she is American and had an existing career in television before joining the royal family.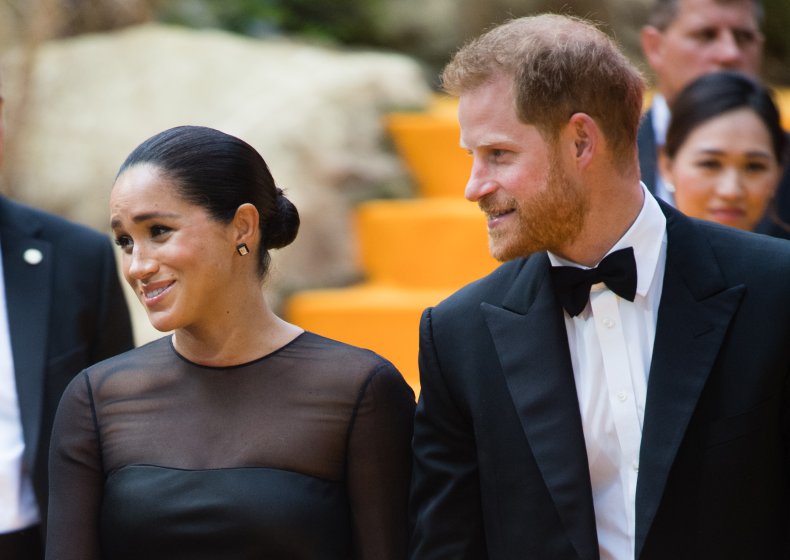 Ahead of them all is Princess Diana, whose net favourability rating was +56 percent, showing her enduring appeal at a time when her heartbreaking story has been brought to life by Netflix show The Crown.
In stark contrast to Britain, there does not appear to be an age divide in U.S. attitudes to Harry and Meghan, with over 65s viewing the couple slightly more favourably than younger people.
The prince had +37 percent favourability with over 65s compared to +20 percent among 18 to 29-year-olds.
Meghan had +18 percent favourability among over 65s compared to +16 percent among 18 to 29-year-olds.
In Britain, young people are far more likely to support the Duke and Duchess of Sussex while many older people did not believe their interview and view them less favourably, Newsweek polling found.
Statista polling has also found a similar preference for the queen and Prince William over Prince Harry and Meghan, however.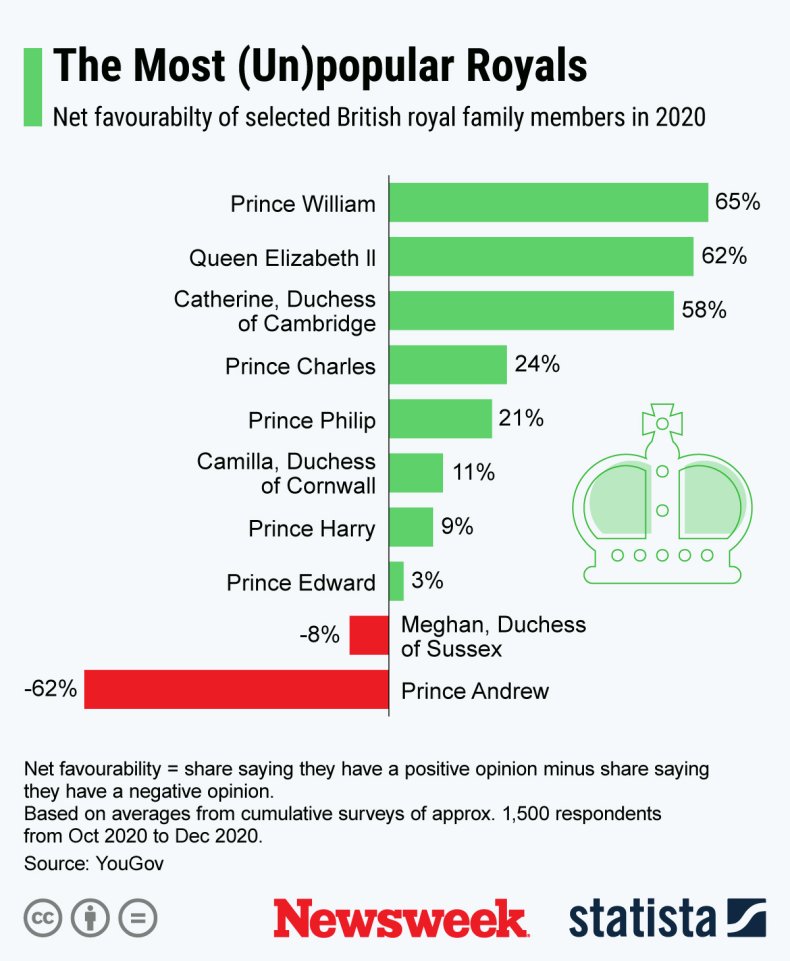 Black Americans had strong positive feelings towards Harry, at +48 percent, and Meghan, +46 percent.
Meghan also got a boost among women, with a +24 percent favourability, compared to men who returned a +5 percent rating.
However, the most stark divide was along political lines with Harry on -5 percent and Meghan on -24 percent with Donald Trump supporters.
Joe Biden supporters by contrast were much more positive, with Harry's approval rating at +65 percent and Meghan's at +58 percent.
Meghan caused controversy last summer after calling for Americans to vote during a speech for Michelle Obama backed organization When We All Vote.
She called for the "change we all need and deserve" and discussed voter suppression.
Prince Harry later also waded in making his own calls for voter participation, highlighting online hate, another issue associated with Trump.
He said: "As we approach this November, it's vital that we reject hate speech, misinformation and online negativity."
Former President Trump was asked about Meghan in September and said: "I'm not a fan of hers.
"I would say this - and she has probably has heard that - I wish a lot of luck to Harry because he's going to need it."
Trump renewed that verdict on Tuesday in a Fox News interview where he said: "I think that what she talks about the royal family and the queen—I happen to think, I know the queen, as you know.
"I've met with the queen and I think the queen is a tremendous person. And I'm not a fan of Meghan."
The YouGov polling suggests Americans are ambivalent about monarchy, with 45 percent viewing it as neither good nor bad thing and 22 percent unsure.
Only 13 percent thought the monarchy was a good thing compared to 20 percent who thought it was a bad thing.
The data also records 13 percent of Americans said they watched the whole interview, 11 percent watched only part and 24 percent watched clips or highlights, while 23 percent read or watched news stories about it.
Of those who had heard about the interview, 18 percent thought it was completely true, 21 percent thought it was mostly true and 15 percent thought it was more true than untrue.
Only six percent thought it was completely untrue, seven percent thought it was mostly untrue and 14 thought it was more untrue than true.
Update 3/18/21, 7:20 a.m. ET: This article was updated to include an infographic.