Queen Elizabeth II Sticking by Prince Andrew Poses Every Royal a Problem
Queen Elizabeth II triggered a backlash after Prince Andrew played a starring role at Prince Philip's memorial—but another major royal event looms on the horizon.
Footage of the Duke of York walking his mother to her seat at Westminster Abbey was broadcast live on BBC One, causing consternation, on March 29.
His return to the limelight in such a prominent role weeks after settling a sexual abuse lawsuit has led to fears he may also make an appearance at celebrations of his mother's Platinum Jubilee.
Elizabeth marked 70 years on the throne on February 5 and the centerpiece of year-long festivities will be a series of events over a long weekend from Thursday, June 2, to Sunday, June 5.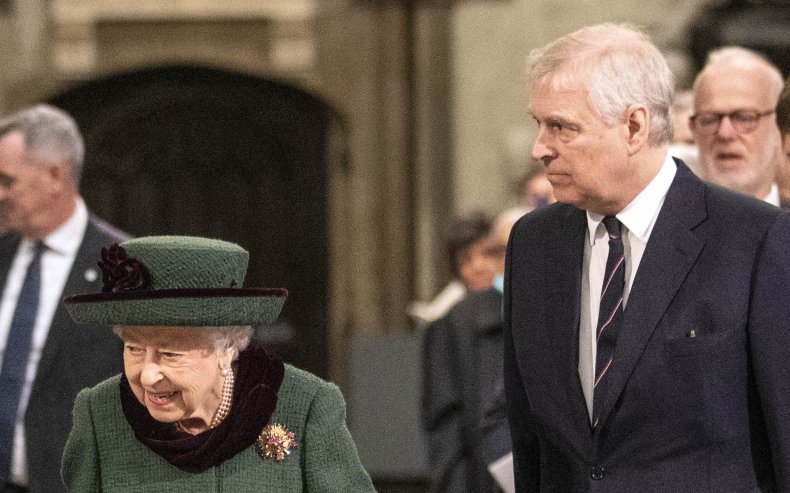 Prince Andrew Is 'Pushing Himself to the Fore'
If Andrew does make an appearance it could create problems not only for the queen, held in such high regard in Britain that her role in the history books is virtually unimpeachable, but also for other family members whose reputations are more vulnerable.
Charles for one is yet to take the throne aged 73 while polling by YouGov suggests 34 percent of Britons think he will make a good king compared to 33 percent who do not.
Newsweek has been told there was pushback against Andrew's role from senior royals, including Prince Charles.
And his high-profile role found a spot on the front pages of several of Britain's newspapers alongside anonymous-source quotes that spoke of opposition from other royals.
Nigel Cawthorne, author of Prince Andrew: Epstein, Maxwell and the Palace, told Newsweek: "Andrew is obviously pushing himself to the fore. It seems that Charles and William weren't particularly pleased.
"It's all in the queen's hands. If she thought it was a good idea this time perhaps she will again.
"He's certainly got thick skin. My feeling is that he will certainly try to make an appearance but whether they can stop him is another matter."
Joe Little, of Majesty magazine, told the Daily Mail this week: "I think he will be there. Although the Queen is head of state, she is also head of the family as well and in that capacity all her children should be with her."
He added: "It's two months away. Nobody would have predicted what would happen yesterday [at the Abbey on March 29] because Andrew was in the order of service to arrive with other members of the family and his daughters at the West Door. This was obviously an 11th-hour change."
The Platinum Jubilee Weekend
There are several events where Andrew could attempt to push himself back into the limelight, with varying degrees of reputational damage to the royals should he do so.
The queen and other royals are due to attend The Derby at Epsom Downs as part of celebrations on June 4, in keeping with her lifelong love of horses.
Andrew has also regularly been seen at the races over the years and was famously accompanied by Jeffrey Epstein and Ghislaine Maxwell to Ascot in June 2000.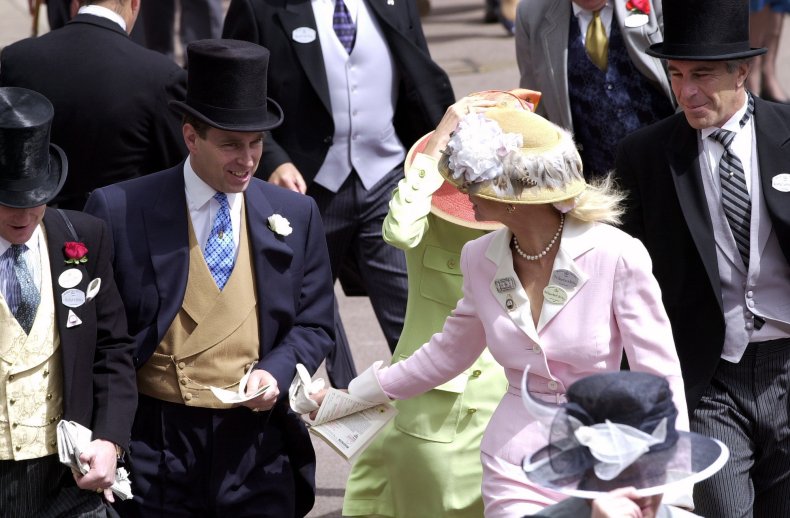 As a ticketed event open to the public, it would perhaps be the easiest for the prince to lobby for, as he could argue he was there in a private capacity.
Alternatively, there will be a Service of Thanksgiving for the queen's reign at St Paul's Cathedral on Friday, June 3.
Members of the royal family will also gather on the Buckingham Palace balcony on Thursday, June 2, for Elizabeth's birthday parade, Trooping the Colour.
That would, however, be one of the more formal, official set-piece royal events and it would be difficult to argue it is not a breach of Andrew's retirement from public life professed first in November 2019 and reinforced earlier this year.
For more royal news and commentary check out Newsweek's The Royal Report podcast:
Queen Elizabeth II's Health
Elizabeth's own attendance at each of these events is far from certain after a succession of recent health scares, including in October and November.
She then got COVID in February but recovered after experiencing mild, cold-like symptoms.
Her appearance at the service in Westminster Abbey on Tuesday, March 29, suggests she is still able to appear in public, including away from royal residences.
However, it remains to be seen whether she will have the stamina, at the age of 96, to make successive appearances on three days running.
The royals will be out in force during all those events and others, meaning if Andrew does manage to slot himself into any of them the reputational damage could be widespread.
Even Prince Harry and Meghan Markle could attend the jubilee, though the Duke of Sussex is currently locked in a lawsuit with the Home Office over its decision to remove his police protection.
An Era of Royal Scandal
The greatest risk, however, falls to the two future kings whose reigns are yet to begin and whose legacies are therefore undecided.
Both Charles and William currently have their own problems.
The Prince of Wales' charity, The Prince's Foundation, is currently being investigated by the police over cash-for-honors allegations, which Charles has stated he knew nothing about.
And William and Kate have just returned from a tour of the Caribbean where he was confronted in person by the Jamaican Prime Minister Andrew Holness about the country's intent to remove the queen as head of state. A Belize government minister later told Parliament they are considering the same path.
Both royals could also see a rift with Prince Harry reignited later in the year as his highly anticipated memoir is due to be released.
And Cawthorne pointed to the fact Giuffre is still to give a victim impact statement at the sentencing of Ghislaine Maxwell, Andrew's former friend, which could mention the duke if her sentencing goes ahead in June. The court is still considering whether to order a new trial.
He said: "This isn't really over yet, we have Virginia's victim impact statement to come in June, this really is harmful to the royal family.
"There may be some criticism of the queen after yesterday but I don't think anything is really going to damage her.
"With Prince Charles still facing this cash for honors inquiry, Harry going off the rails, and then the disappointing tour of the Caribbean with Will and Kate, things are actually looking a bit dodgy."
The very question of whether Andrew will attend therefore stacks crisis upon crisis during a year that was supposed to be about celebrating Elizabeth's 70-year reign.
A Buckingham Palace statement released to Newsweek in January read: "With The Queen's approval and agreement, The Duke of York's military affiliations and Royal patronages have been returned to The Queen.
"The Duke of York will continue not to undertake any public duties and is defending this case as a private citizen."
He subsequently settled the case in February and court filings confirmed an undisclosed amount had been paid to Virginia Giuffre in March.
She accused Andrew of raping her while she was a 17-year-old sex trafficking victim of Epstein and Maxwell, which the royal denied. He has not admitted liability.