Queen Elizabeth II appeared to snub Prince Harry in a message sent to a religious conference on Wednesday after she said that Prince Charles and Prince William were carrying on the climate change legacy of Prince Philip.
The message comes soon after a speech given by Harry at the United Nations on July 18 in which he said climate change was "wreaking havoc" on our planet and called on world leaders to act now to "save humanity."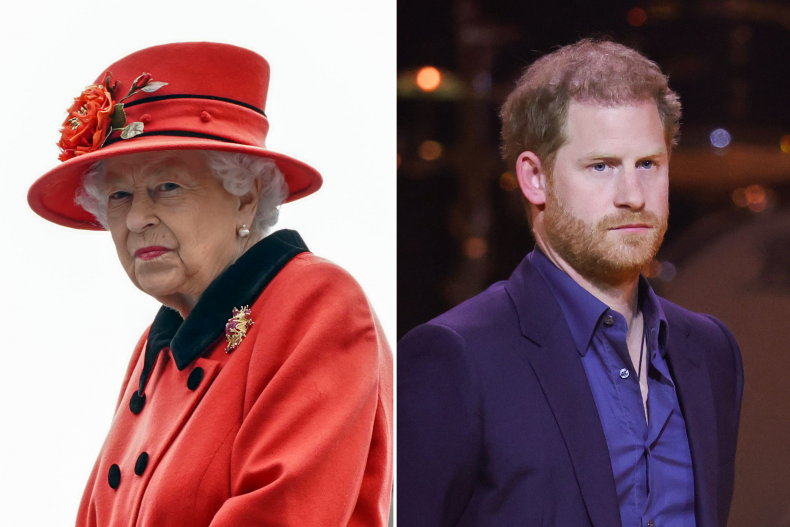 In her message to the Lambeth Conference on Wednesday—focused on how the heads of the Anglican church can respond to the needs of the 21st century world—the queen said that climate change was "threatening the lives and livelihoods of many people and communities, not least the poorest and those less able to adapt and adjust."
"I was interested to learn that the focus of your program at Lambeth Palace today is reflection and dialogue on the theme of the environment, a cause close to the heart of my late husband, and carried on by The Prince of Wales and The Duke of Cambridge," she added, referring to Prince Charles and Prince William.
This is not the first time that the 96-year-old monarch has failed to mention Harry when discussing the royal family's climate activism or passion for environmental advocacy in reference to the work of her late husband, Philip.
In November 2021 during the COP26 summit in Scotland, a recorded message from the monarch was played in which she said: "It is a source of great pride to me that the leading role my husband played in encouraging people to protect our fragile planet, lives on through the work of our eldest son Charles and his eldest son William.
"I could not be more proud of them."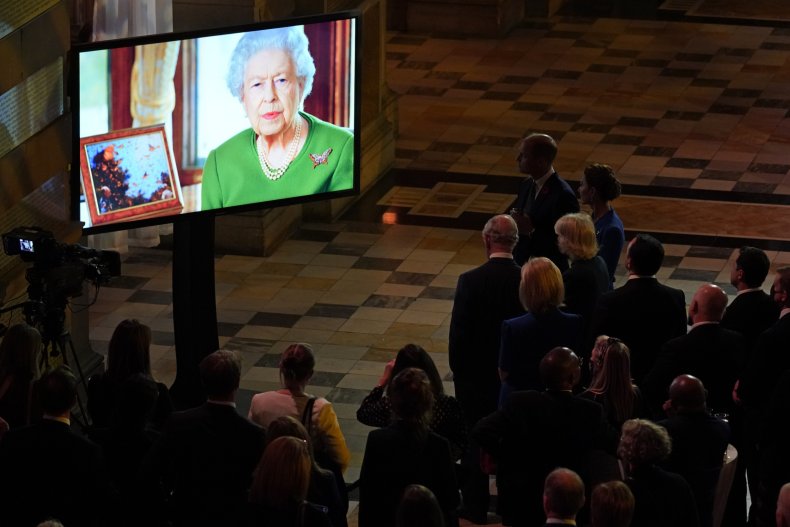 This was reiterated in December with the queen's Christmas speech in which she said she was "proud beyond words" that her husband's pioneering climate work has been "taken on and magnified by our eldest son Charles and his eldest son William—admirably supported by Camilla and Catherine."
Alongside his family members, Harry has spoken out on a number of occasions about climate change and environmental issues including during his 2017 guest edited episode of the BBC Radio 4 Today programme, in which he interviewed former President Barack Obama and Charles.
Charles formally recognized Harry's environmental work as on the same level with William's earlier this year in an exclusive article for Newsweek's climate change issue.
"As a father, I am proud that my sons have recognised this threat," the prince wrote of the negative impact mankind has had on the planet.
"Most recently, my elder son, William, launched the prestigious Earthshot Prize to incentivise change and help repair our planet over the next ten years by identifying and investing in the technologies that can make a difference."
"And my younger son, Harry, has passionately highlighted the impact of climate change, especially in relation to Africa, and committed his charity to being net zero."
This was a reference to the announcement made by Harry at the time of the COP26 conference that he intended, alongside Meghan Markle, to make their charity Archewell net zero by reducing carbon emissions by the year 2030.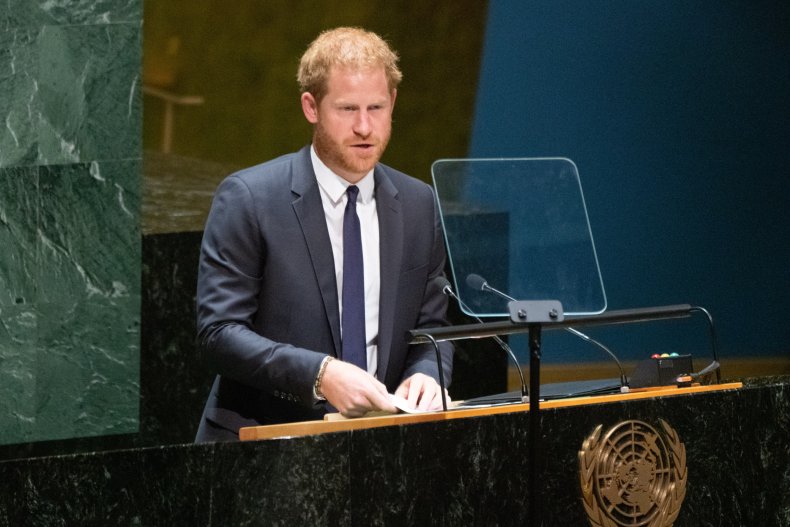 Part of the reason for the queen's omitting references to Harry during these official statements could be attributed to the prince's no longer acting as a working member of the royal family after stepping down from his position in 2020 and moving to the United States.
In April 2022, Harry intimated that his personal relationship with the queen was strong after he paid a private visit to Windsor Castle to visit her before her 96th birthday while on the way to the Invictus Games in the Netherlands.
Speaking to Hoda Kotb of NBC News' Today show at the games, Harry said: "Being with [the queen], it was great. It was just so nice to see her. She's on great form.
"She's always got a great sense of humor with me and I'm just making sure that she's, you know, protected and got the right people around her."
"We have a really special relationship," he added, "we talk about things that she can't talk about with anybody else."
The prince and his grandmother last saw one another in June during the celebrations for her Platinum Jubilee. During this visit to London made by Harry and Meghan with their two children, the queen was able to be introduced to her great-granddaughter Lilibet Diana Mountbatten-Windsor, who the Sussexes named in her honor.
Newsweek approached Buckingham Palace and representatives of Prince Harry for comment.