Viral Theory Explains Why Queen Wore White to Charles, Camilla's Wedding
A theory explaining why Queen Elizabeth II wore white to King Charles III and Queen Camilla's wedding reception in 2005 is going viral following the monarch's death.
The queen—the United Kingdom's longest-reigning monarch—was laid to rest alongside her late husband, Prince Philip, at St George's Chapel in Windsor, England on Monday, September 19. It was estimated that more than half of the world's population—4.1 billion people—tuned in to watch her state funeral at London's Westminster Abbey.
In a TikTok video that has been viewed more than 9.1 million times, user Jessica Weslie Arena, who goes by @jessweslie on the platform, shared her observations of the 2005 nuptials with her nearly 87,000 followers.
"So if you guys didn't know this, Queen Elizabeth didn't go to her son, the future king's second wedding to Camilla Parker Bowles," she said. "She only went to the photos and reception. And she wore white. It is very strategic why she wore white."
"This is Prince Charles, now King Charles [III] and Princess Diana's wedding, and you guys, Camilla Parker Bowles was at the wedding," Arena added, dissecting the images. "She was wearing all white. She is circled. We have Princess Diana walking down the aisle in white and King Charles' future second wife is wearing white as well to the wedding. We all know why Queen Elizabeth wore white to the wedding."
Newsweek reached out to Arena for additional comment.
Camilla did attend Charles and Diana's wedding in 1981. However, Princess Diana said that Camilla did not wear white, noting instead that the future queen consort donned a light gray for the occasion.
"I knew she was in there, of course. I looked for her," Princess Diana told biographer Andrew Morton in 1991, admitting that she kept an eye out for her fiancé's ex. "So walking down the aisle, I spotted Camilla, pale gray, veiled pillbox hat, saw it all, her son Tom standing on a chair. To this day, you know—vivid memory."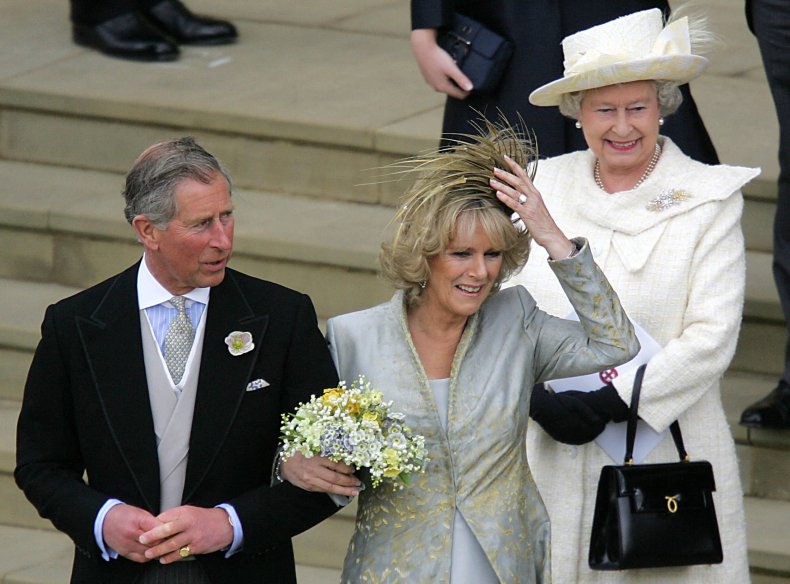 Charles and Camilla met in 1970 and dated briefly before his marriage to Princess Diana and her marriage to Andrew Parker Bowles. Thirty years later, they rekindled their romance after divorcing their spouses and they got married on April 9, 2005.
As the head of the Church of England, which frowns upon divorce, the queen did not attend the civil ceremony held at Windsor Guildhall in an effort to uphold the church's values.
However, the queen and Prince Philip showed their support for the marriage by hosting a reception for the couple and attending the religious blessing at St. George's Chapel.
Author Penny Juror, who wrote The Duchess: Camilla Parker Bowles and the Love Affair That Rocked the Crown, said that Diana felt animosity toward Camilla.
"She became jealous—obsessing about Camilla Parker Bowles—suspicious, turning against people she appeared to like, convinced they were out to get her," Juror wrote in the book.
Queen Elizabeth II passed away on September 8 at Balmoral Castle, her Scottish residence. Earlier that day, doctors voiced concerns for her health, telling the public in a statement via Buckingham Palace that they "recommended she remain under medical supervision."
Hours later, the palace announced her death.
"The Queen died peacefully at Balmoral this afternoon," the palace statement read. "The King and The Queen Consort will remain at Balmoral this evening and will return to London tomorrow."
King Charles III is now the United Kingdom's new monarch, having immediately become king following his mother's passing.