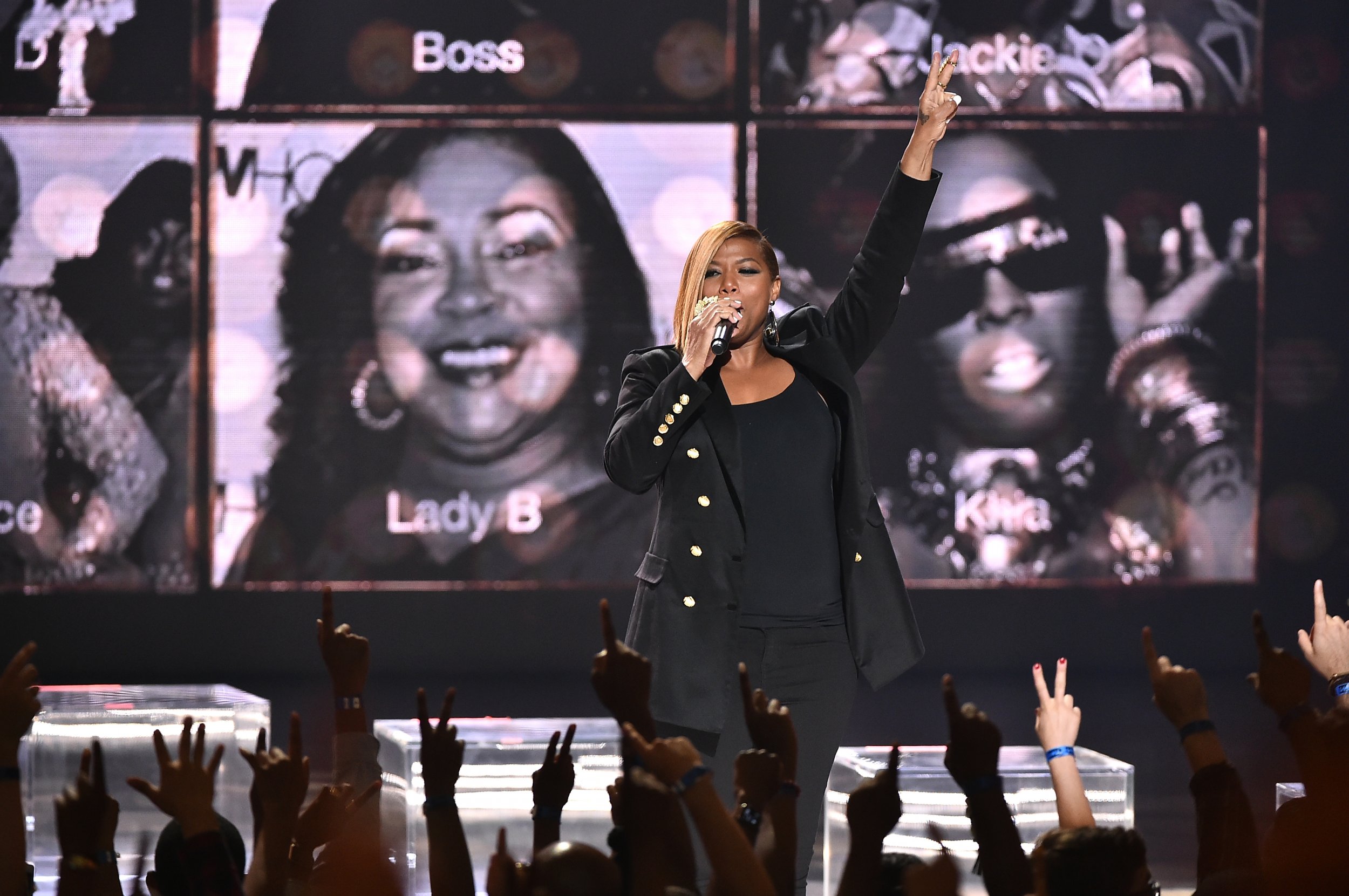 VH1's Hip Hop Honors ceremony returned after a six-year absence Monday night, paying tribute to some of rap's pioneering female artists: Queen Latifah, Missy Elliott, Lil' Kim and Salt-N-Pepa.
But in the wake of civil unrest across the United States last week, following the deaths of Alton Sterling and Philando Castile in two separate police shootings, as well as the deaths of five police officers in Dallas, there was a highly politicized tone to proceedings.
Latifah, the Oscar-nominated rapper-turned-actor, said "racism was alive and kicking" in a pointed speech after she was honored for her rap accomplishments in a video tribute from First Lady Michelle Obama.
The star began her speech saying: "We all know that the world and our world is really tense right now. It's a lot of tension. It's a lot of angst. It's a lot of hurt. A lot of pain. I'm hoping that we can somehow manage to channel all of these emotions that we have in a positive way and really do something to change our world.
"I don't care how much money or things I have, or Puff has, or Missy [Elliot] has, the ladies have, if I go outside and try to hail a cab and he passes me for the white woman standing right there—that racism is still alive and kicking," she continued. "And we have to change that. And I'm not blaming the white lady, she needed a cab too. I'm just saying we gotta change this attitude."
From the onset of the broadcast Monday night, the Black Lives Matter movement had an overarching presence at the event. The organizers of the movement, Alicia Garza and Darnell Moore, opened the show addressing the recent turmoil in the U.S.
"This movement is grounded in black people's dignity, justice and freedom. It's about love, not violence," said Garza (via Radio.com).
Moore added: "In challenging times, our music heals us, unites us and uplifts us. Black activists are fighting to create a world where all forms of violence—in Baton Rouge, in Minneapolis, in Dallas—are no more. A world where Sandra Bland, Alton Sterling, Philander Castile might still be alive."
Rapper, actor and activist Common praised the courage of Diamond Reynolds, the girlfriend of Philando Castile who filmed his deadly shooting in Minnesota last week and posted it on Facebook.
He hailed Reynolds for trying "to calmly de-escalate the deadly situation and hours later, was at her governor's mansion, demanding justice."