Rashida Tlaib Accuses Biden of 'Taking Orders' from Netanyahu, Urges U.S. to Condemn Israel
Democratic Michigan Representative Rashida Tlaib accused Democratic President Joe Biden of "taking orders" from Israeli Prime Minister Benjamin Netanyahu during the worsening conflict between Israel and Palestinians.
She also urged the Biden administration to stand for Palestinian human rights by condemning Israel.
"It's shocking. The hypocrisy of us saying that we need to be stewards of human rights, except for Palestinians," Tlaib said during a Monday evening interview on MSNBC's The Reid Out, hosted by Joy Reid.
"They're taking orders from Netanyahu, who is on corruption charges from stealing from his own people, the people he's supposed to be representing," she said of the Biden administration and other congressional colleagues.
Tlaib described Netanyahu's policies towards Palestinians as forms of "discrimination" and "racism."
Tlaib also accused Biden of being less openly critical of Netanyahu's government than some Israeli citizens and media outlets. She said Biden and his administration are "enabling" Israel with "passive language" that will not hold Israel accountable for its actions. Later in the interview, she referred to Israel as "lawless," "corrupted" and "set in apartheid."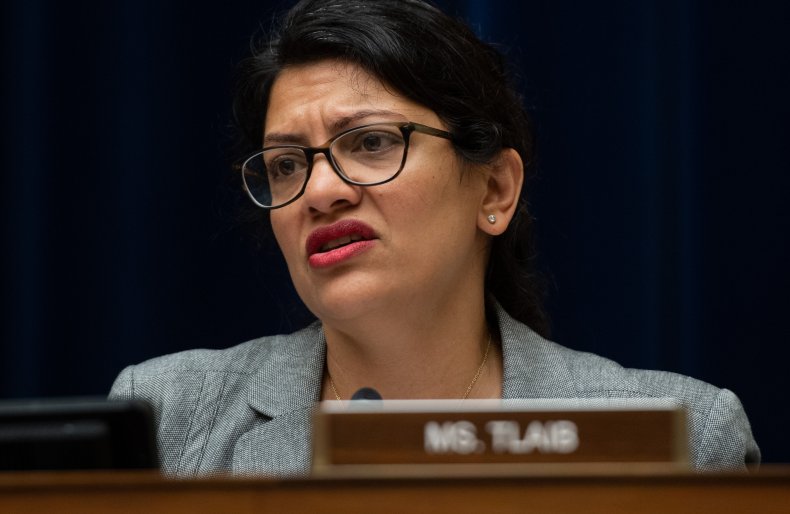 "Enough, President Biden," Tlaib said. "You will not do this on our watch. You have to speak out against this violence in a very aggressive way that holds Netanyahu and his leadership accountable."
During the Monday evening interview, Tlaib criticized Biden's statements on the intensifying conflict for not explicitly stating, "Palestinians deserve human rights. Palestinians are free to exist. Palestinians deserve to live freely [and that Palestinian] children need to be safe and secure."
She said that such supportive statements by the Biden administration have only applied to "Israeli citizens that have a certain faith."
The legislator added that "millions of Americans" support her desire for the U.S. "to stop investing in an apartheid state of Israel."
"We need to condition that money that we continue to send—weaponry and the assault weapons to Israel—that continues to target innocent lives," Tlaib said.
Tlaib made similar comments in a statement she signed last week along with two other Democratic Representatives—Ilhan Omar of Minnesota and André Carson of Indiana.
"We continue to provide the Israeli government with over $3 billion in military aid every year—with no conditions or accountability for wanton human rights abuses and continuing illegal seizures of Palestinian land," the statement said. "It is long past time we finally take action to protect Palestinian human rights and save lives."
Progressive Democratic Representatives Omar, Ayanna Pressley of Massachusetts, Cori Bush of Missouri and Alexandria Ocasio-Cortez of New York have all said that Israel is an "apartheid state" and not a democracy.
Tlaib identifies as Palestinian-American. Her mother was born near the West Bank city of Ramallah and her father was born in East Jerusalem.
Newsweek reached out to the White House for comment. This story will be updated with any response.