Former Reagan Official Blasts Modern-Day Republicans: 'It's Like the Invasion of the Body Snatchers'
A former Reagan administration official blasted Republican lawmakers currently serving in Congress on Sunday, arguing that they were "absolutely abrogating their duty" by not holding President Donald Trump accountable.
"It's like the invasion of the body snatchers," Linda Chavez, who served as former President Ronald Reagan's White House Director of Public Liaison, said during a segment of CNN's State of the Union. "I don't know who these people are, I mean they have so changed their tune. This is really serious," she asserted.
Chavez then pointed out that she had previously been a Democrat prior to serving in the Republican administrations of Reagan as well as former President George H.W. Bush. She explained that she "became a conservative" because she "really believed that the Republican party was devoted to the truth, that we believed in ideals."
"We were devoted to the Constitution," Chavez said. "And what I see happening now is people who are absolutely abrogating their duty. They are putting politics first and they're scared. They're scared of Donald Trump," she argued.
Democrats opened a formal impeachment inquiry against Trump after an anonymous whistleblower revealed that the president had repeatedly pressured Ukrainian leaders to open an investigation to tarnish his political rival, Democratic presidential candidate and former Vice President Joe Biden. The president also asked Ukraine's President Volodymyr Zelensky to open a probe into a conspiracy theory that Democrats worked with Ukrainians to interfere in the 2016 presidential election.
Ahead of that conversation with Zelensky, the president ordered that $391 million in military aid to the Eastern European nation be withheld. Ukrainian officials have said that they were given the impression that the president's support for their government could depend on whether or not they opened the investigations he wanted. Text messages between U.S. diplomats and Ukrainian officials also appear to suggest that Trump did not want to release the aid, or meet with Zelensky, unless the probes moved forward.
Mark Zaid, an attorney representing the initial whistleblower, said on Sunday in an interview with ABC News that another individual had now come forward as well. The lawyer explained that the second whistleblower had already been interviewed by Intelligence Community Inspector General Michael Atkinson, who deemed the first complaint related to Ukraine as "credible."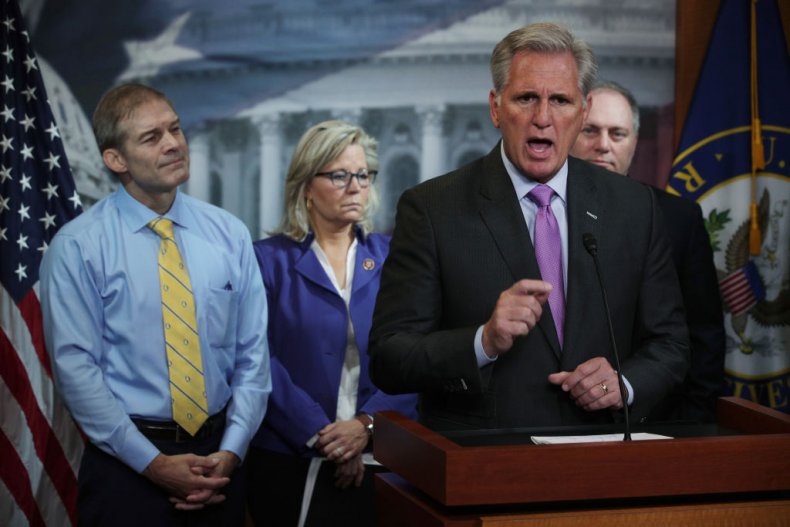 Although Trump and his supporters have attempted to dismiss the entire impeachment inquiry as "partisan" and a "witch hunt," several prominent Republicans have criticized the president's actions or raised serious concerns. But the majority of GOP lawmakers in Congress have remained largely silent or defended the president. Democratic Representative Brendan Boyle of Pennsylvania told CNN on Saturday evening that many more Republicans had been privately critical of the president. He claimed that "at least two dozen" GOP members of the House of Representatives "are deeply concerned and alarmed."
Other individuals from previous Republican administrations have criticized lawmakers, similar to Chavez. Richard Painter, who served as the chief White House ethics lawyer under President George W. Bush, chided Congress for not moving forward with Trump's impeachment at a more rapid pace. Painter identified as a Republican until he switched his party affiliation in 2018.
"I believe he [Trump] should have been impeached by the United States House of Representatives in 2017," Painter argued during a Saturday interview with MSNBC. "It is two years later. So yes, they can continue to gather evidence. But there does need to be a vote. It needs to happen very soon."