A photo on Twitter shows a destroyed Russian tank in Ukraine graffitied with the word "WOLVERINES," in an apparent reference to the 1984 film Red Dawn.
The tank was noted on Twitter by NPR journalist Scott Detrow. The reported graffiti in Ukraine comes as Russia's invasion of the country has dragged on for more than a month.
"We were driving too fast to get a clear picture—but we just drove past a destroyed Russian tank with WOLVERINES spraypainted across it," Detrow wrote.
He later posted an update, noting that someone else had captured a picture of it. Oleg Tolmachev, whose Twitter bio states he is the head of production at Naftogaz of Ukraine, a state-owned oil and gas company, shared the photo and said, "What do you know, I drove past it, too."
The fictional film Red Dawn follows a group of teenagers in Colorado who fight against a Russian invasion of the United States. The group calls itself the "Wolverines." The movie stars actors Patrick Swayze, Charlie Sheen, Lea Thompson and Jennifer Grey.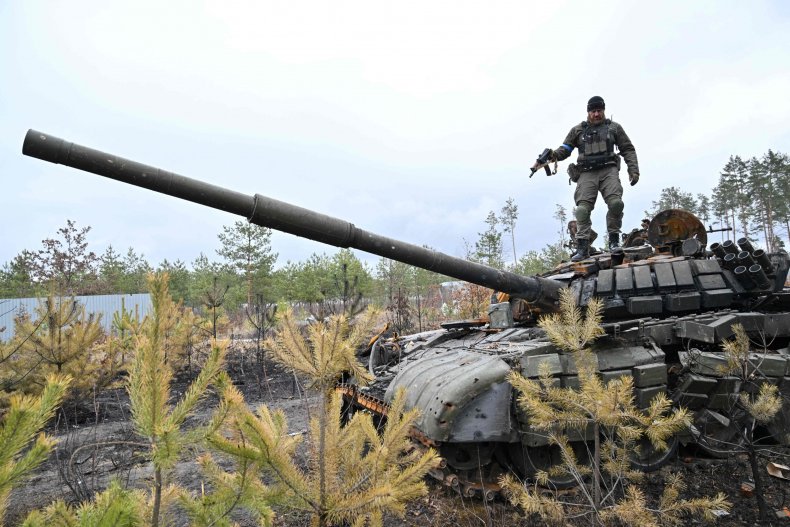 In 1984, the New York Times reported that the National Coalition on Television Violence "condemned" the film "as the most violent movie ever made."
In an address on Tuesday, Ukrainian President Volodymyr Zelensky said Russia's actions in his country during the war have in some ways been worse than the violence that occurred when Nazis occupied the country.
"In many villages of the liberated districts of the Kyiv, Chernihiv and Sumy regions, the occupiers did things that the locals had not seen even during the Nazi occupation 80 years ago," Zelensky said.
Earlier this week, the Ukrainian president visited the town of Bucha, where local officials said that more than 300 residents were killed by Russian forces. Russia has denied the allegations that Russian troops killed civilians in the town.
Experts told Newsweek last week that Russian President Vladimir Putin was changing his military strategy to avoid losing the war in Ukraine, after facing stiff resistance from Ukrainians.
"We've seen massive bombardment of clearly civilian locations, and so that's the tactic that has become more prominent as Russian forces have bogged down across the country," said John Herbst, a former U.S. ambassador to Ukraine.
U.S. officials previously believed that the Ukrainian capital city of Kyiv would fall to the Russian military in a matter of days. "The military may last slightly longer," a former intelligence speaking to Newsweek on the condition of anonymity said in February, "but this isn't going to last long."
For live updates on the Russian invasion of Ukraine, visit our live blog.
Newsweek reached out to the Russian foreign ministry and the Ukraine defense ministry but did not hear back before publication.