Republican Adam Kinzinger Warns Self-Governance 'Can't Survive' if Trump Lies Persist
Representative Adam Kinzinger, an Illinois Republican, warned that self-governance within the U.S. "can't survive" if the lies about the 2020 election and the U.S. Capitol attack on January 6, 2021, promoted by former President Donald Trump continue to define the GOP.
Trump and many of his conservative allies continue to falsely claim that the last presidential election was "rigged" or "stolen" in favor of President Joe Biden. That conspiracy theory fueled the riot just over a year ago when hundreds of Trump's supporters stormed the U.S. Capitol in an apparent effort to prevent the formal certification of Biden's victory.
Kinzinger, a staunch Trump critic, pointed out that a shared belief in the integrity of U.S. elections is key to the country's political system working during an interview with MSNBC on Thursday.
"Now all of a sudden you have these lies that have to exist—particularly as Republicans to stay a Republican," the GOP lawmaker pointed out. "Self-governance can't survive in that." Kinzinger said he was a "little pessimistic" on the anniversary of the pro-Trump attack against the legislative branch of government.
"Optimistic in the long-term, but I'm doubling down my efforts to get the truth," he asserted.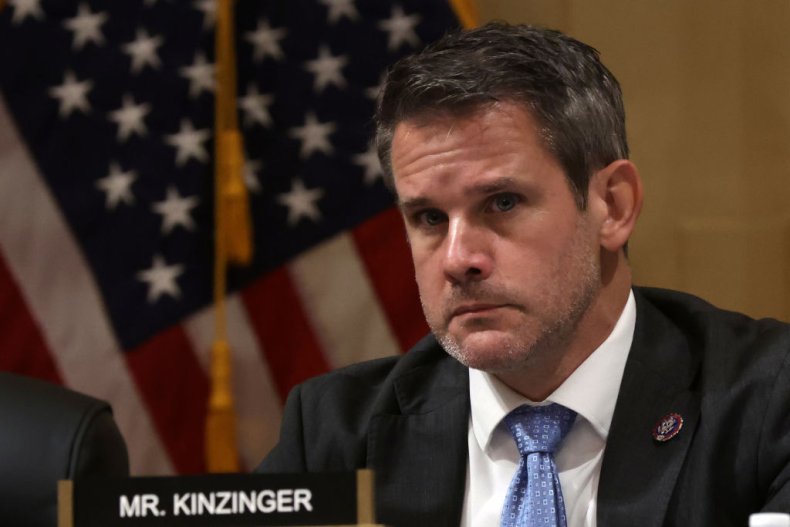 On Twitter, the Republican expressed his wish that more members of the GOP would join him.
"Doing the right thing comes with risk, as we've seen a lot in the last year, but I don't regret a single stand I've taken for truth, accountability, democracy," Kinzinger wrote. "I wish more of my fellow Republicans would see how important this moment is for America & for future generations."
Kinzinger, along with GOP Representative Liz Cheney of Wyoming, is one of two Republicans serving on the House select committee investigating the January 6 attack against the U.S. Capitol. Both of the prominent GOP members of Congress have consistently condemned Trump while criticizing Republican colleagues who continue to support the former president.
"It's very important, if you look at what's happening today in my party, the Republican Party," Cheney said in a Today show interview on Thursday.
"Rather than reject what happened on [January] 6th, reject the lies about the election and make clear that a president who engaged in those activities can never be president again, unfortunately too many in my own party are embracing that former president, are looking the other way, are minimizing the danger," the Wyoming Republican said.
"That's how democracies die, and we simply cannot let that happen," the congresswoman cautioned.
Cheney and Kinzinger have faced substantial backlash from Trump and fellow Republicans for their rejection of the former president. Pro-Trump members of Congress have dubbed them "spies for the Democrats" and called for their ouster from the House Republican Conference.
Cheney was removed last May from her No. 3 leadership role in the conference and faces a Trump-endorsed primary opponent. Kinzinger has decided not to seek re-election after his Illinois district was merged with another, which would have resulted in a face-off against a pro-Trump Republican lawmaker.
In his Thursday remarks to MSNBC, Kinzinger warned that what happened a year ago on January 6 was a "dry run" for what could happen in future elections. He also expressed his "hope" that Attorney General Merrick Garland would pursue charges against Trump if the House select committee makes a criminal referral in the coming months.
Although Trump and many Republican supporters continue to claim that the 2020 election was "rigged," they have not brought forward evidence substantiating the extraordinary allegation. To the contrary, audits and recounts in states across the country—including in areas where the election was overseen by pro-Trump conservatives—have consistently reaffirmed Biden's victory.
Furthermore, more than 60 legal challenges to the election results brought by the former president and his supporters failed in state and federal courts. Even judges Trump appointed ruled against the baseless lawsuits. Former Attorney General William Barr, who was widely viewed as one of Trump's most loyal Cabinet members, rejected allegations of widespread fraud in December 2020, noting that there was "no evidence" to support them.
Nonetheless, Republican voters' trust in the government and faith in elections has dropped substantially over the past year. Polling released Thursday by Morning Consult showed that GOP trust in the U.S. government declined by 20 points from 48 percent in January 2021 to just 28 percent today. When it comes to U.S. elections, just 35 percent of Republicans said they had "some" trust in the system—a dip of 8 points from a year before.
Newsweek reached out to Trump's press office for comment.