Arizona Republican Slams Cyber Ninjas After It Shuts Down, Refuses to Release Documents
A Republican official from Maricopa County slammed Cyber Ninjas—the controversial Florida-based company behind a partisan audit of Arizona's 2020 election results—after it said it was "insolvent" and confirmed it would shut down on Thursday.
Republican leaders of Maricopa County—the most populous in Arizona—have long rejected baseless allegations that President Joe Biden's victory over former President Donald Trump there was fraudulent. They repeatedly criticized Cyber Ninjas, which was hired by Arizona Senate Republicans in late March 2021 to conduct the controversial audit.
On Thursday, a spokesperson confirmed to The Guardian and NBC News that the company would be shutting down after it refused to release documents to an Arizona newspaper despite a judge's order. Maricopa County Superior Court Judge John Hannah had said he would impose a $50,000 per day fine on the company until it released the documents related to the audit.
"As a friend just told me: 'hope the [Cyber Ninjas] spokesperson asked for a significant retainer because Ninja payment history isn't great!' Stephen Richer, a Republican who serves as the Maricopa County recorder, tweeted Thursday evening.
Richer last August released a 38-page open letter to fellow Republicans explaining that he'd supported Trump while blasting misinformation about the 2020 election.
Earlier on Thursday, Richer posted a tweet that referenced the words of Hannah's words as he ordered Cyber Ninjas to pay $50,000 per day until the requested documents were released.
"Standard practice from a professional company? Disgrace," the GOP official wrote on Twitter. "Judge: 'they've described Mr. Logan as the former CEO of Cyber Ninjas, which adds to the body of facts suggesting here that there's an intention to leave the Cyber Ninjas entity as an empty piñata for all of us to swing at.'"
Maricopa County's official Twitter account reposted Richer's tweet, writing: "An empty piñata is a pretty accurate description of the 'audit' as a whole. Our point-by-point response debunking 74 of their 75 claims and 53,217 of the 53,304 of the ballots they claimed were questionable is available for review at JustTheFacts.vote."
Doug Logan, the former CEO of the now-defunct company, had promoted misinformation about the 2020 election results before taking part in the audit. He also appeared in a film casting doubts on the results of the presidential election while the ballot review was being conducted by Cyber Ninjas.
Although Richer said he campaigned for Trump ahead of the 2020 election, he has been highly critical of the misinformation promoted by the former president and conservative allies. He repeatedly blasted Cyber Ninjas and its audit of Maricopa County's results.
"At this point, I hope my principal motivation for speaking out is abundantly clear: the Ninja audit is an abomination that has so far eroded election confidence and defamed good people," Richer wrote in his August letter to fellow members of the GOP. He said "it's disgusting" that so many Republicans have failed to call out the lies and misinformation about the last presidential election.
Other prominent Republicans who serve on the Maricopa County Board of Supervisors—such as Bill Gates and Jack Sellers—have repeatedly dismissed false claims about the 2020 election there and nationwide.
"We will continue to tell the truth. Our democracy depends on it," Gates, the chair of the county's board of supervisors, tweeted on Thursday, sharing a clip of an interview he did with CNN.
In a video shared by Maricopa County's Twitter account on Thursday, Gates called the misinformation about the 2020 election and the January 6 attack against the U.S. Capitol "the biggest challenge to our democracy in our lifetime." He pointed out that "many" Trump supporters carried out the assault because they believed they "were saving" the country from an election they'd been told had been "stolen."
Biden narrowly beat Trump in Arizona by a margin of just under 10,500 votes. That victory for the Democratic president came after Trump carried the state in 2016, as had Republican presidential candidates in every election going back to 2000. However, Maricopa County's audits and reviews—which were nonpartisan and conducted under the direction of GOP leaders there—consistently reaffirmed Biden's victory.
Trump and many of his conservative allies continue to maintain that the 2020 election was "rigged" or "stolen" in favor of Biden, but they have not provided evidence substantiating the allegation. Dozens of their election challenge lawsuits failed in state and federal courts. Even judges appointed by Trump ruled against the legal challenges.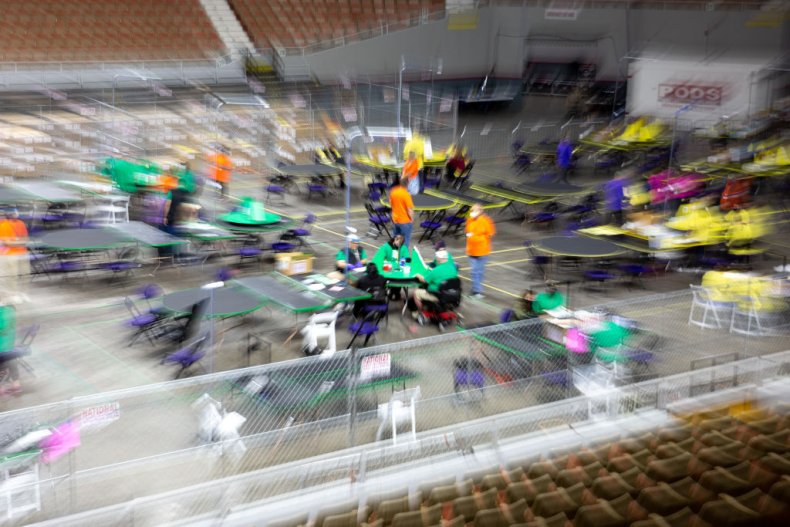 Audits and recounts across the country—including in areas where the election was overseen by pro-Trump Republicans—have consistently reaffirmed Trump's loss. Former Attorney General William Barr, who was generally seen as one of Trump's most loyal Cabinet members, had the Justice Department look into claims of "widespread fraud" in the 2020 election. He concluded in December 2020 that there was "no evidence" of fraud that would change the results.
Newsweek reached out to Arizona Senate President Karen Fann, a Republican who hired Cyber Ninjas, for comment on the company shutting down, but she did not respond before publication.