Florida and 5 Other GOP–Led States Consider Texas–Style Curbs on Abortion
A number of Republican lawmakers across the country plan to introduce restrictive abortion bills similar to the Texas legislation recently allowed to pass by the Supreme Court.
The new Texas abortion law prohibits abortions being performed if a "fetal heartbeat" is detected, something that usually occurs after six weeks and before many women even know they are pregnant.
On Tuesday, the Supreme Court failed to prevent Senate Bill 8 from taking effect, after a 5-4 vote that saw five conservative judges— including three of President Donald Trump's picks—decline to issue an emergency stay.
Democrats and women's rights groups have both expressed outrage that the court did not block the bill.
However, GOP lawmakers in Republican-controlled states such as Arkansas, Florida, Indiana, North Dakota and South Dakota, are hoping to use Texas as a template to introduce similar abortions laws at home.
Mississippi State Senator Chris McDaniel told The Associated Press he would "absolutely" consider filing a similar abortion bill to match what was passed in Texas.
"I think most conservative states in the South will look at this inaction by the court and will see that as perhaps a chance to move on that issue," he said.
A number of officials in Florida also expressed their desire to bring forward a so-called "heartbeat bill" to allow more restrictive abortion laws in their state.
"As an adoptive child myself, it's important to me that we do everything we can to promote adoption and prevent abortion; therefore, I think it's worthwhile to take a look at the Texas law and see if there is more we can do here in Florida," Senate President Wilton Simpson told the Tampa Bay Times in a statement.
In a separate statement, Florida House Speaker Chris Sprowls said he believes the issue will be a topic of debate in the near future, but stopped short of calling for the introduction of a heartbeat bill like what was passed in Texas.
"In Florida, we agree that killing an innocent human being with a beating heart is wrong," Sprowls said.
"It is why we have worked every session to strengthen protections for unborn babies, including those for unborn children with disabilities last session, and it is why I am confident that those who share this moral view in the Florida House will continue the fight."
However, Florida state Senator Linda Stewart said she will fight against any Republican who wants to follow in Texas' "misguided footsteps" and consider an "intrusive and draconian restriction of women's constitutional rights."
She added: "This is a direct attack on reproductive rights by leaders who care more about politics than the health and wellbeing of women. That should make all of us willing to fight.
"If Florida Republicans want to declare war on Florida's women, we will be ready for the fight."
Elsewhere, Arkansas State Senator Jason Rapert tweeted the day after the Texas abortion legislation was approved that he ordered a bill to be filed in Arkansas to match the legislation.
"As the original sponsor of the first Heartbeat Bill to pass in America in 2013, today I have ordered a bill be filed in Arkansas to update our law to mirror the Texas SB8 bill," he wrote.
"I look forward to working with my fellow legislators adding cosponsors and Gov. Asa Hutchinson to pass this important legislation before we adjourn the legislative session."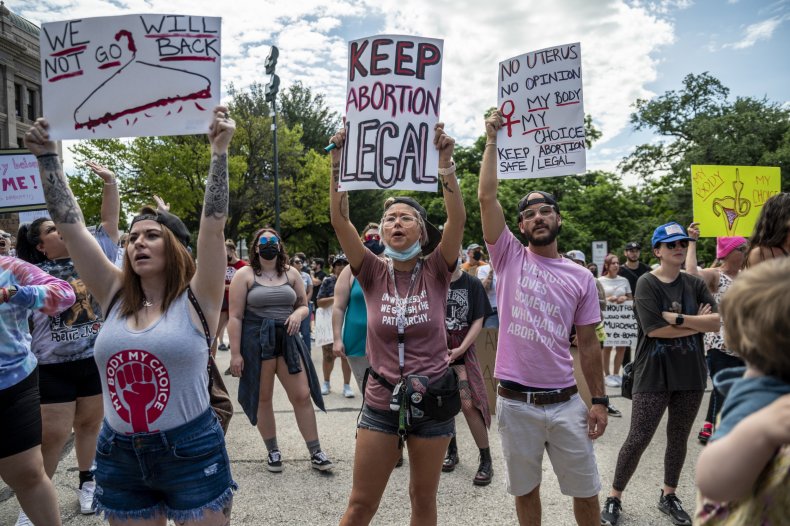 In North Dakota, GOP State Senator Janne Myrdal told the AP that she "assumes" similar legislation is being put together in the state using Texas as a template. She added that the Republican-majority Supreme Court has now offered "a glimmer of hope" that Roe v. Wade may be overturned entirely.
"It needs to be sent back to the states where it belongs," she said.
In South Dakota, Governor Kristi Noem said the ruling in Texas means she will push for more restrictive abortion laws in the state.
"Following the Supreme Court's decision to leave the pro-life TX law in place, I have directed the Unborn Child Advocate in my office to immediately review the new TX law and current South Dakota laws to make sure we have the strongest pro-life laws on the books in SD," she said in a statement.
President Joe Biden was one of those who condemned the decision.
"This extreme Texas law blatantly violates the constitutional right established under Roe v. Wade and upheld as precedent for nearly half a century," Biden said in a statement.
"The Texas law will significantly impair women's access to the health care they need, particularly for communities of color and individuals with low incomes."
This graph, provided by Statista, shows the decline of the abortion rate in the U.S. according to the Centers for Disease Control and Prevention.