Republicans, Democrats Who Voted Against Stimulus Bill Explain Why
Congress passed the second COVID-19 relief package on Monday night as the vast majority of lawmakers voted in favor of a second round of stimulus checks, tax deductions and federal aid for schools and small businesses.
But the House and Senate votes to whisk the 5,593-page bill through Congress were not unanimous. A few dissenters on both sides of the aisle took issue with elements of the $900 billion stimulus package, its overall size and the short amount of time that they had to sift through reams of proposals.
The House of Representatives voted 359-53 on the bill, with two Democratic lawmakers and 50 Republicans breaking with party leadership on the proposals. The Libertarian Rep. Justin Amash also voted against the bill.
In the upper chamber, senators voted 92-6 in favor of passing the package. No Democrats broke ranks, but a handful of Republican senators opposed the bill including Ted Cruz of Texas and Rand Paul of Kentucky.
Rashida Tlaib of Michigan and Tulsi Gabbard of Hawaii were the two House Democrats who voted against the package.
Posting a statement about her decision, Rep. Tlaib said the bill was "woefully inadequate" in providing direct assistance to Americans. She added: "We will be back here in a month because the suffering will have gotten much worse because there has been a lack of bold action and priorities to put people first."
Gabbard was similarly unhappy about the $600 checks to be provided to Americans, as well as various tax deductions and handouts to corporations.
"$600 is a slap in the face to every American struggling due to the pandemic. You deserve better," she tweeted. "I voted against the 5,593-page spending bill that gave billions to corporate interests, the military industrial complex & other countries, leaving crumbs for you who need help most."
Rep. Alexandria Ocasio-Cortez (D-NY) also raised concern about the time lawmakers had been given to read the document—a matter of hours before they were expected to vote. However, she voted in favor, unlike her fellow Squad member Tlaib.
In a statement explaining why he had opposed the bill, Rep. Paul Gosar (R-AZ) also took issue with the timing. "No member can honestly say they know exactly what they voted for this evening," he said. "That is reason alone to vote no."
His GOP colleague Rep. Thomas Massie of Kentucky, who voted no, also raised questions about the time Congress had to check the plans.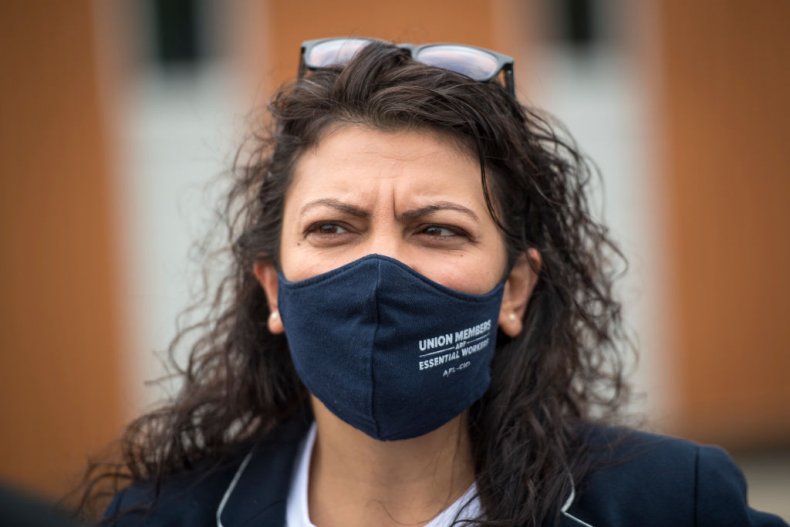 In a rare show of consensus, Sen. Cruz tweeted that Rep. Ocasio-Cortez was right to complain about the last-minute dash to vote on a complex relief bill. "It's ABSURD to have a $2.5 trillion spending bill negotiated in secret and then—hours later—demand an up-or-down vote on a bill nobody has had time to read," he tweeted.
Sen. Mike Lee of Utah (R) said it was "unacceptable" to ask lawmakers to vote on a 5,000-page long bill in the space of a few hours, because there was no chance they could perform their role properly before voting.
"Legislation like this needs to be voted on, it needs to be understood at the time it's voted on," he said in a video statement as the bill printed in the background. "Members need to have the chance to not only read it and understand it, but vet it with their constituents and offer up improvements."
Sen. Paul primarily took issue with the size of the stimulus on offer and its overall impact on public debt. "We are borrowing and worsening this debt crisis, in part, because too many governors and mayors have imposed heavy-handed restrictions that crush business," he tweeted on Monday evening.
At the end of last week, the senator argued that the U.S. should not "borrow any money" for further federal relief.