Republicans Far More Likely Than Dems to Call Gas Prices 'Hardship': Poll
Republican voters are significantly more likely than Democrats to say that rising gas prices in the U.S. have caused "a great financial hardship," according to a new poll.
A survey released by Monmouth University on Thursday found that 61 percent of Republican voters said gas prices have caused a "great deal of financial hardship," compared to just 21 percent of Democrats and 31 percent of independents. An additional 24 percent of Republicans added that gas prices have caused "some" financial difficulties, while 33 percent of both Democrats and independents agreed.
Nonetheless, a separate poll from Monmouth University published a day earlier found that over 80 percent all voters are still in favor of banning Russian gas and oil in response to the country's invasion of Ukraine. Analysts and President Joe Biden have attributed the recent spike in prices to the ongoing war.
The latest survey was conducted from March 10 to 14 using a sample of 809 U.S. adults. The margin of sampling error is plus or minus 3.5 percentage points.
The survey comes as the American Automobile Association (AAA) reported that the U.S. surpassed its all-time-high record for average gas prices on March 11, with the national average price reaching $4.33.
Prices have since dropped slightly, with the current average cost at $4.26 per gallon. The previous record was set in July 2008, when prices were $4.11. However, the issue has gotten so bad in some states that the governors of both Maryland and Georgia on Friday moved to suspend gas taxes until prices begin to further level out.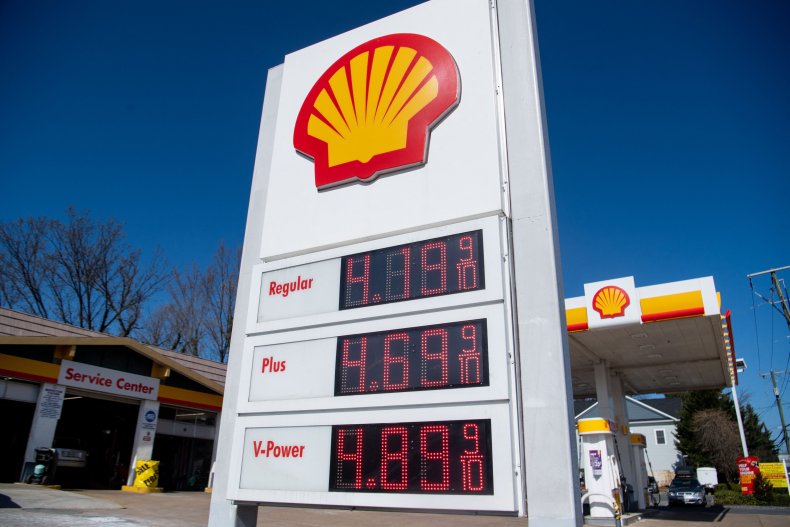 Earlier this month, Biden blamed the price increase directly on Russian President Vladimir Putin, calling the issue "Putin's price hike" and noting that his "war is hurting American families at the gas pump."
"From the moment he put his over 150,000 troops on the Ukrainian border, the price of gasoline in January went up 75 cents," the president said during a speech this month. "And Putin began amassing troops along the border and guess what? The world took notice. And those who've worked in the business know that the market anticipated, pricing went up more. Then Putin invaded. Make no mistake, inflation is largely the fault of Putin."
However, national polling has indicated that most Americans think Biden is responsible for the issue. According to a YouGov/Yahoo News survey published earlier this week, 30 percent of Americans said the president was at fault, while 23 percent blamed oil and gas companies, and less than 20 percent blamed Russia. Other surveys have shown that Biden's approval rating has taken a dramatic dip in the past year, with 70 percent of Americans saying they disapprove of his handling of gas prices.
AAA spokesperson Andrew Gross told Newsweek on Monday that Americans may start to see some relief at the pump as elevated oil prices begin to fall.
"It will likely drop but it won't drop very fast. It'll be a much more gradual decline," he said.