Republicans Motivated to Swing Georgia Back to Red in Senate Runoffs, Pollster Says
The pollster who accurately predicted President Donald Trump's win in the 2016 election is keeping a close eye on the Georgia Senate runoff elections next week, where a handful of variables are keeping the races tough to predict.
Trafalgar Group founder Robert Cahaly told Newsweek during an interview last week that Democrats are excited to participate following President-elect Joe Biden's win in November. In addition to denying Trump a second term in office, Biden also flipped Georgia to the Democrats for the first time since 1992.
Meanwhile, Cahaly said Republicans are concerned about the possibility of a Democrat-controlled Congress and executive branch if both Republican incumbents lose in the January 5 runoffs.
"In this runoff, I think you have the Democrats feeling very confident, and I think they're excited," he said. "I think that will lead to significant voter participation.
"I also think the Republicans in many ways feel a little bit backed into a corner, and are therefore also motivated," Cahaly continued. "One of the things that you can count on to increase voter participation anywhere there's an election is how much attention they pay to it."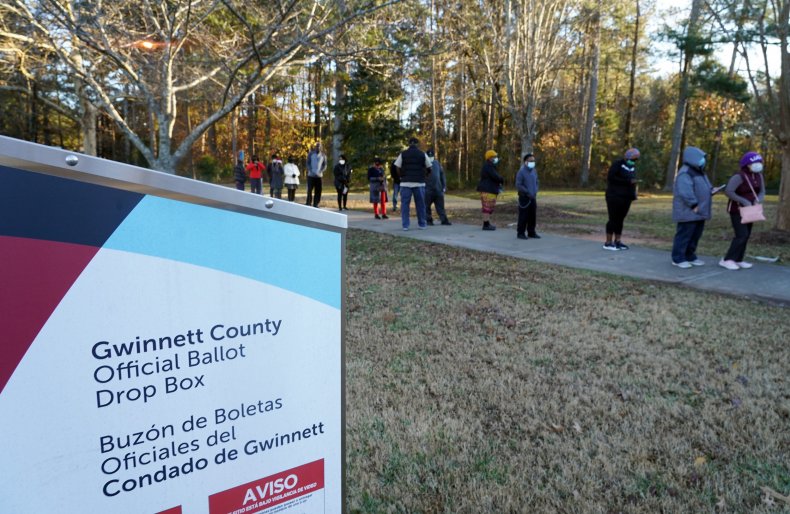 The stakes are high for next week's election. Georgia's two incumbent Republican senators, Kelly Loeffler and David Perdue, failed to receive 50 percent or more of the vote during the November 3 election. Both are facing tough campaigns from their Democratic challengers, who could change the balance of the power in the U.S. Senate if they are victorious.
It would take wins from Raphael Warnock, the Democrat challenging Loeffler, and Jon Ossoff, the Democrat challenging Perdue, for the party to claim 50 seats in the Senate. If that happens, Vice President-elect Kamala Harris would break any ties. However, if either or both incumbents win, Republican Senator Mitch McConnell of Kentucky will remain majority leader and Biden's incoming administration will likely face more difficulty in moving his legislative agenda forward.
Most polls conducted since the general election found the two Georgia Senate races close as fundraising skyrocketed for the final quarter of 2020. Trafalgar Group's polling also found the races close through December but said Perdue and Loeffler were both leading their competitors by December 18, with Loeffler maintaining a stronger edge over Warnock than Perdue held over Ossoff.
According to Cahaly, fear and fundraising are both significant factors heading into the special election. While Democrats are energized by Biden's win last month, Cahaly told Newsweek many conservatives in Georgia are realizing what Trump's loss could mean if Democrats win both of Georgia's Senate seats, a factor he calls the "fear of one-party government."
While Cahaly said some Republican voters initially told Trafalgar Group pollsters they were unmotivated to participate in the runoffs following the presidential election, those individuals are coming back into the fold as the surprise of the election wears off.
"Part of how these Republicans come back into the process is the realization that what they fear most is more likely if there is a Democrat-controlled Senate," Cahaly said. "I hear two reasons for Republicans to vote. One, they say, 'I don't want to see a Democrat-controlled Senate.' And two, they still believe the first election was fraudulent and, if enough of them turn out and more attention is paid, that they can prove it by showing how red Georgia is."
Another factor Cahaly said will likely keep voter turnout high is the amount of money pouring into the state in support of the candidates. According to campaign finance reports obtained by Bloomberg last week, the Ossoff and Warnock campaigns each raised more than $100 million between mid-October and mid-December, while the Perdue and Loeffler campaigns raised more than $60 million each.
"The more money that's being spent, the more people don't forget there's an election going on," Cahaly said. "I anticipate that this turnout will be significant for that reason."
When it comes to the candidates, Cahaly said the likely voters polled appreciated Loeffler's participation in the debate earlier this month with Warnock, but were frustrated by Perdue's refusal to participate in a similar debate with Ossoff.
"To be honest, most people didn't watch it. They just like hearing she went," Cahaly said. "It was a knock on Perdue that he didn't go."
Likely voters told pollsters they also had questions about the incumbents' stock trades, but they respected Perdue's consistency as a principled conservative and Loeffler's energy, Cahaly said. In contrast, some likely voters cited Ossoff's "openness to ideas" and Warnock's passion as positive traits, while others said the debunked allegations of Ossoff's business dealings with a Chinese company and Warnock's policy positions on policing were points of concern.
A significant part of Cahaly's belief in his polling results is tied to the anonymous poll respondent strategy Trafalgar Group uses. While many other polling organizations use live telephone polls, Cahaly said Trafalgar Group allows respondents to answer prompts without identifying them first. "The more anonymous people are, the more honest they are," he said. "We live in a day and age where people don't want to be judged for their opinions."
Though Cahaly inaccurately predicted Trump would win re-election, he told Newsweek he was happy with Trafalgar Group's polling margins in several key battleground states. "We were very pleased with how close we were across the board," Cahaly said, pointing to the presidential election in Wisconsin and the Senate race in North Carolina as examples of where Trafalgar Group's predictions were especially close.
Even so, he said there are areas in which he wants his company to improve. One point of concern for Trafalgar Group heading into the Georgia runoffs is a small voting bloc that Cahaly said his team has trouble reaching. The voters within that group lean Democratic and participated in both the 2018 and 2020 elections, he said.
"We have a very hard time talking to them; getting reliable phone numbers for them, getting reliable email addresses for them. And yes, they voted twice. This group is very solidly Democratic," Cahaly said, adding that the group is likely to participate in the runoffs, as well. "I'm looking at the participation levels of where they are and how they voted, and I've got to factor that in. Just because I can't find somebody doesn't mean they're not going to vote."
More than 2.1 million Georgians have voted early with one week remaining until the runoff elections, according to the nonpartisan website Georgia Votes. That number is nearly 700,000 early votes shy of the number reported one week prior to the general election, the website's analysis said.
Early voting aside, Cahaly said Perdue and Loeffler will still need voters to turn out on January 5 to keep the edge that his polling suggests. In addition to his questions surrounding the Democratic-leaning voting bloc and the determination driving both parties to urge high voter turnout, Cahaly said he will also keep an eye on a less emotional factor next week: the weather.
"I think it's going to continue to be close. The one thing to be wary of is an ice storm in Atlanta," Cahaly said. "Watch the weather. If there's an ice storm on Election Day, it's going to be bad news for Republicans who are counting on Election Day turnout."