Rivian Nabs $1.5 Billion in Incentives to Build a New Georgia Plant
Rivian Automotive, the electric vehicle (EV) company that beat the legacy automakers to market with the 2022 R1T electric pickup, just received $1.5 billion in incentives to build a new plant in Georgia. The package will include job training support, tax credits and subsidies, according to a statement by the Georgia Department of Economic Development.
Rivian will get $467 million in tax credits if it creates 7,500 jobs by 2028, as the automaker promised. But Pat Wilson, Georgia's commissioner noted that if Rivian doesn't produce that many jobs there are protections for the taxpayer. Almost $300 million will go into site preparation and job training. The final $700 million will come from the four counties hosting the plant, according to Bloomberg.
"In partnership with the Joint Development Authority (JDA) of Jasper County, Morgan County, Newton County, and Walton County, announced that the Economic Development Agreement has been signed by the JDA, the State of Georgia, and Rivian to move forward on the company's $5 billion Georgia project, which will create 7,500 jobs at Stanton Springs North," said the Georgia Department of Economic Development (GDEcD) in a statement.
"Rivian also released an updated site rendering and site plan for their carbon-conscious campus off I20, east of Atlanta. The JDA approved the agreement at a meeting on April 26," the statement said.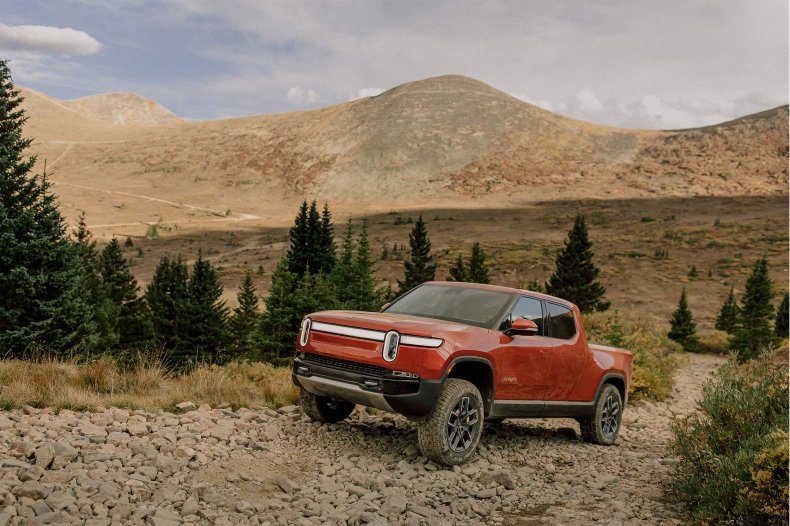 It has been an uphill battle to get the plant approved, located just outside of Atlanta, with local residents worried about traffic and environmental damage. A Facebook group called "Our Communities Oppose Rivian Assembly Plant" has sprouted up with more than 3,200 members. That forced the state to take over the approval process to stop delays in the project.
The Rivian plant will be the biggest economic development in Georgia since World War II. The state's only auto plant is from Kia in West Point. It's also home to the new $2.6 billion SK Innovation battery factory in Jackson County.
"At maturity, the Georgia plant is expected to operate at a capacity of 400,000 vehicles per year. The plant will produce Rivian's R2 vehicle, a smaller and lower-cost addition to our product lineup, as well as other future product lines," a Rivian spokesperson told Newsweek.
Rivian is far from alone in getting a tax break to open a factory in the U.S. Ford's BlueOval City campus, which will span nine square miles and employ 6,000 new workers in Tennessee, received an $884 million tax incentive. Tesla got more than $60 million to put its plant in Austin, Texas, as long as it promised to invest at least $1.1 billion into the location.
"States in the South and Southwest have been particularly generous with incentives and tax breaks and we're seeing a lot of automakers eager to work with these states. Ford has recently announced a sprawling EV manufacturing facility in Tennessee and a battery plant in nearby Kentucky. GM is building a new Ultium battery plant in Tennessee as well," Paul Waatti, AutoPacific analyst told Newsweek.
"Ford, GM, and Tesla have deep enough resources to invest essentially wherever they want, but it makes the most economic sense to build where there are attractive incentives to do so. And even more so for a relatively new startup like Rivian that is trying to get off the ground and conserve as much expendable capital as possible. Rivian has faced an uphill battle launching its products in the midst of the current, unfavorable supply chain environment," he said.
The Georgia manufacturing hub will be Rivian's second after its original factory in Normal, Illinois.