Robert Crimo Video Showed Shooter in Pool of Blood After Being Shot by Cops
The person of interest in Monday's mass shooting at a Fourth of July parade in a Chicago suburb is reportedly an amateur rapper who posted a number of videos depicting violence months before the deadly attack.
Robert Crimo III, whose stage name is "Awake the Rapper," allegedly posted one video showing an armed shooter opening fire inside a school and then lying in a pool of blood during a confrontation with law enforcement, the Guardian reported. Another video that allegedly came from Crimo showed the rapper hanging an American flag on himself after another depiction of a school shooting.
When Newsweek attempted to access the YouTube page for a user called "Awake the Rapper," it was not available.
"Following the horrific incident in Highland Park, our Trust and Safety teams identified and quickly removed violative content, in accordance with our Community Guidelines," a YouTube spokesperson said in a statement shared with Newsweek.
Law enforcement officials said that the shooting at the Independence Day parade for Highland Park, Illinois, left six people dead and more than two dozen others wounded. Crimo, 22, was designated as a person of interest in the attack, spurring a manhunt that culminated in police taking him into custody in nearby Lake Forest at about 6:30 p.m.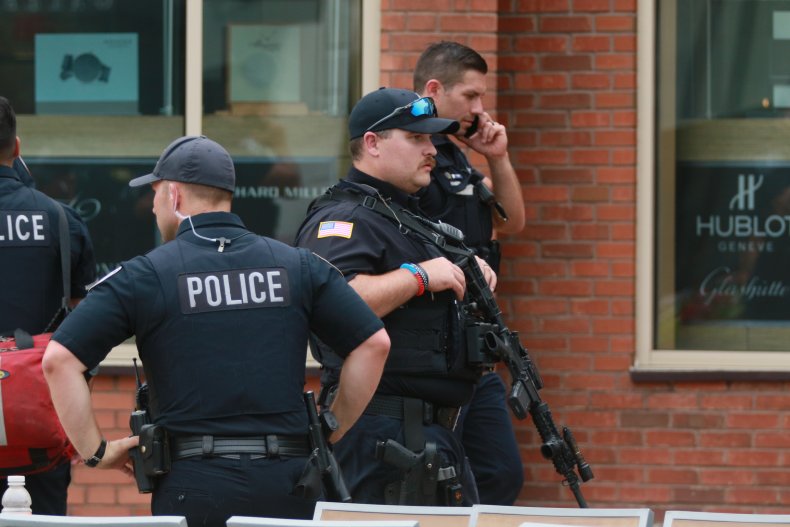 In addition to the alleged YouTube videos, Crimo reportedly made several social media or video posts in recent years that referenced former President Donald Trump. A video uploaded in January 2021 showed Crimo waiting with a crowd of Trump's supporters for the presidential motorcade outside an airport.
A June 2021 Twitter post with the caption "Spam" showed Crimo draped in a flag for the former president. He also was photographed at a Trump rally in a Chicago suburb dressed as the character from the Where's Waldo book series.
The Guardian's report specified that Crimo also ran a Spotify page that garnered more than 16,000 listeners every month, but the profile and corresponding music connected to the rapper were also not available in the wake of the shooting.
"Spotify, in partnership with the distributor, has removed the content in question," a Spotify spokesperson said in a statement to Newsweek.
The deadly attack in Highland Park was reportedly the first mass shooting since U.S. President Joe Biden signed a bipartisan gun package, which was created in response to the deadly attack on a Texas elementary school that left 19 children and two teachers dead, into law late last month. Biden said in a statement Monday that he and first lady Jill Biden were "shocked by the senseless gun violence that has yet again brought grief to an American community on this Independence Day."
"I recently signed the first major bipartisan gun reform legislation in almost thirty years into law, which includes actions that will save lives," Biden said. "But there is much more work to do, and I'm not going to give up fighting the epidemic of gun violence."
Newsweek reached out the Highland Park Police Department for comment.
Updated 7/5/22, 11:45 a.m. ET: This story was updated to fix a typo by YouTube in its statement.