Robert Keith Packer, Named As Capitol Rioter in 'Camp Auschwitz' Top, Arrested in Virginia
A man accused of storming the Capitol while wearing a hooded top with the words "Camp Auschwitz" printed on it was arrested in Virginia on Wednesday, according to law enforcement officials quoted by multiple news outlets.
The man, named as Robert Keith Packer, was detained in the city of Newport News, reported CNN and The New York Times.
An old mugshot of Packer, seen by Newsweek, strongly resembled the man photographed at the Capitol.
Images of the man were widely shared on social media and published by news organisations around the world.
The hooded top also features a skull and crossbones and the words "Work brings freedom"—an English translation of "Arbeit macht frei," the phrase displayed at the entrance of the Nazi death camp.
The photo was taken as thousands of Trump supporters, far-right extremists and conspiracy theorists launched an attack on Congress during the certification of Joe Biden's Electoral College victory.
Officials in Washington said dozens of people had already been charged with crimes relating to last week's riots and prosecutors expected "hundreds" more would be charged.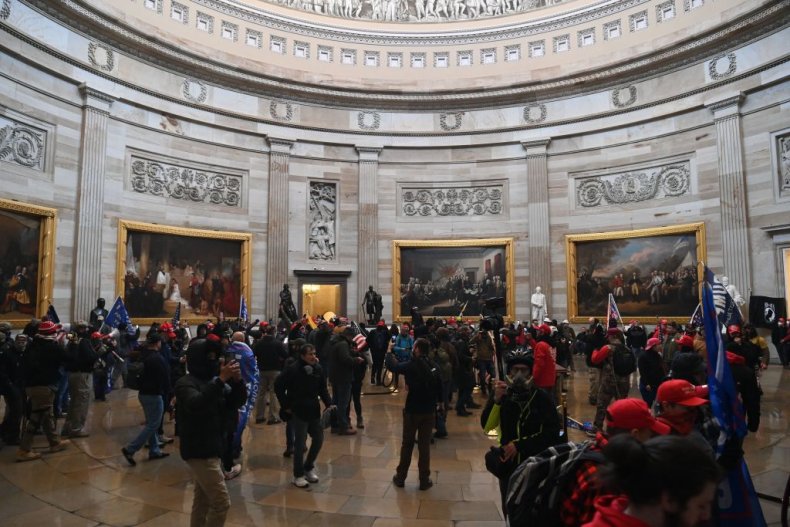 Among them was the son of a Brooklyn Supreme Court judge who investigators said was seen inside the Capitol wearing fur pelts and a police vest he is accused of stealing.
Aaron Mostofsky, 34, was picked up at his brother's home in Brooklyn on Tuesday morning, the Associated Press reported.
Elsewhere, a man captured on camera chasing a police officer inside the Capitol has been charged.
Doug Jensen, 41, was arrested at his home on the south side of Des Moines on Friday, the Associated Press reported.
Police also tracked down a man photographed carrying what appeared to be House Speaker Nancy Pelosi's lectern in Florida.
Adam Johnson, aged 36, from Parrish, Manatee County, was logged by the Pinellas County Sheriff's Office on Friday night—two days after the riot.
Richard Barnett, the man photographed sitting at Pelosi's desk, was also arrested and faces multiple charges.
Barnett, 60, faces charges of entering and remaining on restricted grounds, violent entry and theft of public property, according to NBC News.
He admitted to participating in the riot inside the Capitol, but said he was pushed into the building when the mob broke through the doors.
"I threw my feet up on the desk at that point. I realized some a**holes had cut me also and I bled on her envelope, so I picked up the envelope and put it in my pocket, and I put a quarter on the desk 'cause I'm not a thief," Barnett told Arkansas TV station KFSM.