Democrats Can Save National Abortion Right on Monday: Robert Reich
Democrat lawmakers outraged by the Supreme Court striking down Roe v. Wade could pass a law on Monday that would protect the right to abortion across the U.S., Robert Reich has said.
The high court used its ruling in Dobbs v. Jackson Women's Health Organization on Friday to overturn the 1973 decision that had guaranteed abortion rights nationwide, sparking protests and criticism from Democrats and other abortion rights supporters.
"I don't know about you, but I'm tired of lawmakers trying to cover their backsides when the Supreme Court justices they voted to confirm turn out as bad as the rest of us thought," wrote Reich, a former secretary of labor under President Bill Clinton, in a Substack post on Saturday.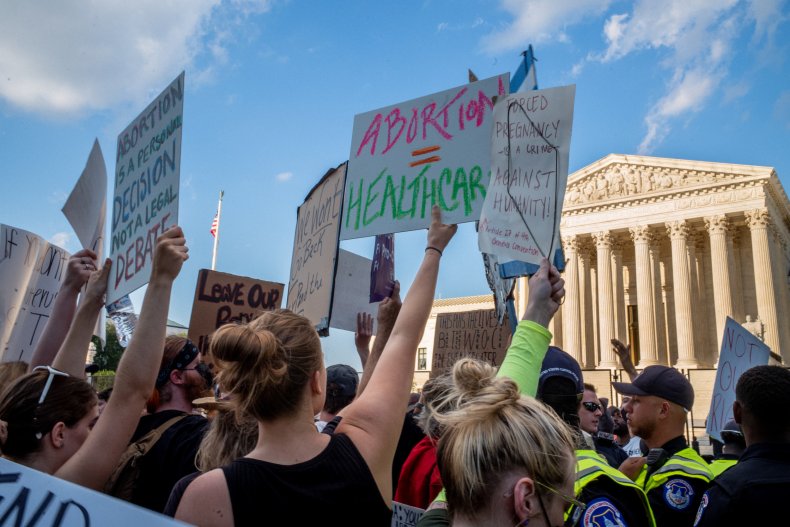 "If Susan Collins and Joe Manchin feel betrayed, and others feel outraged, all have an easy fix: They can carve out a reproductive rights exemption to the filibuster, then enact national abortion rights," wrote Reich, a professor of public policy at University of California, Berkeley.
"They could do it Monday. Time for the defenders of reproductive rights to act when they have the power, instead of posturing. What do you think?"
In comments to Newsweek, Reich emphasized that "it takes only 50 votes (plus the vice president) to change or carve out an exception to the filibuster—votes that Senate Democrats now have.
"To state it another way, Senate Democrats have it in their power right now to join with House Democrats to enact national legislation to protect abortion rights. If they do not, let the record show that Democrats did not, could not, would not move to protect this basic human right."
Senator Joe Manchin, a Democrat from West Virginia who voted with Republicans to confirm Justices Neil Gorsuch and Brett Kavanaugh, said he had "trusted" them when they testified at their confirmation hearings that they viewed Roe as settled.
Both justices, appointees of former president Donald Trump, were in the majority that voted to overturn Roe.
Susan Collins, a Republican from Maine, said the decision was "inconsistent" with what Gorsuch and Kavanaugh said in their testimony and private meetings.
On Twitter, some welcomed Reich's solution but others were doubtful the idea would ever come to fruition.
It comes after Senate Democrats failed to codify Roe into federal law last month, falling well short of the 60 votes needed to overcome a GOP filibuster, after a leaked draft opinion published by Politico indicated the Supreme Court was poised to strike down the landmark ruling.
Although Democrats control both chambers of Congress and the White House, Manchin and Democrat Kyrsten Sinema support maintaining the filibuster and their opposition to changes to Senate rules killed voting rights legislation earlier this year.
In recent days, several lawmakers have renewed calls for the elimination of the filibuster in order to enshrine reproductive rights into law.
"We are not powerless," Sen. Elizabeth Warren tweeted. "Here's what I'm fighting for: Expanding our Senate majority so we can eliminate the filibuster & codify Roe. Expanding the Supreme Court to rebalance this institution. Defending abortion rights in states through ballot measures and downballot elections."
"Overturning Roe v. Wade and denying women the right to control their own bodies is an outrage and in defiance of what the American people want," Sen. Bernie Sanders tweeted on Friday. "Democrats must now end the filibuster in the Senate, codify Roe v. Wade, and once again make abortion legal and safe."
Manchin, Collins and Sinema have been contacted for comment.
Update 6/28/22, 6:40 a.m. ET: This article has been updated with additional comment from Robert Reich.