The mobile apps for stock trading service Robinhood and the messageboard website Reddit surged this week as amateur investors on the platforms shook Wall Street by pouring money into companies in the crosshairs of short sellers.
As U.S. hedge funds continued to face an army of Redditors from the r/WallStreetBets community on Thursday, statistics released by Apptopia, Inc. suggested that at least some companies at the center of the storm were benefiting from the attention.
On January 27, GameStop closed at $347.51 per share, which was up 134 percent from the day prior. Late last December, the stock price was around $18.
According to Apptopia's analysis, January 27 was also notable for both Robinhood and Reddit breaking records for daily active users (DAUs) and overall downloads.
Robinhood, which has since been widely criticized by investors for its limiting of trades, shot to the top of the U.S. iOS App Store and had about 120,000 single day downloads, its most ever. It also recorded its highest number of DAUs, roughly 2.6 million.
According to The Information reporter Kate Clark, Robinhood has attracted 2.2 million downloads in January so far, compared to 1.2 million total last December.
Reddit reached second place on the U.S. iOS App Store on Wednesday and recorded 199,000 downloads, the most that it had ever amassed over a single day.
The wins extended to other apps. Trading server Webull recorded 952,000 DAUs, its highest ever number, while the broker TD Ameritrade recorded 444,000.
According to separate analytics platform AppAnnie, Robinhood remained top of the U.S. iOS App Store on Friday, followed by Webull, Reddit and Coinbase. On the Google Play Store, Robinhood was also top in the U.S., followed by Zoom, Reddit and Webull.
The Robinhood app was review-bombed on the Google Play Store on Thursday after an announcement that it was restricting trades due to "market volatility." Users accused it of trying to manipulate the markets, and it pledged to loosen the restrictions.
However, CNBC reported Robinhood trading on cryptocurrencies were left restricted on Friday, a move that aligned with a sudden spike in the value of Bitcoin that came after Tesla and SpaceX CEO Elon Musk changed his Twitter bio to read #Bitcoin.
"Due to extraordinary market conditions, we've temporarily turned off instant buying power for crypto. Customers can still use settled funds to buy crypto. We will keep monitoring market conditions," a Robinhood spokesperson said.
That announcement came after a cryptocurrency that started as a meme—dogecoin—appeared to gain traction on Friday following a push by Reddit groups.
The r/WallStreetBets subreddit has seen a massive influx in new subscribers this week as it continued to dominate conversations about the state of the U.S. stock market and its retail investors pumping money into GameStop, Nokia and BlackBerry.
The following graphic, provided by Statista, shows the year-to-date stock performance of GameStop, tracked since the beginning of 2021 when it was still under $50.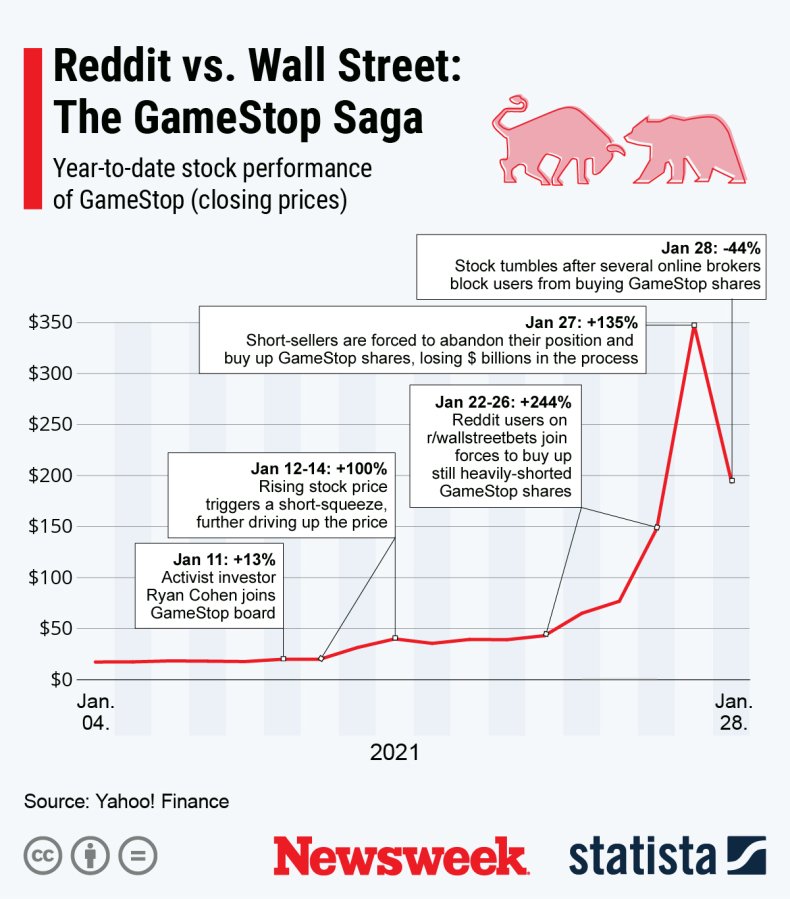 On Monday, the community had roughly 2.2 million users. As of Friday, it had six million users and rising. Its investors are also active on a dedicated Discord server.
Reddit CEO Steve Huffman defended the subreddit on Thursday, saying that it was not perfect but acting "well in the bounds of our content policy," Bloomberg reported.