Roger Stone Shares Space Force Picture Bearing Swastikas on Uniforms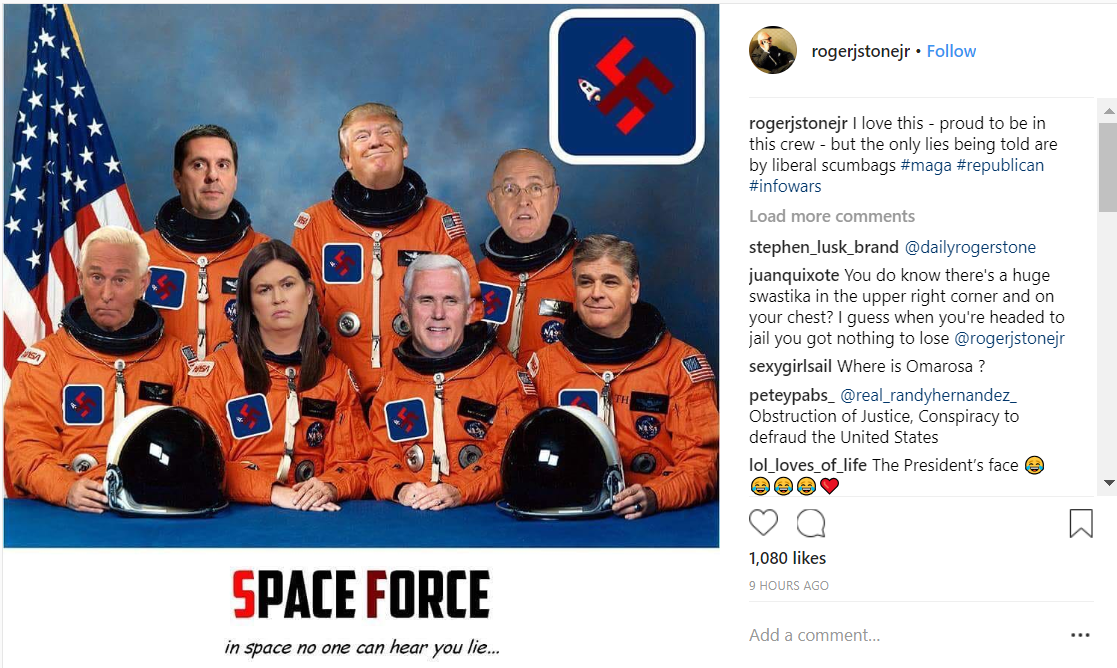 Former Donald Trump aide Roger Stone, who has long been linked with special counsel Robert Mueller's investigation into Russian interference of the 2016 elections, shared a picture Monday evening that featured himself, the president and other Trump loyalists wearing Space Force suits with swastikas on them.
"I love this – proud to be in this crew," Stone said in a caption. "But the only lies being told are by liberal scumbags #maga #republican #infowars."
The bottom of the picture read: "Space Force. In space, no one can hear you lie…." Stone later deleted the photo Tuesday.
The picture featured seven people, all wearing orange space suits with swastika patches made of the letters "S" and "F" to stand for the president's desired sixth military branch, Space Force. A larger swastika was also in the upper right corner.
The picture included Stone, Trump, Vice President Mike Pence, White House press secretary Sarah Huckabee Sanders, Trump's personal attorney and former New York Mayor Rudy Giuliani, Fox News Host and Trump friend Sean Hannity, and Republican Congressman Devin Nunes, the House Intelligence Committee chairman and supporter of the president who recently came under fire after a secret recording emerged of him telling Republican donors that collusion could be a criminal act.
Stone later offered an apology Tuesday afternoon while taking a swipe at critics, claiming he posted the image after it "was sent to me by a hater."
"I did not notice the image had a swastika in the corner," Stone wrote in the caption of a picture that said "SORRY" in bold white letters on a black background. "When It was brought to my attention I deleted it - so u libtards who are frothing at the mouth can stop sending insulting comments will only get u blocked #maga."
After Stone's public apology, he responded to Newsweek's request for comment from earlier that day. He pointed to his "more recent posting on Instagram for my comment. That [you] find this newsworthy makes me question your journalistic judgement," Stone added in an email.
The edited picture recently surfaced online to poke fun at the president and his supporters for advocating for the creation of the space military group.
Pence unveiled the administration's detailed Space Force plans last week, saying "our adversaries," like Russia and China, "have transformed space into a warfighting domain already."
Stone has continued to support the president as Mueller's probe continues to close in on those around him, telling CNN's Anderson Cooper last week under "no circumstances" would he testify against the president.
"I know that there exists nowhere evidence of Russian collusion or WikiLeaks collaboration or any nonsense pertaining to John Podesta's email," Stone said, who contacted WikiLeaks during the 2016 election in an attempt to get emails and potentially damning information on then-candidate Hillary Clinton. "I have not been contacted by the special counsel's office. I made it abundantly clear that there is no circumstances under which I would testify against the president."
Ex-Stone aide Andrew Miller was held in contempt of court last week after refusing a court order to testify and provide documents to Mueller's grand jury. Stone's longtime friend Kristin Davis, dubbed the "Manhattan Madam," told CNN's Chris Cuomo Monday night that prosecutors were concerned "about whether or not any collusion happened with Russia" when she met with Mueller's team before the grand jury.
"I think they're concerned with all of the people in the 2016 campaign, all of the high-profile names that we've seen come across and all of the people that have worked for Roger," Davis said, who believed persecutors are zeroing in on Stone. "I think that there's cause for concern based on that they just want to believe something happened, which I don't believe that it did."
Stone has maintained the position he did nothing wrong throughout the campaign.
This story has been updated to include Stone's removal of the post and further updated to include Stone's statement to Newsweek.