Ron DeSantis Bobblehead in Apparent High Demand Following GOP Wins
The National Bobblehead Hall of Fame and Museum launched a bobblehead of Florida Governor Ron DeSantis this week, after it received customer requests for the toy.
The organization announced the bobblehead of the Republican governor on Friday and said there have been requests for it "from both sides of the aisle," Florida's Local 10 News reported.
The National Bobblehead Hall of Fame and Museum offers bobbleheads of several other U.S. governors including California's Gavin Newsom, Ohio's Mike DeWine, Maryland's Larry Hogan, Texas' Greg Abbott and Michigan's Gretchen Whitmer.
"United States Governors have played instrumental roles in the country's continuing fight against the Coronavirus, often making difficult decisions and taking bold actions to keep their citizens safe from the COVID-19 pandemic," says the National Bobblehead Hall of Fame and Museum's website.
"These bobbleheads are not affiliated with, endorsed or approved by the Governors and were selected based on customer requests. They do not represent an endorsement or reflect any political affiliations by the National Bobblehead Hall of Fame and Museum," the organization added.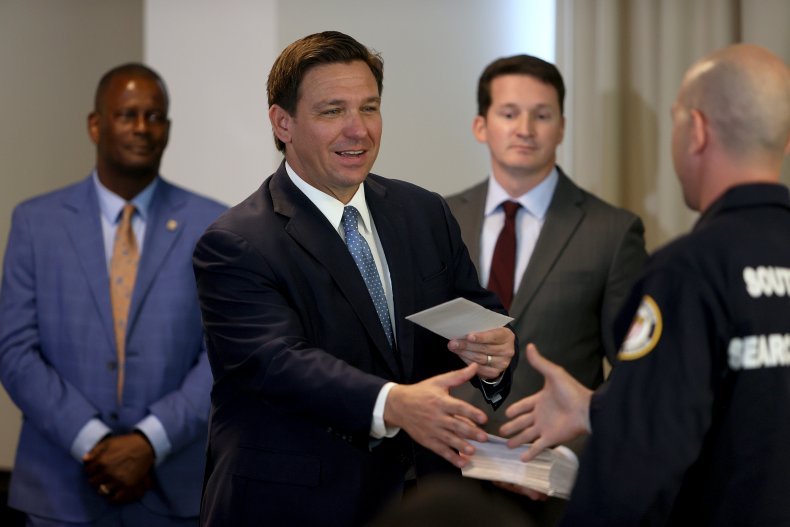 The DeSantis bobblehead launch comes during a week when Republicans saw major victories in U.S. elections. On Tuesday, Republican Glenn Youngkin beat out former Virginia governor Terry McAuliffe, a Democrat, in the state's gubernatorial race. Virginia Republicans also won all of their statehouse elections on Tuesday, flipping five Democratic seats.
In New Jersey, while Democratic Governor Phil Murphy won reelection, his Republican challenger, Jack Ciattarelli, came much closer to unseating him than pollsters had predicted. On Thursday morning, CBS News reported that Murphy had won the race with a margin of victory of about one point.
While DeSantis has been praised by many on the right, he has also faced criticism for his handling of the COVID-19 pandemic. When COVID cases and hospitalizations were surging in Florida over the summer, DeSantis' approval rating took a hit.
In recent weeks, however, cases in the state have trended downwards. Last week, a Florida newspaper criticized DeSantis after he attempted to take credit for declining COVID-19 infections in Florida.
More recent polling has shown DeSantis with substantial leads over the Democrats seeking to unseat him in 2022. A poll from Saint Leo University, which surveyed Floridians between October 17 and October 23, found the governor's approval rating at 56.4 percent and disapproval at 40.6 percent.
The poll also found DeSantis leading Democratic gubernatorial challenger Nikki Fried, Florida's commissioner of agriculture, by about 14 points, and another Democratic candidate, Congressman Charlie Crist, by more than 11 points.
The National Bobblehead Hall of Fame and Museum said the $25 DeSantis bobblehead will be shipping in February of next year.