Here's How DeSantis' School Boards Endorsements Fared in Florida
Florida Republican Governor Ron DeSantis enjoyed a successful night during Tuesday's primaries as nearly all of his endorsed local school board candidates either won their election outright or advanced into runoffs.
DeSantis backed a total of 30 candidates running in school board races in Florida, pumping money into their campaigns via his Friends of Ron DeSantis Super PAC and taking part in statewide tour to show support for those he backed.
Of these 30, a total of 19 won their election outright, with a further six advancing into runoffs and five losing their elections.
Ahead of the vote, the Republican praised all 30 candidates in a tweet as being "committed to the student-first principles of the DeSantis Education Agenda."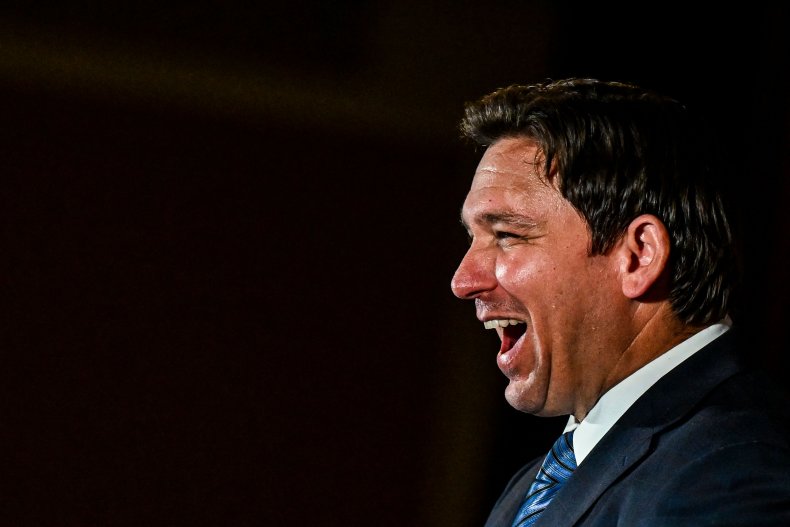 DeSantis has attracted national attention with his battles against the "indoctrination" of children through the teaching of critical race theory and the introduction of legislation that critics dubbed the "don't say gay" bill, as well as previously speaking out against mask mandates in schools during the COVID-19 pandemic.
As the results showed that many of his candidates won their races in what are nominally nonpartisan elections, DeSantis added in a follow-up tweet: "Freedom is on the line this November — and our bold agenda for parental rights in education, safe communities, a vibrant economy, and a protected environment is vital to keeping the state of Florida free."
The DeSantis Education Agenda had a particularly successful night in Sarasota County on Tuesday after all three of the governor's endorsed candidates won their election, shifting the school board from a liberal to a conservative majority.
Bridget Ziegler, Robyn Marinelli and Timothy Enos all win their elections in the 1st, 4fth and 5th districts respectively on Tuesday after getting the support of DeSantis.
"Sarasota School Board had a 3-2 liberal majority. Today Ron DeSantis endorsed candidates who won and flipped the school board so it's now 4-1 anti wokes indoctrination and pro parental rights," Christina Pushaw, rapid response director for DeSantis' reelection campaign, tweeted on Tuesday night.
Following her victory, Ziegler tweeted: "Sarasota County—WE did it!!! The Community has spoken & it is crystal clear—they are demanding a reset of the School Board. And that's what they are going to get."
DeSantis' interest in local school board elections arrives as he looks to further cement his influence in Florida while also prove how popular his policies are. The Florida governor's name has reportedly been mentioned as a potential 2024 presidential candidate.
Similar to how former President Donald Trump has endorsed dozens of candidates in a bid to mold Congress into his MAGA-agenda, experts believe DeSantis is hoping to use his influence to alter Florida politics across all forms of government by supporting school board officials.
"This governor is extremely popular with the grassroots and rank-and-file Republicans and those primary voters look for his opinion on people to vote for," Evan Power, Leon County GOP chair and Florida GOP chairman of chairs, told the Tallahassee Democrat. "I think he's used that power to push for active conservatives who share his view of Florida. It's something Republicans have wanted for a long time, Republicans who are willing to fight for a conservative agenda."
Paul Manafort, Trump's former campaign manager who was imprisoned for tax fraud in 2019, previously told Newsweek that success in local school board elections will be among the additional "bonuses" for the GOP in the primaries.
Manafort said that the GOP winning more school board seats will mean the country could remove "leftist school curricula that parents don't approve of"— such as the teaching of the critical race theory or discussing sexual orientation and gender identity to younger pupils.
DeSantis has been contacted for further comment.