DeSantis Escalates Fight With State Attorney Over Dylon Lyons Murder
Florida Governor Ron DeSantis upped his fight with a state attorney over recent killings in Pine Hills, blaming her for allowing the alleged gunman back on the streets after refusing to prosecute him for multiple serious arrests.
Keith Melvin Moses, 19, was arrested in Pine Hills after a shooting that claimed the lives of a woman, her 9-year-old daughter, and local television reporter Dylon Lyons on February 22. Another Spectrum News 13 reporter was wounded in the shooting.
Moses was charged with one count of murder and is expected to face further charges in the second and third shootings, according to Orange County Sheriff John Mina. He has a lengthy criminal history that includes gun charges, aggravated battery and assault with a deadly weapon, burglary and grand theft charges, Mina said during a press briefing.
On Monday, DeSantis' general counsel, Ryan Newman, sent a letter to the state attorney for the 9th Judicial Circuit of Florida, Monique Worrell, blaming her office's inaction for putting Moses in a position to commit the crime.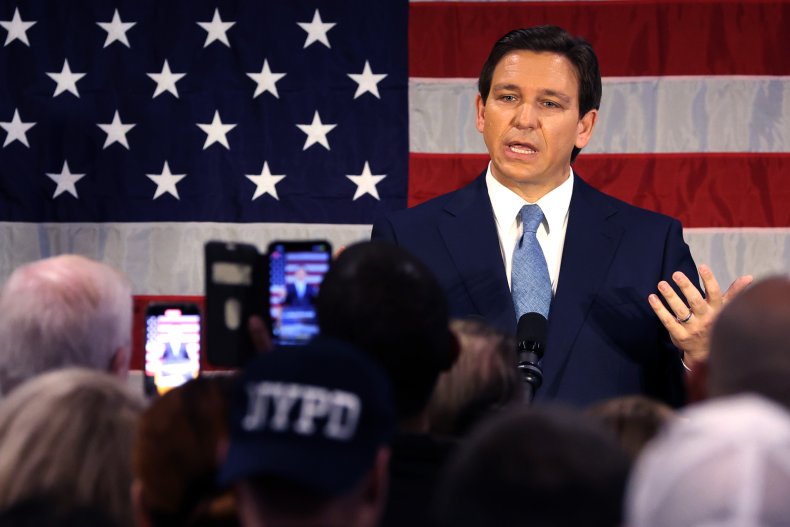 In the letter, obtained by Newsweek, Newman detail Moses' previous arrests, including possession of cannabis in November 2021. That arrest affidavit states that all three subjects in that arrest have multiple firearm possession charges.
Newman noted that Moses was on juvenile felony probation at the time of his arrest, having previously been arrested for offenses such as battery, burglary, larceny, robbery with a firearm, possession of a firearm, aggravated battery with a deadly weapon without the intent to kill and multiple instances of resisting an officer, "among other serious arrests."
"Tragically, despite the clear threat Mr. Moses posed to our community, you apparently made the decision to not pursue charges against him," Newman wrote. "The failure of your office to hold this individual accountable for his actions - despite his extensive criminal history and gang affiliation - may have permitted this dangerous individual to remain on the street."
He added that he must determine if Moses was "enabled" by gaps in Florida sentencing laws that must be corrected, or Worrell's office's "failure to properly administer justice."
DeSantis' office is asking Worrell's office to provide certain documents related to this case, including:
Copies of any and all reports, letters, summaries, statements and emails regarding Moses
Copies of any and all policies, reports, letters, summaries, statements and emails regarding decisions made by Worrell's office related to Moses
Copies of any and all reports, letters, summaries, statements and emails regarding Moses' juvenile felony probation
Copies of any and all documents relating to Moses' juvenile records
Information on individuals who were arrested for committing a felony or had violated the terms of their probation by being arrested for a crime, had a prior criminal history and were not prosecuted by Worrell's office.
The governor gave Worrell's office until March 14, 2023, to comply with his request.
In response to DeSantis' letter, Worrell said her office is working to compile all the information and records it is legally allowed to provide the governor.
Worrell added that the letter has "a number of misconceptions" that her office is working to correct.
"The suggestions and accusations that my office's 'policies' promote crime are empty political statements unsupported by actual facts," she told Newsweek in a statement.
"During my administration, the police arrested Mr. Moses on a single case, a misdemeanor possession of cannabis charge. Without evidence that conclusively proves Mr. Moses was in possession of illegal marijuana, it is simply not possible to prove a crime occurred. Therefore, my office did not pursue charges," Worrell said.
During a speaking engagement Sunday, DeSantis said he "cannot believe" the state attorney's office let Moses out on the streets and blasted the Orlando district and state attorney, saying not prosecuting people does not lead to a better community.
When people with multiple arrests are not held accountable and the attorneys "keep cycling them out into the community," DeSantis said, "you are increasing the chances that something bad will happen."
DeSantis said his latest crime package, which is awaiting a ruling from the Florida Supreme Court, aims to ensure judges "hold these people accountable."
The best way to protect the community is to get those who commit crimes "off the street," he said. "And the only way you can do that is if you prosecute them when they're committing this criminal activity."
The governor's office refused to provide further comment on the case.
Update, 3/1/2023, 3:45 p.m. ET: This story was updated with a comment from Monique Worrell.