Sen. Ron Johnson (R-WI) is the target of a $1 million ad campaign urging him to support stimulus checks having previously pushed against these and questioned the wisdom of such spending.
A statewide advertising push is to begin Tuesday, Milwaukee Journal Sentinel reported, urging the senator to cease opposing further direct payments amid the COVID-19 pandemic.
Johnson previously blocked efforts in December to pass a bill to send out another round of $1,200 checks. He cited concerns about the federal deficit.
Another $600 round was signed off at the end of last year and President Joe Biden has outlined his desire to send out another $1,400 payment, to make up $2,000 with the prior checks.
Opportunity Wisconsin, which describes itself as a "coalition of Wisconsin residents fighting for an economy that works for working people," will urge Johnson to change tack with TV adverts aired in his home state, Milwaukee Journal Sentinel reports.
On its website, the group states on a page alongside the ads: "We've had enough of Senator Ron Johnson blocking COVID relief for Wisconsin families. We're pushing back and demanding that he change his stance and provide critical relief checks to Wisconsin families during this difficult time."
In a further statement, Meghan Roh, Opportunity Wisconsin program director, said: "These ads send a powerful message we hope Senator Johnson hears loud and clear. Opportunity Wisconsin will continue to push Senator Johnson to support legislation that supports Wisconsin families who need help now."
The ads are to run in the Milwaukee, Green Bay, Madison, and La Crosse markets, the group said.
The videos show case studies of people in Wisconsin struggling amid the COVID-19 pandemic. These encourage people to call Johnson and tell him to "stop blocking the relief checks."
In a recent interview, Johnson questioned the extent of stimulus spending and suggested this should be done in a more targeted manner.
"When you spend trillions of dollars, it will help people but we don't have an unlimited checking account and we are not being careful," he said, speaking to WISN 12 News.
"We are not stopping and considering if there is a better way to do this. That is why I think it is unwise."
He also questioned the amount of people who have lost jobs in the pandemic, asking why many millions get the checks than jobs that have been lost.
In previous comments to WSAW-TV, Johnson said he wanted to target those who have lost jobs, and assess their needs in a more specific way.
On targeting relief, he said: "I'm not saying this is easy to target, but we ought to try a whole lot harder than what we are, as opposed to just shotgunning out a couple hundred billion dollars more of money when we don't have it. We don't have an unlimited checking account."
Biden's stimulus plans have not been signed off, and he has spoken of his desire to have relief proposals gain bipartisan support. He is being pressed by progressives over his $1,400 check pledge.
Republicans have questioned his spending proposals and called for the parameters surrounding who gets stimulus checks and how much these are for to be tightened. Democrats could push forward with plans through budget reconciliation, which would allow them to do so without Republican support.
Newsweek has contacted Opportunity Wisconsin and Johnson's office for comment.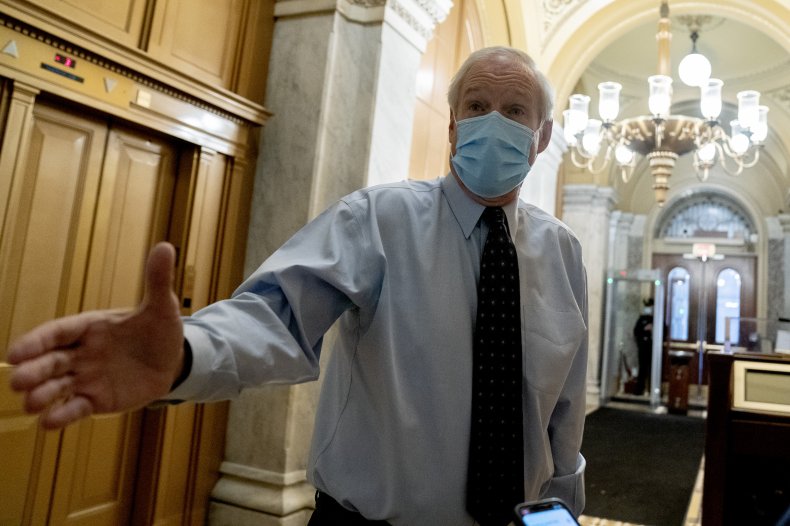 Update 02/16/2021: This page was updated with further detail from Opportunity Wisconsin.