In Season 5 of Gilmore Girls, newspaper publishing magnate Mitchum Huntzberger sits down aspiring journalist Rory Gilmore, an intern at the Stamford Eagle-Gazette, and gives her an unsolicited performance review. "I've worked with a lot of young people over the years," says Huntzberger, who also happens to be the father of Rory's boyfriend at Yale, Logan. "Interns, new hires. I've got a pretty good gut sense for people's strengths and weaknesses….
"And I've to got to tell you," he says. "You don't got it."
Bam! Print it.
As a fan of the show, you may have loathed the Huntzberger lion, but as a journalist, I respect his bluntness. As withering as Huntzberger's review sounded more than a decade ago, back before the term "newspaper publishing magnate" was an anachronism, he was right. Rory is bad at journalism, as the four episodes of the recently released Netflix series Gilmore Girls: A Year in the Life illustrate. Never mind deadlines; she cannot even master a paper route.
In the course of the four new episodes, we see Rory, once the editor-in-chief of the Yale Daily News, bombing interviews at both GQ and Sandee Says (a fictitious blog). She falls asleep while interviewing one source and sleeps with another. She lobbies for a non-paying job (talk about cinema verité) as editor-in-chief of the Stars Hollow Gazette, where she fails to break any stories ("Steampunks Invade Stars Hollow!") but drinks hooch at her desk during lunch hour. (You have to write like The New York Times's David Carr before you can behave like David Carr.)
Related: Why 'Gilmore Girls: A Year in the Life' will be bingeworthy
When it comes time to deliver the first edition of the Gazette (is it a weekly? A quarterly?) published under her stewardship, Rory demonstrates that she does not know the east side of Stars Hollow from the west side: the town in which she was born and raised, not to mention her beat.
Rory: "You take the west side of town, I'll take the east."
Lorelai: "Got it."
Rory: "Where are you going?"
Lorelai: "That's west."
Rory: "That's east."
Lorelai: "That's west."
Rory: "It's not. See, Eastside Dental. It's east."
Lorelai: "And the name of the dentist at Eastside Dental is…
Rory: ...Dr. Eastside. Holy cow, I just put that together?"
Print is not dead. It just has a horrible sense of direction.
Eleven years after the conclusion of the original series, the Gilmore Girls reboot opens with Rory having just flown across the Atlantic and fielding a phone call from The Atlantic. She is also basking in the glow of her "Talk of the Town" piece in The New Yorker, which Stars Hollow diner owner Luke Danes has reprinted on the back of his diner menu (probably without permission from Condé Nast).
But, like many of the news stories we read on Facebook, this tale is a partial fabrication. Rory's trans-Atlantic travels are little more than London booty-calling, and The Atlantic phoned only to inform freelancer Rory that her story is being held (a courtesy call that freelancers receive, at best, 20 percent of the time).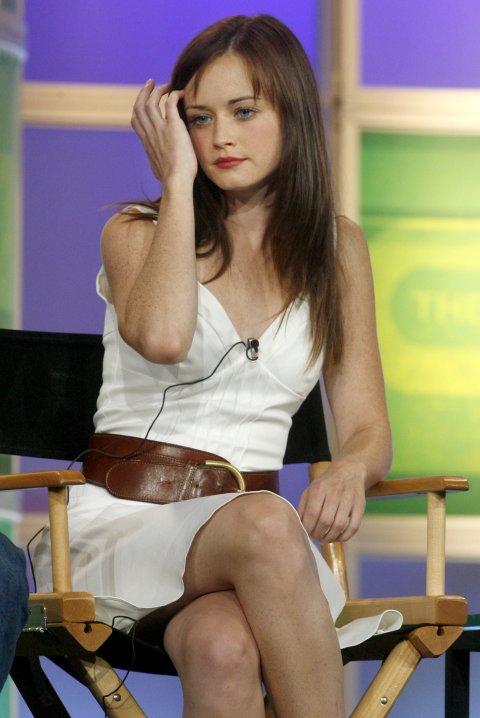 Before long, we begin to think of Rory less as a journalist and more as a wizard. She is working on a book, though she has no advance. Working at a newspaper, though she has no salary. Traveling back and forth to London so casually that it may as well be New London, Connecticut. Is she able to just conjure money?
Rory's grandmother, Emily Gilmore, is the last objective and discerning judge in Rory's orbit (she should write op-ed columns for her granddaughter's paper). "You're homeless!" Emily declares, and she's right.
Early in the first episode, Rory's mother, Lorelai, is awakened to the sound of tap dancing in the kitchen. Rory explains that she has taken up tap to relieve stress, but of course it is also a metaphor. The erstwhile golden child of Stars Hollow and Chilton Prep is tap dancing through life. She claims to have many "irons in the fire," but unlike the plethora of quirky supporting characters who populate her hometown, she has no hearth. She has no idea in what direction she's headed, even when she's not delivering the Eagle-Gazette.
Yale degree notwithstanding, her instincts are poor. Huntzberger, that aforementioned ogre, arranges for her to interview with the editor-in-chief of GQ, and she cannot even Ginger Rogers her way through it. Also, she allows herself to be compared to David Foster Wallace, which is like attending a medical school interview and casually claiming some skills akin to Jonas Salk's.
When Rory finally lands a story assignment—on spec—about the phenomenon of people standing in lines for whatever is trendy, she launches into an interview without any foreplay banter. Lorelai, who has tagged along, is more of a natural at conversing with people (note: Many writers are notoriously poor at face-to-face conversations.) Later, Lorelai and Rory happen upon a trio of men who they believe are at the head of a line, only to learn that the suits are simply eating lunch on a stairwell. The line has formed behind them. There's your kicker, Rory!
Instead of pursuing that subplot, Rory ventures out for beers with a few sources (good job) and then sleeps with the one who was dressed as a wookie (poor job). The next day, Rory arrives for a job interview at Sandee Says expecting a coronation. What a blow to her ego to have a contemporary who is clearly forging a more direct path to making one of those "40 Under 40" lists tell her she's not worthy. "Get a better attitude!" Sandee says, and she too is right.
Next time we see Rory, she is back at the worldwide headquarters of the Stars Hollow Gazette, pouring herself a liquid lunch and throwing a self-pity party as her two septuagenarian (or older) staffers tend to their duties. About those staffers, Esther and Charlie: Cleary they were co-creators Amy Sherman-Palladino and Daniel Palladino's dig at print. A pair of obsolescent Luddites, with Esther manually filing the same file every time we see her and Charlie napping at his desk. (He must be on the publishing side.)
For all the accolades Rory has received, she is, at 32, fragile. Still closer to girlhood than womanhood and still rudderless. The town's resident half-wit, Kirk (rhymes with quirk), is a better filmmaker than Rory is a journalist. Taylor Doose is a superior playwright. Hep Alien has more chops. Michel at the Dragonfly Inn conducts a more incisive interview and, unlike Rory, does not fall asleep while doing so. Emily, whose meltdown at the DAR (Daughters of the American Revolution) meeting was the zenith of the revival, has a far more trenchant voice.
Even when Rory finally finds her purpose, banging out the first three chapters of a memoir, she needs a copy editor. She presents her manuscript for The Gilmore Girls to Lorelai, who opts not to read beyond the cover page but says, "Take out the The. Gilmore Girls. It's cleaner."
Honestly, every Rory moment in this revival is the best advertisement for state schools or online universities you will ever see. At last, we come to the final scene, which we will not spoil here other than to say Rory is given the last line, which is just two words. And with that, Huntzberger's evaluation of 11 years earlier is fully validated. Because, Rory, with that revelation you committed one of the cardinal sins of journalism: You buried the lede!
Read more from Newsweek.com:
- Christian Bale, 'Dr. Who' and every other reference in the 'Gilmore Girls' reunion, explained (Part 4)
- Tori Spelling, 'Thirtysomething' and more references from the 'Gilmore Girls' reunion explained (Part 3)
- Every 'Gilmore Girls' revival pop culture reference, explained (Part 1)