Rosary Sales Rise Amid Suggested Link to Christian Nationalists: Report
Online retailers of rosaries have reportedly seen a spike in sales after an article in The Atlantic reported that the sacramental beads have taken on new importance for extremist Catholics and Christian nationalists.
Three online stores that sell rosaries said they've all seen an uptick in businesses after The Atlantic article stirred interest and controversy, the Catholic News Agency (CNA) reported Tuesday. The reporting comes as conservatives have openly embraced the once-eschewed Christian nationalist label.
Writing in The Atlantic, Daniel Panneton argued that rosary beads have taken on a "militaristic meaning" for so-called radical traditional Catholics, similar to how the AR-15 rifle has become a "sacred object" for Christian nationalists. Panneton wrote that rosaries now appear on far-right social media pages and memes, often accompanied by images of firearms and praying warriors.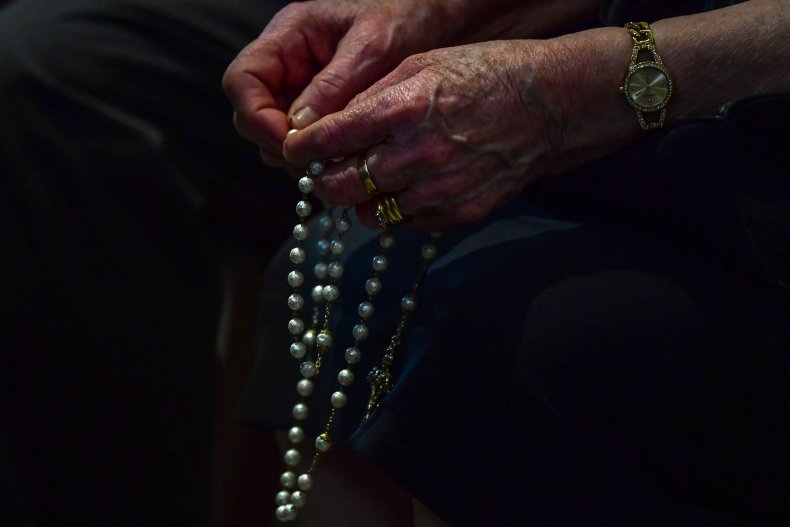 "On this extremist fringe, rosary beads have been woven into a conspiratorial politics and absolutist gun culture," wrote Panneton. "These armed radical traditionalists have taken up a spiritual notion that the rosary can be a weapon in the fight against evil and turned it into something dangerously literal."
A string of beads attached to a cross, rosaries are used as an aid by Catholics to guide them through a sequence of prayers.
Shannon Doty, CEO of Rugged Rosaries, said The Atlantic article spurred "a pretty good boost in sales" on her websites, RuggedRosaries.com and MonkRosaries.com, according to CNA. She told the news outlet "we are not discouraged, and are in fact strengthened in our determination to make strong rugged rosaries for everyone."
Jonathan Conrad, founder of the Catholic Woodworker, told CNA that he had his best sales day of the month on Monday, a day after The Atlantic article was published.
Christian nationalism attracted new interest after Republican Representative Marjorie Taylor Greene said during a conservative political convention last month that the label is "not a bad word."
"If we do not live our lives and vote like we are nationalists—caring about our country, and putting our country first and wanting that to be the focus of our federal government—if we do not lead that way, then we will not be able to fix it," said the Georgia conservative.
Critics of the ideology say that it leads to violent radicalization and is incompatible with the universal teachings of Jesus.
However, other conservative political and media figures have latched on to the label. Political commentator Dinesh D'Souza called Christian nationalism "good and healthy."
Far-right Christian movements have previously been hostile to Catholicism. But memes depicting rosaries as weapons are giving ultraconservative, or "rad-trad," Catholics an on-ramp to the broader Christian nationalist movement, wrote Panneton.
David Carollo, executive director of World Apostolate of Fatima USA, told CNA that while sales and interest of rosaries and other religious items have risen, he called the article "downright insulting" and that he planned to pen a response.
"We don't pray against people, we pray for people," Carollo said. "That's what the rosary is all about."
Newsweek has reached out to Panneton for comment.