Since it was revealed that Ashton Kutcher and his wife, Mila Kunis, wrote character letters on behalf of friend and That '70s Show co-star Danny Masterson—who was sentenced to 30 years in jail on September 7 for two rapes—the 45-year-old's past behavior has been called into questions by fans, including Rosie O'Donnell.
Posting to TikTok on Wednesday, the comedian released a 10-minute "covid ramble," which included her thoughts on the matter.
The 61-year-old said that she had been scrolling through social media while isolating in her bedroom with the virus to keep on top of the news. One of the stories that caught O'Donnell's attention was the Kutcher/Kunis controversy.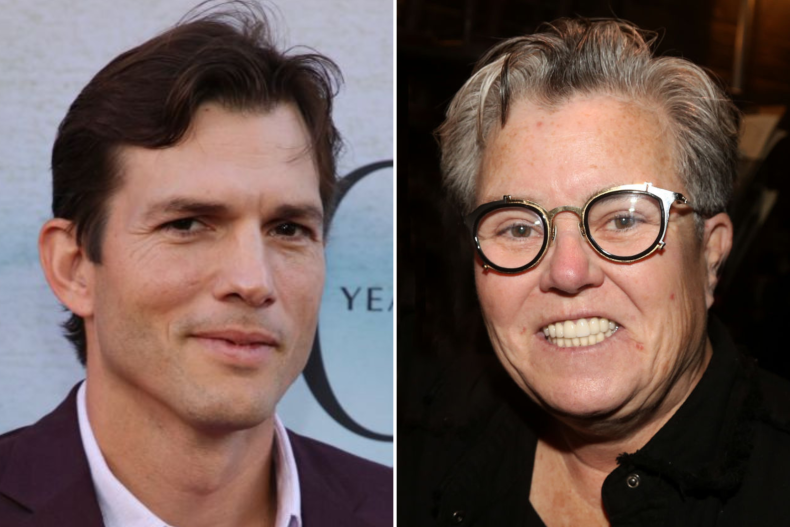 "If I was Ashton Kutcher and Mila Kunis, and my good friend of 25 years, someone that I've known and been around and am very close to, know their family, was accused and convicted of a heinous crime and convicted like Danny Masterson was, I would never write a letter supporting them," O'Donnell said.
"But, I don't know what kind of relationship Danny had with Ashton and Mila, I really don't," she added.
O'Donnell referenced an old episode of her show, filmed in 2002, in which Kutcher and Kunis appeared as guests. During the episode, Kutcher recounted a bet he had with Masterson about French-kissing Kunis, who played Jackie, his character Kelso's girlfriend in the early seasons of That '70s Show. At the time the kiss was filmed, Kunis was 14 years old, while Kutcher was 19.
"Ashton's attractive and I was a 14-year-old little girl, and I was extremely scared for my life," Kunis said in the interview, after confessing that the onscreen kiss was her first ever.
"He was very nice about it," Kunis added. "He was like, 'Oh, don't worry.' So I was like, 'OK.' Then Danny goes, 'Dude, I'll give you $10 if you French-kiss her.'"
Kutcher said that he and Masterson, then 22 years old, had a side bet going, with Masterson telling Kutcher that he wasn't brave enough to kiss Kunis with tongue.
"And then the cops showed up and you got arrested, pretty much," O'Donnell joked, to which Kutcher replied: "They should have, but they didn't."
Kunis then said that Kutcher's attempts to French-kiss her failed, with Kunis confirming "He never got his tongue in my mouth."
The 21-year-old interview has resurfaced on social media since Masterson's sentence was revealed, along with comments Kutcher made about Hilary Duff and Mary Kate and Ashley Olsen, who were all underage at the time.
In what appears to be a segment from Punk'd, the hidden-camera practical joke show that Kutcher created and presented starting in 2003, the actor describes a then-15-year-old Duff as "one of the girls that we're all waiting for to turn 18. Along with the Olsen twins."
In her TikTok video, O'Donnell described both resurfaced clips as "just creepy, disgusting" and said it "doesn't look good for Ashton Kutcher."
O'Donnell also mentioned Kutcher's work to fight sex trafficking through Thorn, which he founded in 2012 with ex-wife Demi Moore. The company develops technology to fight sex trafficking and online sexual abuse. "Interesting times," O'Donnell said.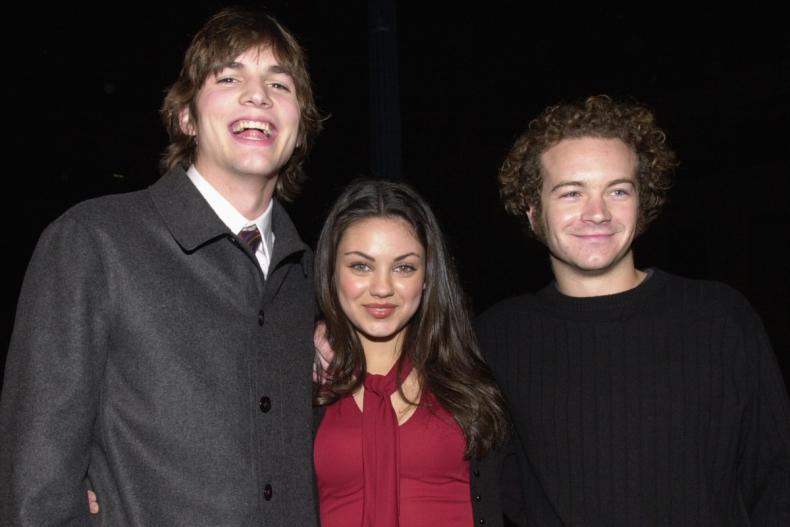 In an apology video posted to Instagram on September 9, Kutcher and Kunis said they support victims.
"We have done this historically through our work and will continue to do so in the future," Kunis said.
"The letters were not written to question the legitimacy of the judicial system or the validity of the jury's ruling," she added.
"They were intended for the judge to read," Kutcher said. "Not to undermine the testimony of the victims or re-traumatize them in any way. We never want to do that, and we're sorry if that has taken place."
However, the video sparked backlash online, with a crisis communications expert saying that "apology video was not an apology."
Newsweek has reached out to Rosie O'Donnell, Ashton Kutcher and Mila Kunis for comment via email.