Russia's reports that it is destroying Ukraine's U.S.-supplied HIMARS is probably "wishful thinking" due to the capabilities of the rocket launching systems, according to a Finnish official.
"Russia said it destroyed two HIMARS. This has not been confirmed and is likely wishful thinking, as the HIMARS are capable of operating beyond the range of Russian artillery, and Russia has no air superiority," Ville Cantell, director of the Finnish Foreign Ministry's Sustainable Development and Trade Communications unit, tweeted Monday.
Russia said Monday that its forces had destroyed two U.S.-made HIMARS in Ukraine, adding to the four systems it previously said it took out.
Newsweek reached out to Cantell via the Finnish Foreign Ministry's Sustainable Development and Trade Communications unit to verify which of Russia's reports on destroying HIMARS he was referring to.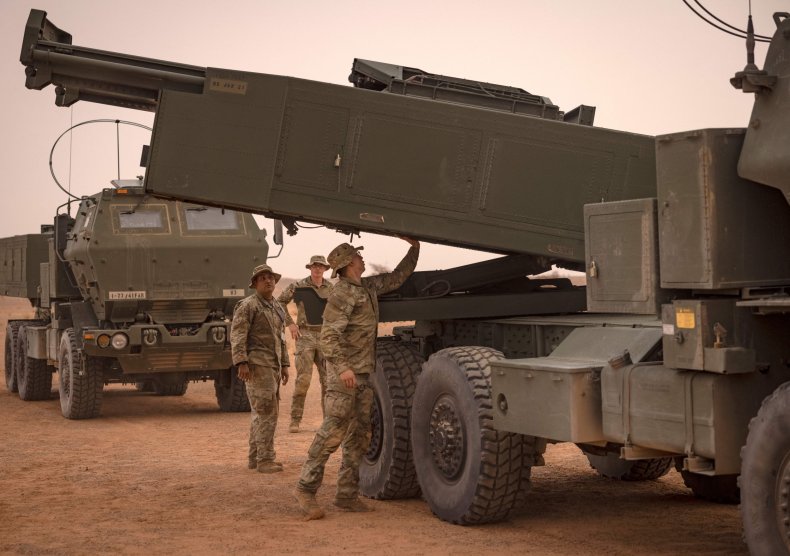 The U.S. HIMARS, an acronym for M142 High Mobility Artillery Rocket System, have been touted as a "game changer" in Ukraine's fight against Russia's invasion, which began in late February. The U.S. has sent 16 in total to Ukraine, four of which arrived Monday, according to an announcement from Oleksii Reznikov, Ukraine's defense minister.
"We have proven to be smart operators of this weapon," Reznikov tweeted. "The sound of the #HIMARS volley has become a top hit of this summer at the front lines!"
Like Cantell, a U.S. Pentagon official said that Russia is failing to gain air superiority in Ukraine.
HIMARS are long-range, mobile rocket systems that can fire with precision. According to HIMARS manufacturer Lockheed Martin, the systems have a "recognized and proven range" of up to 300 kilometers, the equivalent of more than 186 miles.
U.S. and Ukrainian officials have lauded the use and effectiveness of HIMARS in the war with Russia, with U.S. General Mark Milley, chairman of the Joint Chiefs of Staff, telling reporters at a news conference last month that Ukrainians had been "effectively employing" the rocket launching systems, "with strikes against Russian command and control nodes, their logistical networks, their field artillery near defense sites and many other targets."
At the same conference, which was held the day before Russia said it destroyed four U.S. HIMARS in a two-week period, Milley said that Russia had so far failed to take out any of the systems.
A Russian military expert, meanwhile, hinted at hushed plans on state television last week to use a "secret development" that purportedly allows it to hack into the U.S.-supplied HIMARS in Ukraine.
Newsweek reached out to the defense ministries of Russia and Ukraine for comment.