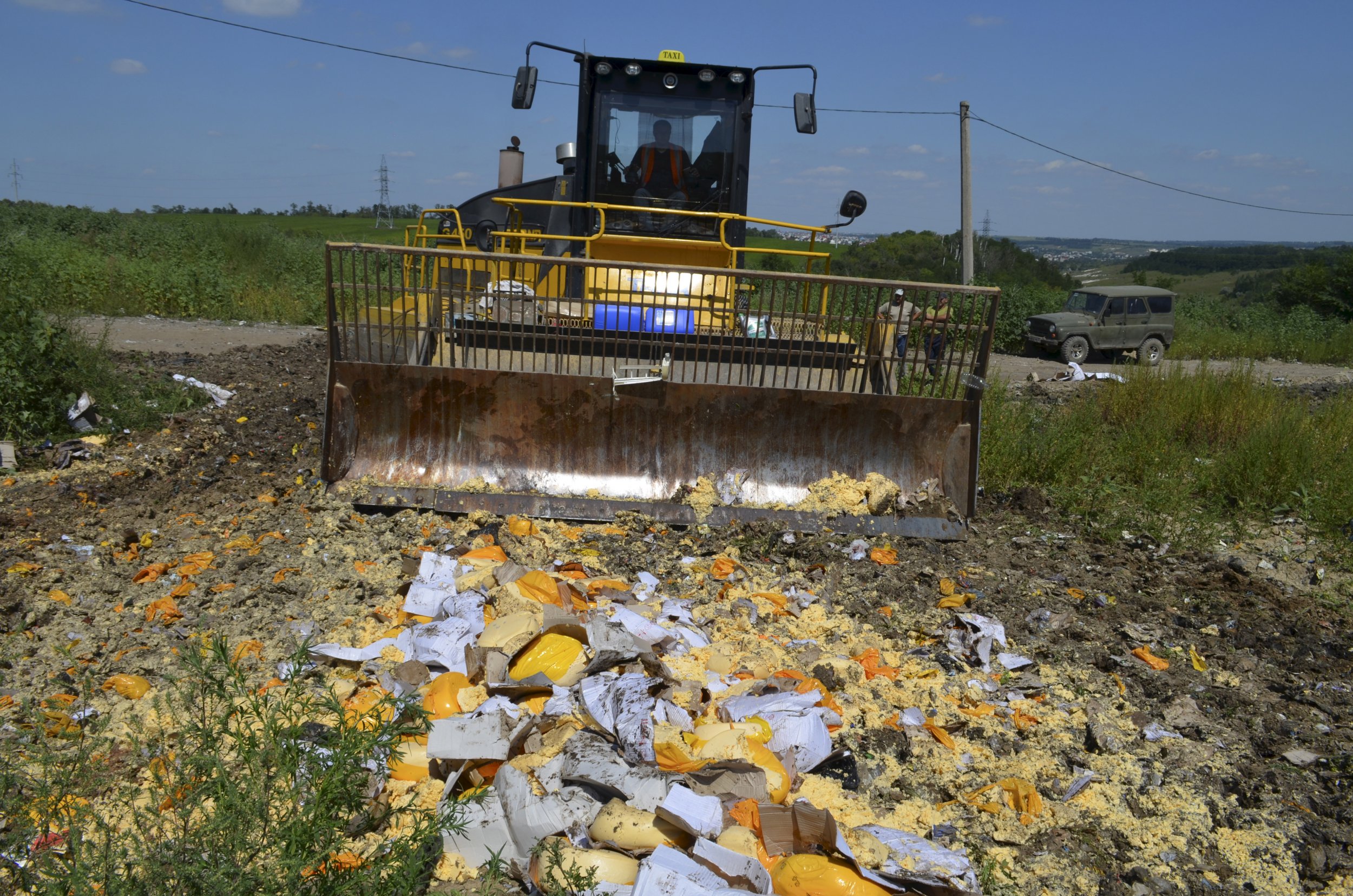 Russia has destroyed thousands of tons of foreign food and goods over the past three years, following a controversial decision by the Kremlin to ban numerous Western imports.
Western governments moved to punish Russian President Vladimir Putin for his annexation of Crimea in 2014 by placing powerful officials close to him under sanctions. Moscow hit back by banning imports of many consumer goods from the European Union and the U.S. The move has given Russian produce, fish, other meat and dairy a boost but has also increased prices and resulted in a surplus of banned goods, sitting under the lock and key of health authorities.
Russia has been destroying the imported goods by the crate load, seizing 27,000 tons and bulldozing more than 26,000 tons of imported goods since 2015, agriculture watchdog Rosselkhoznadzor announced on Monday. Over the past year, Rosselkhoznadzor estimates it has destroyed 350 tons of animal products under the import sanctions and 7,500 plant products, in compliance with Putin's orders.
"From the 'sanctioned' plant products, 24,900 tons have been destroyed," a statement from the watchdog said. "The biggest part constitutes fruits, in particular apples of Polish origin, but also a considerable amount of tomatoes of Turkish origin."
Poland's apples were a considerable part of its billion-dollar fruit and vegetable exports to Russia. After Moscow announced a ban on the import, however, many Poles rallied behind their country's products, pledging to eat more apples to spite the Kremlin.
Russian Prime Minister Dmitry Medvedev then took the unusual step of defending the ban as necessary for health reasons, saying that "these apples that get exported are drowned in chemicals by the Poles, but then they eat the good ones themselves." His Polish counterpart at the time, Ewa Kopacz, dismissed Medvedev's comments, saying Poland's produce adheres to EU hygiene rules and farmers can be "proud" of their work.
Although Turkey is not part of the EU, its own food exports to Russia came under sanctions after a public stand-off following the downing of a Russian jet in 2015.
Read More: Ukraine wants to take Russia to court and bill the Kremlin for war damages
Besides fruit and vegetables, Russian authorities have also confiscated animal products that fall under the European import embargo, destroying some 862 tons. "The most prevalent cargo group is dairy products," the watchdog said.
Following the first mass destruction of imported goods in 2015, the Russian government faced a major backlash, triggering both mockery online and a petition to reverse the policy, which currently has over half a million signatories. The current decree signed by Putin will expire at the end of next year, state news agency RIA Novosti reported, when the Kremlin will decide whether or not to renew it.