Russia Increases Civilian Targets in Ukraine as Putin Struggles: U.K.
Russia's military is ramping up its targeting of civilian infrastructure in Ukraine as it "faces setbacks on the front lines," the United Kingdom's Ministry of Defence said on Sunday.
In an "intelligence update" posted on Twitter, the ministry claimed that in the last week, Moscow has "increased its targeting of civilian infrastructure even where it probably perceives no immediate military effect."
Russian missiles struck a reservoir dam near the Ukrainian city of Kryvyi Rih, the BBC reported on Thursday, which caused the flooding of some houses and prompted officials to evacuate some areas. Ukrainian President Volodymyr Zelensky said the dam had "no military value at all."
Russia has also increased its targeting of Ukrainian power plants in recent days.
The U.K.'s Ministry of Defence said Sunday that as Russia "faces setbacks on the front lines," it "likely extended the locations it is prepared to strike in an attempt to directly undermine the morale of the Ukrainian people and government." It also mentioned Russia's attacks on Ukraine's electricity grid as well as its attack on a "dam on the Inhulets River Kryvyi Rih."
Russia has suffered losses in the battlefield in recent weeks, as Ukraine launched a counteroffensive to take back territory Russian troops had occupied in the northern Kharkiv region and southern Kherson region. On Monday, Zelensky said that troops had recaptured about 2,320 square miles of territory since their counteroffensive began at the beginning of September.
Newsweek has reached out to the Russian and Ukrainian defense ministries for comment.
In late August, the U.S. Embassy in Kyiv said it believed Russia would step up attacks on civilian infrastructure in the coming days.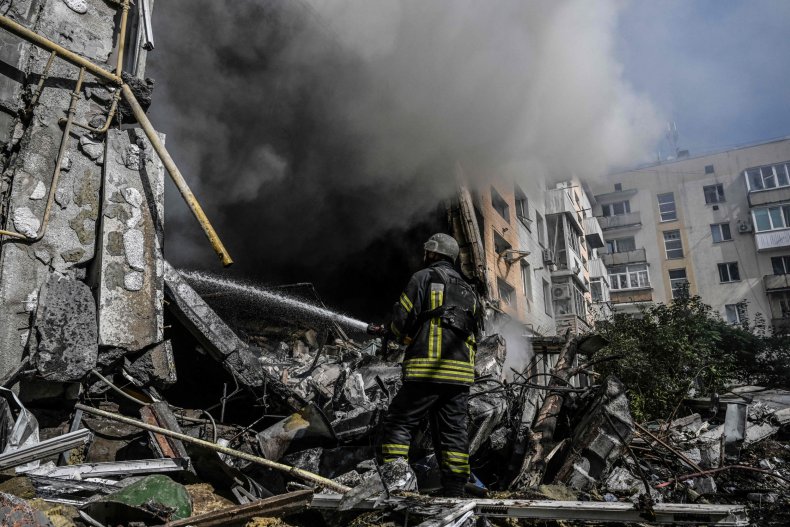 "The Department of State has information that Russia is stepping up efforts to launch strikes against Ukraine's civilian infrastructure and government facilities in the coming days. Russian strikes in Ukraine pose a continued threat to civilians and civilian infrastructure," the embassy stated at the time. "The U.S. Embassy urges U.S. citizens to depart Ukraine now using privately available ground transportation options if it is safe to do so."
Last week, British intelligence officials also said that they believe the Russian military is experiencing "increasingly severe" manpower shortages. Officials mentioned a video in which Russian billionaire Yevgeny Prigozhin reportedly attempts to recruit Russian prison inmates to fight as mercenaries in Ukraine.
"If you serve six months [in Wagner], you are free," Prigozhin said in the video, according to the BBC. The Wagner Group, is an elite paramilitary force that has been linked to Putin.
However, he also told the prisoners that "if you arrive in Ukraine and decide it's not for you, we will execute you," the outlet reported.
Ukraine Won't Engage in Peace Talks With Russia: Official
In a tweet on Sunday, Zelensky's chief of staff Andriy Yermak said "Russia understands force only."
"Attempts to negotiate with criminals are absurd. Only sanctions and military advantage can force them to stop aggression against [Ukraine]," he said.
There have been several attempts at peace talks between Ukraine and Russia, but none have amounted to any agreement.