A Kremlin propagandist has waxed lyrical about the visit to Russia of North Korean leader Kim Jong Un, as he outlined how closer ties between Moscow and Pyongyang could threaten the U.S.
Kim met Putin in Russia's eastern Amur oblast on Wednesday reportedly to negotiate an arms sale agreement, although this has been denied by the Kremlin. Newsweek has, as yet, been unable to verify this claim.
Political scientist Sergey Mikheyev told the Russia-1 channel about his hopes for blossoming ties between Russia and North Korea. He said that the meeting was a step that creates problems for Americans through military and technical cooperation.
"Comrade Kim might get access to hypersonic technologies, then his missiles won't just fly all over the place, but right where the old fart (President Joe) Biden is sitting," Mikheyev said in the video clip posted on X, formerly known as Twitter, by journalist and Russia watcher Julia Davis.
"This won't be Avdiivka or Marinka," Mikheyev added, referring to towns in Ukraine's Donetsk oblast, which are key areas in the war, "but Washington, California, Los Angeles, San Francisco and so on."
Mikheyev said that talk of Vladimir Putin only bluffing when talking about the use of hypersonic missiles and China's reluctance to use such weapons due to trade ties with the West contrasted with what Kim might be capable of because he had nothing to lose.
"Here, we have found a man who will do this. My friends, we found a good man, our dearly beloved Comrade Kim Jong Un," Mikheyev said, provoking a smirk from the anchor, Vladimir Solovyov, an ally of Vladimir Putin. "His hand will not hesitate to launch it in your direction. It's a big question of whether or not you can intercept it," he added. "As for us, we won't even be at fault."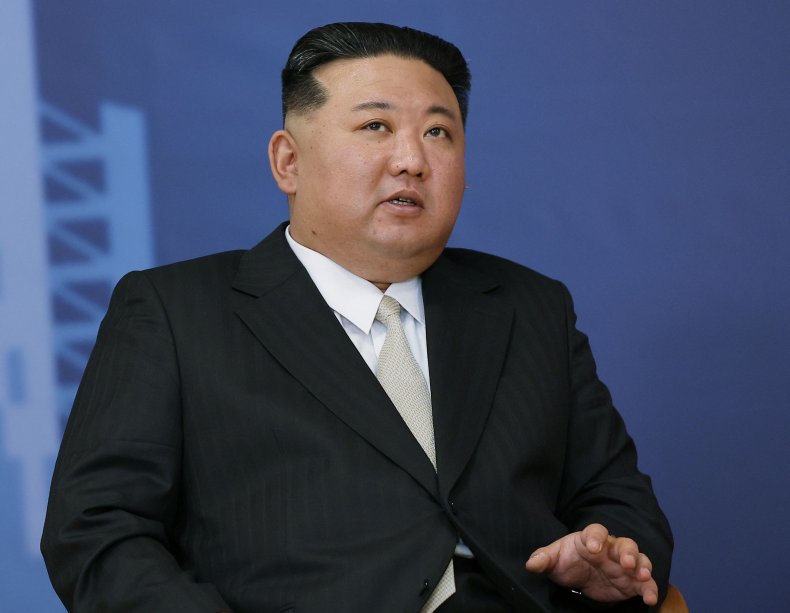 As Mikheyev continued, it seemed like the program's guests were indulging him on a flight of fancy. He described how he pictured North Korean nuclear-powered submarines patrolling the U.S. Pacific Coast, with Solovyov even interrupting to suggest they could also go down the Hudson River.
Mikheyev said that Russia could benefit from obedient and cheap labor from North Korea and added that Kim's visit was a "feast for the soul."
The U.S. has warned about the consequences of closer military cooperation between Russia and North Korea, saying that they could face further sanctions if they agreed to an arms deal. Kremlin spokesperson Dmitry Peskov told reporters that no such agreement had been reached and it was not the purpose of Kim's visit.
Meanwhile, the U.S.-based think tank Institute for the Study of War said on Thursday that Putin would have to be careful about hedging his claims about Moscow's ties with Pyongyang to avoid triggering new sanctions.
Newsweek has contacted the U.S. State Department for comment via the media request form on its website.