Russia to Make Ending War Harder on Ukraine: Kremlin Lawmaker
A top Russian official on Tuesday said his country will make additional and harsher demands in any upcoming peace negotiations with Ukraine.
"Today the conditions from our side will be tougher both on demilitarization and denazification, tougher in essence and in time of their execution," Leonid Slutsky, leader of Russia's Liberal Democratic Party (LDPR) and a member of the Russian delegation tasked with negotiations with Ukraine, said during a press conference, according to Russian state-run news agency TASS.
"I emphasize that this is if the negotiation process is resumed. So far, Kyiv officials have not shown any willingness to resume talks."
Russia has previously made similar statements that Ukraine is holding up a potential end to the war. In June, the Kremlin-backed news agency RIA Novosti reported that Russia's Foreign Ministry expressed a desire to return to the negotiating table once Ukraine showed a "constructive position," in the words of Deputy Foreign Minister Andrei Rudenko.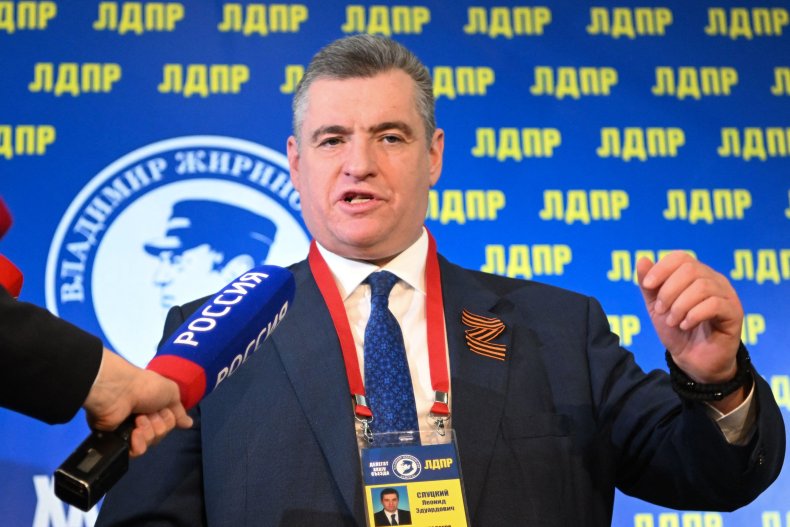 Ukraine has maintained that the war would only end once it had regained control of territories within its borders that are currently occupied by Russian troops. Peace negotiations stalled after Ukraine accused Russia of committing war crimes by massacring civilians in communities near the capital city of Kyiv.
Slutsky's comment about "denazification" referenced claims that the Kremlin has made since Russian President Vladimir Putin ordered the invasion in late February. As one of its several justifications for the war, Russia has said it is trying to battle a growing neo-Nazi sentiment in Ukraine, claims that have been dismissed as false by Western leaders. Ukrainian President Volodymyr Zelensky is Jewish.
Last week, Zelensky used harsh rhetoric when talking about Russia and an end to the war. During a national speech, he said Russia's military is too cowardly to concede defeat.
"They no longer have strategic strength, character or understanding of what they are doing here on our land," Zelensky said. "They also don't have even an iota of courage to admit defeat and withdraw troops from Ukrainian territory."
In April, Zelensky said that any future negotiations with Russia would end if Putin attempted to make new territorial claims in Ukraine. He expressed a desire to end the war away from the battlefield.
"I want to stop the war and end it," he said during an April press conference. "There is a diplomatic path and a military one. Any healthy person chooses the diplomatic path because he knows that even if it is difficult, it can prevent the loss of millions of people."
Newsweek reached out to Ukraine's Foreign Ministry and the Russian Foreign Ministry for comment.