Russian Money for Taliban to Fight U.S. Part of Plan to Get Afghan Foothold, Officials Say
Russian aid presented to the Taliban was part of a grand strategy to seize on U.S. attempts to end a beleaguered war effort in Afghanistan and to help set the stage for future influence there, current Pentagon and former U.S. intelligence officials told Newsweek.
Dismissing the widely tossed-around term "bounty" to refer to the practice of Russia's Main Directorate, commonly called the Main Intelligence Directorate (GRU), supplying financial assistance to the Taliban in exchange for targeting U.S. troops, those that spoke with Newsweek characterized the actions of Moscow's elite military espionage unit as part of a wider plan to expedite a U.S. withdrawal from Afghanistan and to foster working ties with the powerful militant group likely to have a stake in the war-torn country's future.
"The Russians, long term, want a place in Afghanistan," a former CIA officer who served in the region and spoke under the condition of anonymity told Newsweek. "They feel by developing relationships with elements within Afghanistan, with the government, with the Taliban, with the various Taliban forces in the country, they want a footprint in that country."
"It makes sense to give them money, it makes sense to develop political capital that you can leverage, because that's good foreign policy," the former CIA officer said.
The New York Times first reported Friday that the spymasters of GRU Unit 29155 offered money to Taliban leaders in exchange for the insurgents killing U.S. troops, citing Western intelligence officials briefed on the matter. The Associated Press, which cited U.S. officials with direct knowledge of the situation, reported Tuesday that top White House officials were aware of intelligence on what was going on since at least early last year and President Donald Trump himself had been briefed on intelligence relating to the issue.
One Pentagon Russia policy analyst not authorized to speak publicly on the matter described to Newsweek Moscow's behind-the-scenes Taliban ties as an "influence operation against U.S. interests" because the broader goal lay with disrupting Washington's designs in Afghanistan.
A senior Pentagon official who also requested anonymity referred to Russia's outreach to the Taliban as "a covert support program with layers." It involved "weapons, equipment and other assistance," the official said, adding that there may also be "incentives for taking out U.S. or British forces within."
The official told Newsweek that such activity "illuminates Russia's willingness to partner with a former enemy to not only undermine U.S. strategy and operations, but to engage with warfare through proxy hitmen and thugs."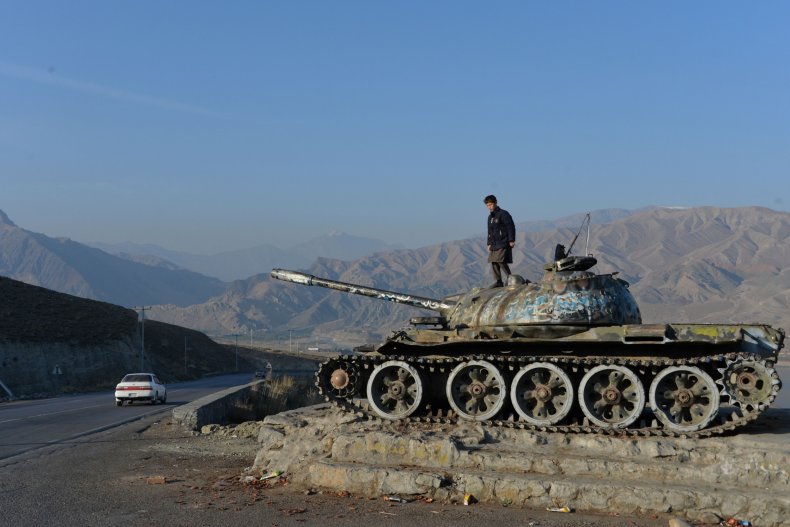 Russia and the Taliban have both denied any transactional relationship based on attacks on U.S. troops. Reached for comment, the Pentagon referred Newsweek to Defense Secretary Mark Esper's statement Tuesday in which he said "the Department of Defense has no corroborating evidence at this time to validate the recent allegations regarding malign activity by Russian personnel against U.S. forces in Afghanistan."
Trump cited this quote Wednesday in a tweet, writing: "Do people still not understand that this is all a made up Fake News Media Hoax started to slander me & the Republican Party. I was never briefed because any info that they may have had did not rise to that level."
The Pentagon later released a congressionally-mandated report spanning data from last December to the end of this April that shed further light on Moscow's policy in Afghanistan. It found that Russia "very likely continues to support U.S.-Taliban reconciliation efforts in the hope that reconciliation will prevent a long-term U.S. military presence," and at the same time was "working with the central government, regional countries, and the Taliban to gain increased influence in Afghanistan, expedite a U.S. military withdrawal, and address security challenges that might arise from a withdrawal."
"Russia has politically supported the Taliban to cultivate influence with the group, limit the Western military presence, and encourage counter ISIS operations, although Russia publicly denies their involvement," it added.
The ordeal is the latest chapter in both Washington and Moscow's troubled, bloody histories in Afghanistan, where the two sides have alternatively collaborated and undermined one another.
The Soviet Union's doomed 1980s campaign to salvage a communist government in Kabul has often been likened to the earlier U.S. war in Vietnam. Whereas Moscow backed leftist, revolutionary elements across the globe, Washington countered with its own ilk of irregular forces, including in Afghanistan, as part of the many proxy theaters that comprised the Cold War.
CIA backing for the Afghan mujahideen helped secure a win against Moscow, where the Soviet government itself would soon collapse. But the victorious, loosely-affiliated insurgents soon went to war with themselves, giving rise to powerful Islamist militants Al-Qaeda and local ally the Taliban, who would dominate a 1990s civil war against an internationally-recognized government backed by various regional actors, including Russia.
A U.S.-led Western invasion following the 9/11 attacks orchestrated by Al-Qaeda dismantled the Taliban's de facto rule but left behind an insurgency that continued to command vast influence, allowing it to regain swaths of territory in the years since the longest war in U.S. history began. In another record-breaker, ongoing efforts to recover Stinger surface-to-air missiles given to the mujahideen to shoot down Soviet helicopters remain the longest-running U.S. covert operation, the former CIA officer told Newsweek.
With success far from sight, Trump accelerated efforts to broker a historic peace with the enemy. As he did so, Moscow publicly supported ending the war, even hosting discussions between Taliban and former Afghan leadership and volunteering a guarantor role in the U.S.-led talks taking place in the Qatari capital of Doha throughout last year.
But senior Pentagon officials had been saying since at least 2018 that Russia was supplying the Taliban with lethal aid. As the prospect of a U.S. exit appeared more likely in the year to come, Douglas London, a former CIA official who served as chief of counterterrorism for South and Southwest Asia, said the Kremlin saw an opportunity.
"I think it works and aligns very well for the Russians," London told Newsweek. "I think what the Russians have long been doing is trying to increase their influence with the Taliban."
As U.S. intelligence became aware of the situation and began to inform the White House, London said such briefings would have addressed the degree of Russian financial and material support for the Taliban, which continued to kill U.S. troops amid peace talks.
"What [the Russians] want to have happen is not to keep us there longer, but to help get us out sooner and to help whatever peace comes or whatever agreement comes, one in which they're the greatest influencers," London said. "That's why they then got so heavily involved at the same time, which I do not think is coincidental on the diplomatic side, because the hope was that the United States will continue to be frustrated and restless and want to get out because the president doesn't want to be there."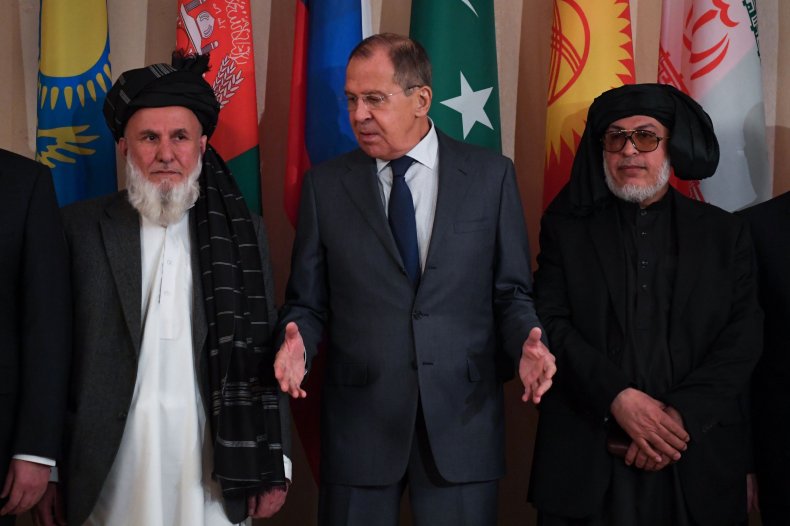 Trump has long sounded off against his predecessor's "endless wars" that have produced few clear victories, while sparking concern in Russia as countries much closer to its borders became mired in conflict. Today, Moscow has amplified its role in wars spanning from Ukraine to Syria and, most recently, Libya, where even some U.S.-aligned countries have fallen into the same fold as a more militarily and diplomatically brazen Russia.
"The Russians actually operate with a greater holistic approach to foreign policy," London told Newsweek. "We do know they are able to command structure. So they have all their pistons firing in foreign policy, covert influence, intelligence, where we tend to be sadly a bit more inconsistent."
Even with Russia's advantages—including its proximity to the Afghan conflict, allowing it to meet quietly with Taliban officials in a host of near-theater nations in South-Central Asia—London listed a variety of options the U.S. could have taken in response to evidence that Russia was actively backing the Taliban, from diplomatic and military communications to riskier provocations on the ground.
Douglas Wise, a former CIA senior Intelligence Service and deputy director of the Defense Intelligence Agency, also said the U.S. side would have a host of responses available. Though it remained uncertain what the tactical result would be of taking the issue up with Moscow, he said the cost of inaction might have resounded even louder.
"We have no leverage over the Taliban and less leverage over the Russians," Wise told Newsweek. "Quite frankly, the do-nothing option probably didn't have much of an impact because anything we did would have had very little impact on the Taliban or on the Russians."
Taking action, at the same time, would have sent the right message to friends and foes alike, as well as the country itself, he explained. He said it was an opportunity to tell adversaries such subversive tactics would not be tolerated, to tell allies that the U.S. would take appropriate action to defend its foreign policy and military goals and to tell citizens back home that the administration stood up abroad for its strategy.
Not doing so would have been "a strategic failure," Wise said. "Opportunities lost, you just never get back."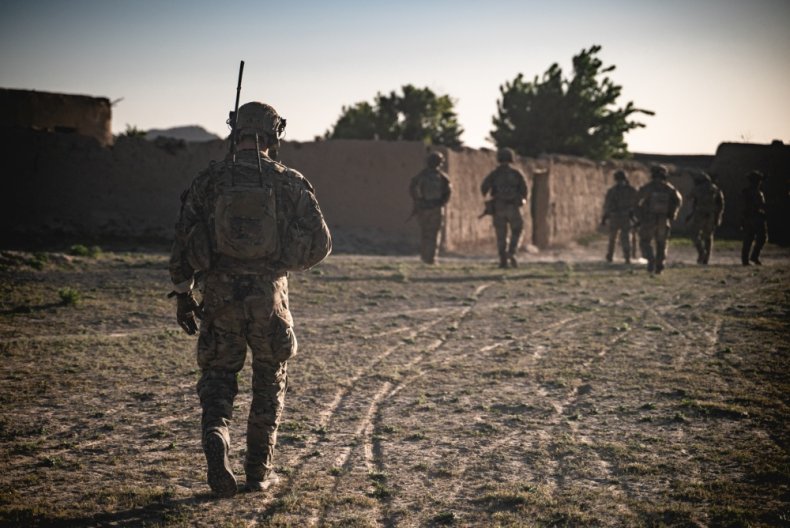 This article has been updated to include an excerpt from a congressionally-mandated Pentagon report regarding Russia's involvement in Afghanistan.