Russia Is a Peace-loving Country, Says Putin at Biggest War Game in 30 Years
Russian President Vladimir Putin has hailed his country as a peaceful one, refuting the idea it could ever be aggressive. He did this while standing next to a 300,000-strong military drill—the nation's largest since the Cold War.
The Russian leader visited the country's Vostok-2018 war game by the Chinese border, drafting in 1,000 aircraft, around 36,000 tanks and armored vehicles and an additional 80 vessels sailing nearby. Despite concern abroad regarding the drill's stated purpose, which is to accustom Russian commanders to making big deployments at great distances, Putin has dismissed the idea his country is aggressive.
"Russia is a peace-loving country," Putin said, according to the Interfax news agency. "We do not and could not possibly have aggressive plans. Our foreign policy is directed at creating cooperation with all countries that are interested in this."
Speaking to Russia's soldiers directly, Putin said that their responsibilities were twofold. "Our duty to Russia… is to be ready to defend the sovereignty, security and national interests of our country [and], if it comes to it, also to support our allies."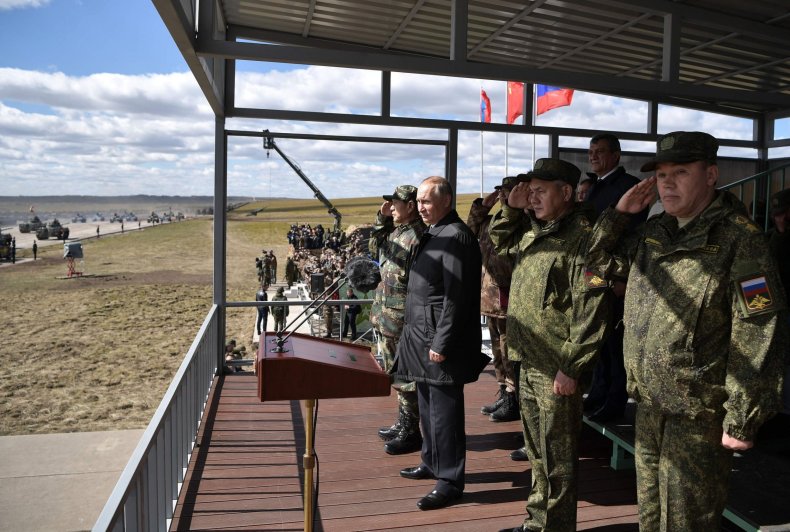 Russian forces are currently involved in two conflicts overseas, bombing anti-government rebels in Syria and, inversely, supporting anti-government forces in neighboring Ukraine, after the former Soviet country doubled down on seeking membership to the European Union. Russian forces also took part in annexing Crimea from Ukraine in 2014, shortly before launching the insurgency in the country's east.
More than 3,000 troops from nearby China have joined the drill, as have military personnel from Mongolia. The Kremlin has denied Vostok's intention is to be disruptive to western countries, especially as it takes place in the Russian far east, however wavering U.S. and NATO ally Turkey has said it received an invitation to participate in the drill.
See More: Putin blindsides Japan's Abe with good-faith peace offer, offering no concessions
Russia and China's militaries most recently linked forces for Moscow's International Army Games, where 30 other countries joined them in using military training to create spectator competitions such as a tank biathlon and a field kitchen cook-off.
Putin and Chinese President Xi Jinping have tried to portray their countries as growing closer, especially following the fallout between the West and the Kremlin over Ukraine and China's increasingly panned militarization of the South China Sea. The two appeared at a forum in Vladivostok, near the area of Vostok, earlier this week, where they made pancakes together.