Russia Charges Its Own Soldiers With 'Discrediting' the Army
Russia has charged two of its own servicemen with "discrediting" the country's armed forces, according to a human rights lawyer.
The two soldiers—Ilya Karpenko and Valery Kotovich—are the first within Russia's army to be charged under a stringent new law that cracks down on dissent over the war against Ukraine, according to Pavel Chikov, chairman of the human rights association Agora Legal Group.
Russia's parliament passed legislation in March imposing jail terms of up to 15 years for intentionally spreading "fake" news about Russia's army. The Kremlin has used the law to crack down on those who veer away from Putin's narrative of the war.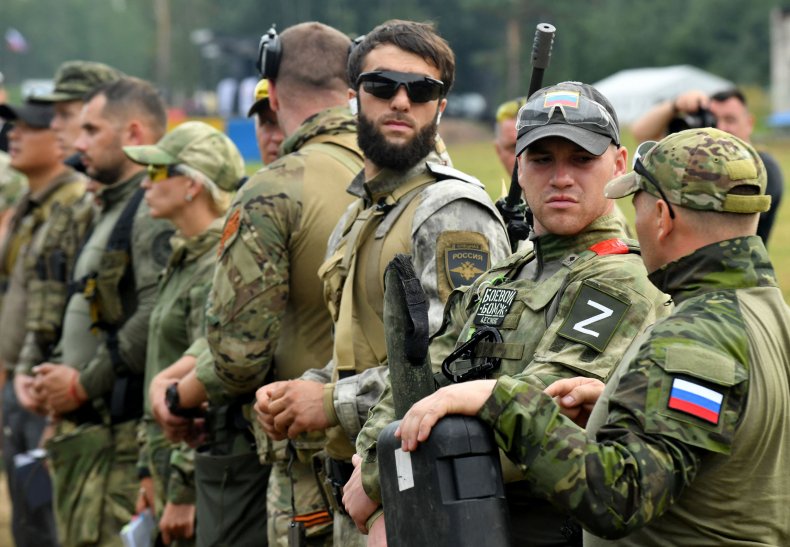 In a post on his Telegram account, Chikov, a human rights lawyer, announced that the pair had been charged under Article 207.3 of the Criminal Code. He also noted that more than 100 criminal cases related to "false information" had been opened so far.
Article 207.3 states that "public dissemination of deliberately false information about the use of the armed forces of the Russian Federation" is punishable by fines and jail terms of up to three, five, 10 or 15 years.
In March, Russia also introduced Article 280.3, which states that "public actions aimed at discrediting the use of the armed forces of the Russian Federation" are punishable by fines and jail terms of either three years, or five years, depending on how damaging the offence committed is.
The lawyer didn't elaborate on the specific details of why Karpenko, from the city of Petropavlovsk-Kamchatsky, and Kotovich, from Rostov-on-Don, were charged with "discrediting" the armed forces of the Russian Federation, but said their criminal cases are being considered by garrison military courts.
Kotovich was taken into custody, Chikov said.
The lawyer noted that so far that more than half of the defendants—57 people—have been charged under part 2 of Article 207.3, which is classified as serious and is punishable by a prison sentence of five to 10 years.
A further 24 have been charged with part 1 of Article 207.3, he said.
The human rights lawyer also noted that that 32 defendants aren't in Russia, another 28 people are in custody, six have had certain bans placed on them, and three are under house arrest.
On July 8, Moscow municipal deputy Alexei Gorinov became the first person to receive a long-term sentence under the law. Gorinov, a deputy at Moscow's Krasnoselsky district council and a lawyer, was sentenced by a court in Russia's capital to seven years in a penal colony.
Last week, he spoke up in an open letter from FSIN Russia, a pre-trial detention center in Moscow, about his worsening health.
"I have been sick for three weeks. I have a continuous cough that does not allow me to breathe freely, sleep, eat. I don't get any medical help. My condition is deteriorating. Please help," Gorinov, 60, said in his appeal, according to his lawyer, Katerina Tertukhina.
Gorinov was arrested on April 27 for spreading "knowingly false information" about Russia's army during a session of the local assembly in Krasnoselsky.
In April, he publicly opposed the council's plans to hold a children's art competition and a dancing festival in the local area amid the war in Ukraine, where he said "children were dying."
Gorinov's sentence was criticized in July by human rights group Amnesty International.
Newsweek has contacted Russia's foreign ministry for comment.