Is Sergei Skripal Another Alexander Litvinenko? Mysterious Russian Spy Poisoning Grips U.K.
Updated | The Kremlin said it is ready to cooperate with the British authorities after a former Russian spy and his daughter were found critically ill on a park bench following exposure to an "unknown substance," in a chilling echo of the Alexander Litvinenko's murder in 2006.
Meanwhile, the U.K. Foreign Secretary Boris Johnson gave a clear warning to Russia that if Moscow is behind this latest suspected poisoning, Britain "will take whatever measures we deem necessary" to punish those responsible. And counterterrorism police in the UK are now leading the investigation because they handle cases where national security is a concern.
Sergei Skripal, 66, and Yulia Skripal, 33, were rushed to hospital after being found unconscious on a bench in a shopping centre in Salisbury, U.K., on Sunday March 4. Police were alerted by a call from a concerned member of the public who spotted the pair. One eyewitness said it looked like they had "been taking something quite strong."
Results from toxicology tests are not expected any time soon, a spokeswoman for Wiltshire Police told Newsweek, adding that there were currently no plans to release any information.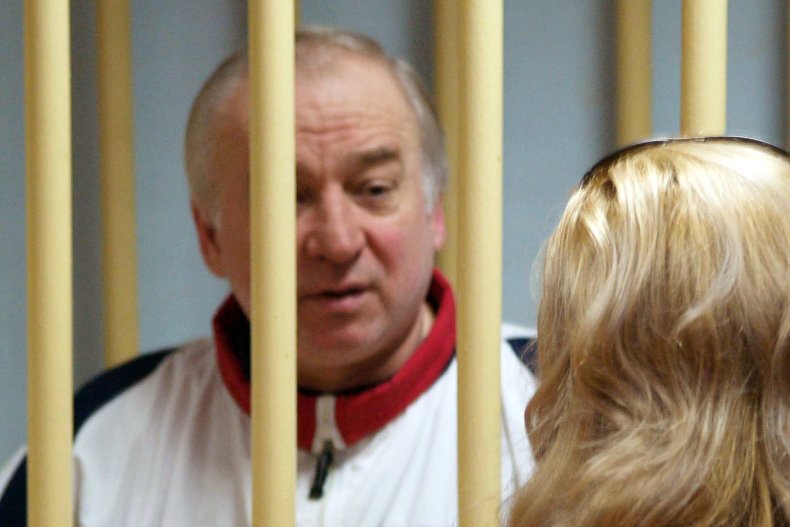 The BBC reported that Skripal's 43-year-old son died in St Petersburg while on holiday in 2016 with his girlfriend. He had been admitted to hospital with liver failure. Skripal is also recently widowed and lost his older brother. All three deaths occurred within the past two years.
Skripal is a former colonel in Russian military intelligence convicted of spying for the British.
At hospital, health professionals determined Skripal and his daughter had been poisoned and declared a "major incident".
Dimitry Peskov, Russian President Vladimir Putin's spokesman, said there has been no request for help by the British but that "Moscow is always ready to cooperate," AP reported, as it faces suspicions of involvement amid the dearth of information about what happened to Skripal. Peskov called Skripal's poisoning "tragic."
Skripal was prosecuted by Russian authorities in 2006 and convicted of espionage. He allegedly passed secrets to British intelligence during the 1990s and 2000s, in particular the identities of Russian agents.
He received a 13 year sentence but was pardoned and released under a 2010 spy-swap deal between the U.S. and Russia. One of the spies returned to Russia in the exchange was Anna Chapman.
Skripal settled in Salisbury, Wiltshire, in the UK where he has lived eer since, keeping a low-profile.
U.K. Foreign Secretary Boris Johnson noted in the British parliament the similarity to the Litvinenko affair. Answering an urgent question put to him by an MP about the Salisbury incident, Johnson said it is "too early to speculate as to the precise nature of the crime or attempted crime that has taken place".
He continued: "But I know members will have their suspicions. And what I will say to the House is that if those suspicions prove to be well-founded then this government will take whatever measures we deem necessary to protect the lives of the people in this country, our values, and our freedoms.
"And though I am not now pointing fingers, because we cannot... point fingers, I say to governments around the world that no attempt to take innocent life on UK soil will go either unsanctioned or unpunished.
"It may be that this country will continue to pay a price for our continued principle in standing up to Russia."
After the Skripal pair were found, government experts in chemical hazards and radiation were called in to Salisbury and areas of the city are cordoned off, including a local restaurant called Zizzi where the pair are thought to have dined and the nearby Bishop's Mill Pub, as police and specialists investigate.
Public Health England, the government agency responsible for protecting citizens from health hazards, said based on the evidence so far there doesn't appear to be any immediate risk to the public.
Wiltshire Police confirmed "that a small number of emergency services personnel were assessed immediately after the incident and all but one have been released from hospital."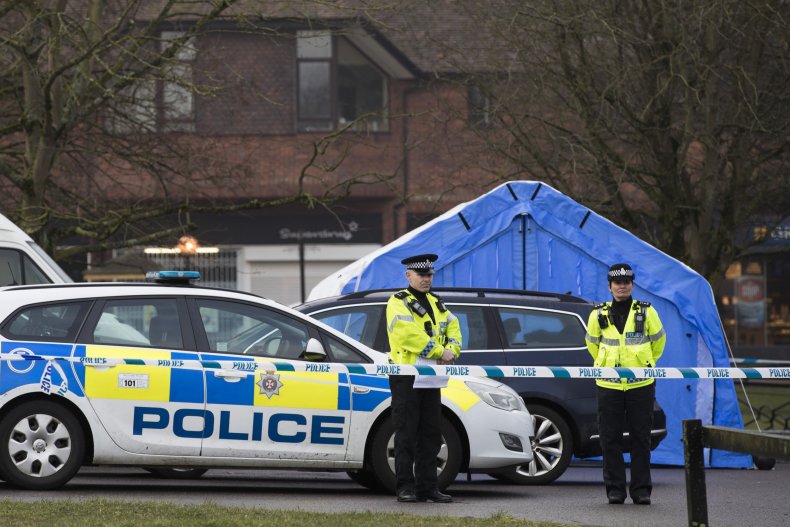 Some media reports suggested the substance may be fentanyl, a deadly opiate 50 times stronger than heroin increasingly popular among drug addicts, though Newsweek was unable to verify whether this is a line of inquiry.
"On the bench there was a couple, an older guy and a younger girl. She was sort of leant in on him, it looked like she had passed out maybe," Freya Church, an eyewitness, told the BBC.
"He was doing some strange hand movements, looking up to the sky.
"I felt anxious. I felt like I should step in. But to be honest, they looked so out of it that I thought even if I did step in, I wasn't sure how I could help. So yeah, I just left them. But it looked like they'd been taking something quite strong."
A spokesman for Salisbury District Hospital, where Skripal and his daughter are both fighting for their lives in intensive care, directed Newsweek to Wiltshire Police. Though the incident has not been catagorized as terror-related, counterterrorism police based in London are taking over the investigation.
"This investigation is at the early stages and any speculation is unhelpful at this time," Assistant Commissioner Mark Rowley, the head of Counter Terrorism Policing in the UK, said.
"The focus at this time is to establish what has caused these people to become critically ill. We would like to reassure members of the public that this incident is being taken extremely seriously and we currently do not believe there is any risk to the wider public."
A 2017 investigation by BuzzFeed claimed 14 deaths on British soil have been linked by U.S. spy agencies to Russia.
Details about the Skirpal incident are sketchy and there is much that remains unknown or unconfirmed. But some are already likening it to the murder of Alexander Litvinenko, a former intelligence officer for the FSB, who was poisoned with polonium-210, a radioactive substance.
Litvinenko, who lived in London, where he was killed in 2006, was an outspoken critic of the Kremlin and Putin. He was also paid by MI6 and was investigating the Russian mafia.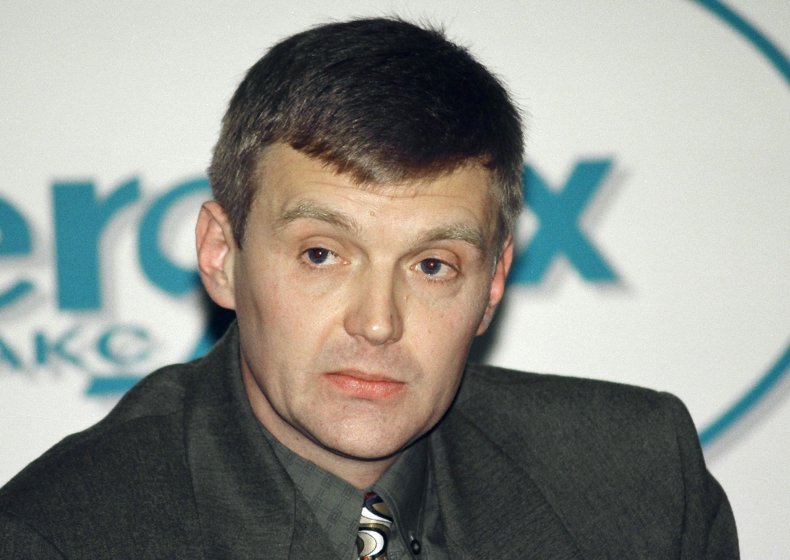 After an investigation by British authorities, they accused Andrei Lugovoi, a politician in the Russian parliament, of carrying out the assassination during a meeting with Litvinenko by allegedly poisoning his tea. Putin was accused of ordering the hit. Lugovoi denies the accusation.
Litvinenko's widow Marina Litvinenko told The Daily Telegraph that the Skripal incident "looks similar to what happened to my husband but we need more information. We need to know the substance. Was it radioactive?"
The timing of Skripal's illness is also triggering speculation online about a potential connection to the infamous Steele Dossier on Trump and Russia.
Christopher Steele, the 53-year-old former British spy who authored the dossier, is the subject of a lengthy New Yorker profile published on March 5 and being shared widely across the internet.
Steele was a spy under diplomatic cover at the British Embassy in Moscow during the 1990s as the Soviet Union collapsed and fragmented.
He later returned to MI6—the British equivalent of the CIA for which he worked—in London to run its Russia desk from 2006 to 2009 before leaving to set up his own commercial investigative agency Orbis Business Intelligence.
Orbis produced the notorious Trump dossier after being commissioned by lawyers working on behalf of the Clinton campaign.
At the same time Steele was working as a spy in Russia, and at the beginning of his time running the Russia desk at MI6, Skripal was allegedly passing secrets to British intelligence—raising the possibility that the two men knew each other.
The New Yorker profile of Steele noted: "Steele feared that, for some of his Russian sources, exposure would be a death sentence."
This article was updated to include the most recent news of the police investigaton that counterterrorism officers are taking over.