Russian State TV Mocks Biden Over Oil Profits: 'Maybe He's Really Our Guy'
Russia is hitting back at the United States and President Joe Biden's administration, with panelists on state TV saying that the "Putin price hike" is actually "Biden's budget surplus."
In a video posted on Twitter by the BBC's Francis Scarr, a commentator on Russian state TV said, "Biden is of course our agent," and that "maybe he's really our guy."
"Because in principle what Biden's done didn't even occur to any American president before him," the commentator said. "That's to say the sanctions imposed by Biden have led to our budget receiving record revenues. That's to say, on account of Putin grabbing Europe with an iron fist, our oil revenues have grown so much that now, in the grand scheme of things, each day of the special military operation is bringing us money."
Since the beginning of Russia's invasion of Ukraine on February 24, Western partners in the G7 and European Union have implemented a variety of sanctions, but Russia's top envoy to the U.S. has warned that the sweeping sanctions campaign pursued by President Joe Biden and his allies has backfired, instead hurting the U.S.' economy.
"The thoughtless imposition of restrictions only aggravates the situation in the U.S. economy. Thus it turns out that in an anti-Russian fever, Washington is ready to shoot itself in the leg and dance simultaneously," Ambassador Anatoly Antonov said. "It looks absurd."
Meanwhile, Russia has reportedly seen mammoth oil-based revenues as gasoline prices in the U.S., while recently showing some slight decreases, continue to hover at about $5 per gallon nationally and inflation remains at a 40-year high.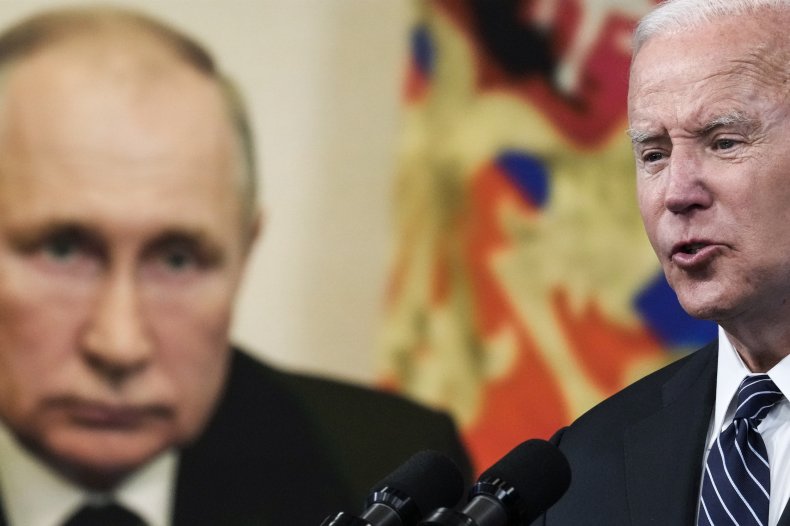 A report from the Centre for Research on Energy and Clean Air, an independent research organization located in Finland, showed that Putin made more money from oil exports during the war's first 100 days than his country actually spent fighting in Ukraine. The report showed that Russia made 93 billion euros—or about $97 billion—translating to about $1 billion daily in fossil fuel exports.
Biden's administration has continually blamed Putin and Russia for the economic turmoil in the U.S., though earlier this week Federal Reserve Chairman Jerome Powell, when questioned by a Republican lawmaker during a Senate hearing, said that U.S. inflation was "high" prior to Russia's invasion of Ukraine.
While the U.S. has banned all imports of Russian oil and gas, Russian state TV commentators have stated that sanctions could be lifted on wheat in a move to prevent global famine.
Newsweek reached out to the White House for comment.