Russia Wants a Piece of the North and South Korea Peace Action
Russia has put itself forward as a peace broker to repair North and South Korea's relationship after a historic announcement by the two countries of the intent to end the state of war between them.
North Korea's leader Kim Jong Un became the country's first leader to cross the militarised border with South Korea, where he joined South Korean President Moon Jae-in. The two spoke about holding new meetings, alongside the U.S, and also potentially China, but another neighbor of North Korea—Russia—has tried to insert itself into the conversation.
"We assess the agreements voiced in the Panmunjom Declaration on the results of the inter-Korean summit, positively," said a statement issued by Russia's Ministry of Foreign Affairs on Friday. "We are ready to facilitate the establishment of practical cooperation between the DPRK (North Korea) and the Republic of Korea, including through the development of tripartite cooperation in the railway, electricity, gas and other sectors."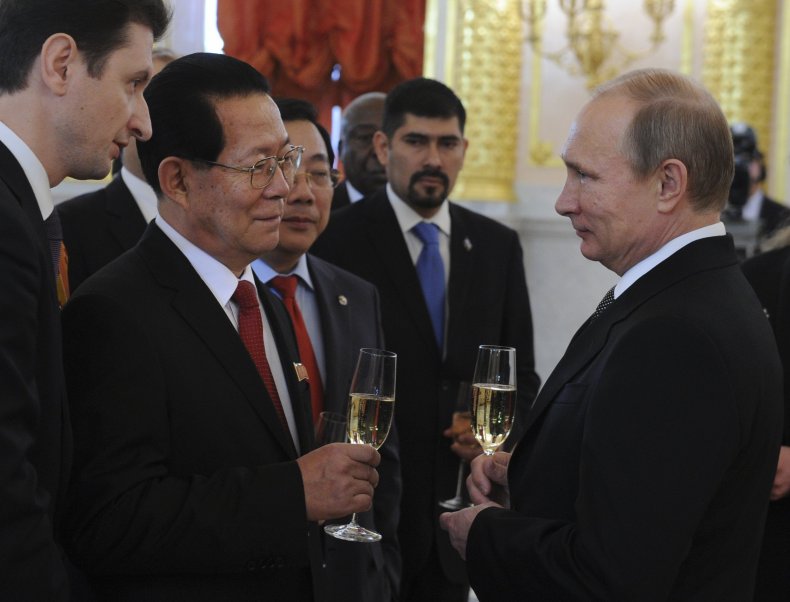 Russia shares a short border with North Korea and has become increasingly vocal about how the Korean conflict should be resolved, repeatedly blaming the U.S. in the process. While Moscow officially supports a China-led roadmap for peace, Russian officials have repeatedly tried to present a strong, unilateral relationship with Pyongyang.
Related: Russian military near North Korean border launches live-fire air drill
Russian President Vladimir Putin invited Kim to Moscow for Russia's Victory Day parade in 2015, in what would have been the dictator's first trip outside North Korea and an indirect snub to his country's closest ally—China. Russian lawmakers visited Pyongyang in a much-publicized trip last year and returned with assurances that North Korea rated Moscow's help highly.
"They understand perfectly well that without Russia, the resolution of the conflict around the Korean peninsula will not happen," Russian lawmaker Kazbek Taysayev said after returning. "The only state which, in my opinion, Pyongyang still trusts is our country."
What role, if any, Russia will play in any future peace talks with North Korea and South Korea is not clear. The appearance of influence and close ties with China may be what Moscow is concerned with, rather than single-handedly changing the situation on the ground, some experts have argued.
"Russia doesn't have that much skin in the game and has not that many tools to influence the situation," Alexander Gabuev, chair of Russia in the Asia-Pacific Program at the Carnegie Moscow Center told Newsweek last year. "The Kremlin is comfortable following China's lead on North Korea."