A Russian foreign minister claimed that the poisoning of Alexei Navalny may have been "staged" by the West, just as the anti-Kremlin activist was sentenced to two years and eight months in prison on Tuesday.
Navalny, an anti-corruption opposition leader and critic of President Vladmir Putin, accused the government of poisoning him with a chemical nerve agent after he collapsed on a flight over Siberia in August.
Navalny was taken to recover at a hospital in Germany, where officials concluded that he had been poisoned by a type of Novichok nerve agent known to be used by Russian agents. The Organization for the Prohibition of Chemical Weapons, along with laboratories in France and Sweden, have also assessed this to be true.
But Russian Foreign Minister Sergei Lavrov said Tuesday that the government has not received any evidence from Germany to support this claim.
"We have not received any investigation results [from Germany] that would give real grounds for accusations toward Russian government officials," Lavrov said, according to a report from The Moscow Times.
"If you are accusing us then you have to prove us guilty," Lavrov said. "If you are saying 'I won't say anything to you because it is top-secret information,' or because the patient himself does not allow you [to share investigation results], then we have all grounds to suspect that it was staged," he added.
However, Germany's justice ministry said it responded to Moscow's request for assistance in its investigation into Navalny's poisoning in January.
A number of Western leaders, including President Joe Biden, have also backed Navalny's claims that the government poisoned him.
"This outrageous and brazen attempt on Mr. Navalny's life is just the latest incident in a long history of murder and poisoning of dissidents, investigative journalists, anti-corruption activists, and opposition leaders under the Putin regime," Biden said in September.
Lavrov's comments come as Navalny was sentenced to serve over two years in a penal colony on Tuesday after he was arrested on January 17 for alleged parole violations.
Prosecutors convinced the court that Navalny had violated parole on a suspended sentence from a 2014 embezzlement case—a charge Navalny claims was trumped up and meant to silence him.
His arrest has sparked thousands of protesters to take to the streets across more than 100 Russian cities over last two weekends to demand his freedom.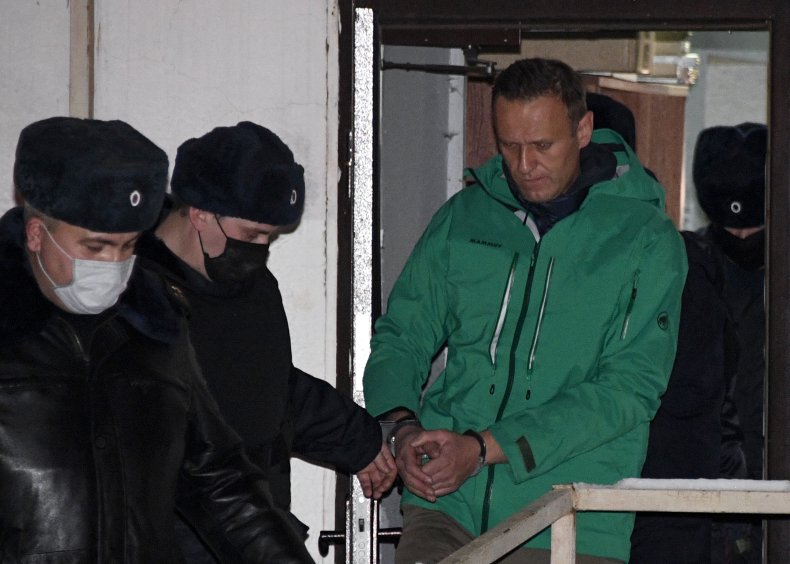 During Tuesday's hearing, Navalny said that the ruling was meant to "scare millions" by putting him behind bars.
"It's easy to lock me up. The main thing in this process is to intimidate a huge number of people. This is how it works. They are putting one person behind bars to scare millions," he said.
However, Navalny also added that the government wouldn't be able to silence the voices of "hundreds of thousands."
"Hundreds of thousands cannot be locked up," Navalny added during the hearing. "I really hope that more and more people will recognize this. And when they recognize this—and that moment will come—all of this will fall apart, because you cannot lock up the whole country," he added.
Navalny's lawyers have since said they would appeal the court decision to the Committee of Ministers of the Council of Europe, The Moscow Times reported.
Newsweek reached out to the Russian Ministry of Foreign Affairs and the White House for additional comment.