Russian Hospitals 'Simplified' Combat Injuries to Send Soldiers Back to War
Russian hospitals have "simplified" injuries among wounded troops so they can return to combat quicker as the Kremlin is struggling to recruit new soldiers, according to Ukrainian officials on Monday.
Russian President Vladimir Putin launched his invasion of Ukraine on February 24. Despite the large size of Putin's military, it has suffered significant losses due to Ukraine's strong defense, alongside military aid from allies such as the United States. Moscow has largely failed to achieve any of its major goals, with Ukraine over the weekend saying they took back more than 1,000 miles of formerly occupied territory.
Russian military leaders have struggled to recruit and maintain experienced forces. Throughout the conflict, Russia's military has been described as lacking training, as some new recruits have allegedly been rushed to the frontlines, and suffering from low morale—forcing Russia to turn to creative ways to convince volunteers to fight and stay in the war.
In an update on Monday, the General Staff of the Armed Forces of Ukraine wrote on Facebook that Russia has suspended sending new military units to Ukraine amid these losses because "distrust" for Russian commanders has prompted some of their volunteer troops to abandon their combat service.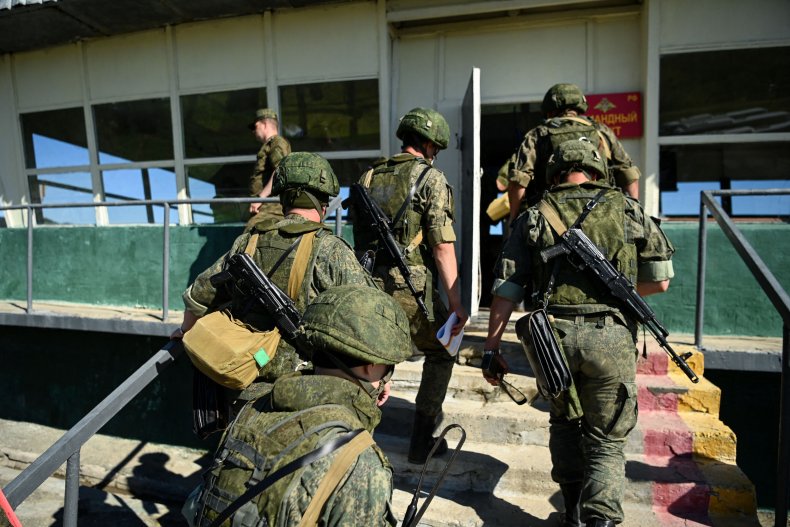 Ukraine said many of these troops are basing their decisions on the high number of Russian troops that have been allegedly killed in the war. Ukraine said Monday that 52,950 Russian troops have been killed so far. Meanwhile, the Kremlin last provided an update on its death toll on March 25, when it said 1,351 Russian soldiers had been killed. Some Russian media outlets have claimed 5,000 troop losses.
In early August, the Pentagon estimated that as many as 80,000 Russian troops have been injured or killed in Ukraine since the beginning of the war.
This is the highest number provided by American experts so far, as in late July CIA Director William Burns had put the U.S. intelligence estimate "in the vicinity of 15,000 killed and maybe three times that wounded."
The personnel situation is "getting worse" because of Russia's "general attitude" toward their wounded soldiers, Ukraine's General Staff said on Monday. "In particular, in Russian hospitals, the diagnoses and nature of combat injuries are deliberately simplified, no time is given for rehabilitation to return soldiers to the combat zone faster."
This isn't the first time Ukraine has said Russian troops may be injured while fighting. Last Monday, the General Staff said Russia was recruiting sick and injured soldiers from hospitals to replace lost troops.
"So, recently, representatives of the Russian occupation army began to arrive at local hospitals in the city and forcefully 'discharge' patients," the General Staff said. "Men of military age with various diseases or injuries, including those wounded during hostilities who are undergoing treatment, fall under such an extract."
Ukraine's assessment comes as they are making significant gains by conducting counteroffensive efforts in Kherson, a southern city that serves as the gateway to Russia-occupied Crimea, and areas around Kharkiv, the second largest city in Ukraine. The progress renewed Ukrainian optimism about their ability to win the war, while the Russian losses are adding pressure to Putin, who is facing criticism at home over his invasion.
Newsweek reached out to the Russian Ministry of Defense for comment.