Russian Oligarchs Avoiding Putin's Business Speech Like the Plague—Report
Some Russian oligarchs are worried that attending Vladimir Putin's annual St. Petersburg International Economic Forum will make them targets for Western sanctions amid the ongoing Ukraine war, according to a report.
The St. Petersburg International Economic Forum (SPIEF), set to take place from June 15 to June 18 this year, is a business event that has been held since 1997. According to Russia's state-run media agency Tass, Roscongress Foundation, the forum's organizer, said it expects representatives from more than 90 countries to participate this year.
According to a report from Bloomberg, this year, many Russian oligarchs and business leaders intend to keep a low profile, in the hopes that they will avoid being hit by Western sanctions that were first rolled out in response to Russian President Putin's invasion of neighboring Ukraine.
According to the publication, three unnamed people familiar with the situation said that some have requested that SPIEF's organizers remove their names from their badges so they can't be identified, while at least two others say they will leave the event early to miss the Russian leader's speech.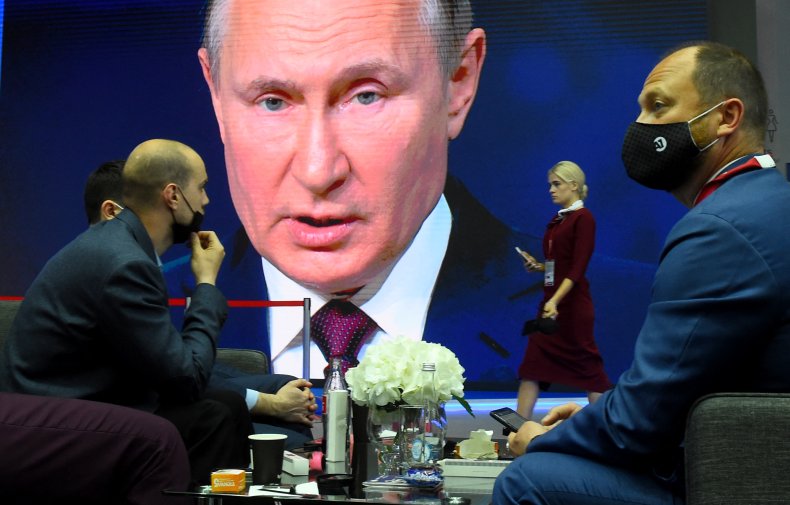 The four-day event will see the discussion of Russia-Global economic and trade development and investment policies. According to Tass, Putin will, as per tradition, attend the SPIEF 2022 plenary session on June 17.
The plenary session will be moderated by Margarita Simonyan, the editor-in-chief of the state-run RT broadcaster and Rossiya Segodnya media group.
Roscongress says that more than 2,700 business representatives, including over 1,000 heads of companies, had confirmed their participation in the forum by June 1, and representatives of all regions in Russia have confirmed their in-person participation.
Newsweek has been unable to independently verify Bloomberg's report and has reached out to the Roscongress Foundation for comment.
Many Western countries have issued widespread sanctions on Russian oligarchs as part of measures to pressure the Russian president over the ongoing war, which began on February 24.
Some Russian oligarchs, including Oleg Tinkov, Roman Abramovich, Oleg Deripaska and Mikhail Fridman have spoken out against the war.
Fridman, one of Russia's richest men and the chairman of the conglomerate Alfa Group, became one of the first Russian oligarchs to land on the EU sanctions list on February 28, alongside his longtime business partner, Pyotr Aven, who the EU described as one of Putin's "closest oligarchs."
Fridman had his luxurious Saint-Tropez villa frozen by French authorities on May 3 due to sanctions, Radio Free Liberty's Ukrainian service first reported. He has been described as a "top Russian financier and enabler of [Russian President Vladimir] Putin's inner circle."