Russian State TV Host Suggests Total Victory in Ukraine Not Possible
A Russian state TV host has said the help that Kyiv is getting from the west would stop Moscow from achieving a "total victory" in the war in Ukraine.
The comments during a segment of the program Myesta Vstrechi (The Meeting Place) came as panelists openly discussed killing Russia's opponents and Moscow conducting terrorist acts against Americans as Ukraine mounts a counteroffensive against Russian forces in the Kherson region.
Washington has committed more than $9 billion in military aid to Ukraine since the start of Vladimir Putin's full-scale invasion on February 24, with U.S-supplied High Mobility Artillery Rocket Systems (HIMARS) striking Russian command centers and ammunition depots.
But panelists of the show on NTV, which is one of the main state channels, said that Washington was controlling the Ukrainian military operation as well.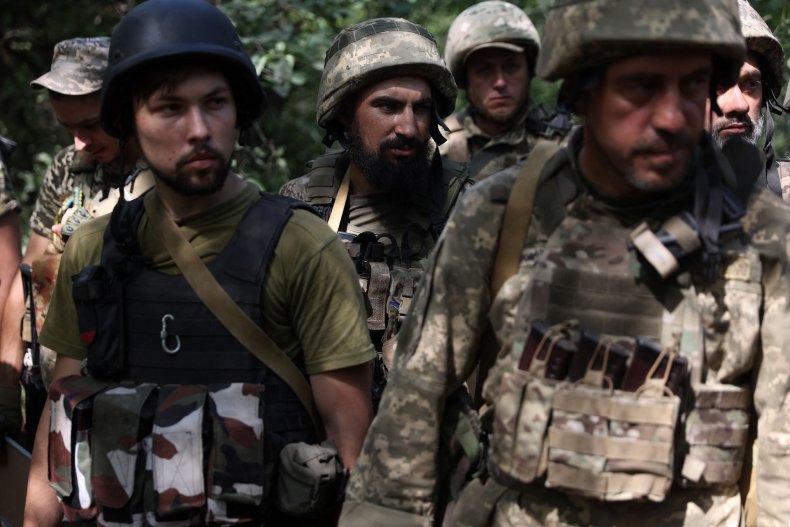 Host Andrey Norkin asked the experts if Russia should counter with extraterritorial actions outside of Ukraine. He invoked Soviet intelligence officer Pavel Sudoplatov who carried out assassinations and sabotage actions in Western countries, such as the 1940 killing of the dissident Leon Trotsky in Mexico.
Co-host Ivan Trushkin asked what would happen if his "fantasy" that a Pentagon official dealing with Ukraine "chokes on a cherry pit" came true and whether that would stop "subversive activities on our territory." Norkin cited a CNN report as proof that all the actions in Ukraine are being "directed only by Washington."
State Duma member Alexander Kazakov raised the possibility of running over Natalia Vovk, who Moscow has blamed for the killing of Darya Dugina, the daughter of Alexander Dugin, often credited with shaping Russia's approach to Ukraine.
But he said instead of "colorful revenge" what was required was "systemic work" including "the literal filtration of the population."
Trushkin said that Ukraine's war effort was being done "either by U.S. approval or even coordinated by someone there."
"As long as there are outside powers willing to send people, give them weapons, fill their heads with radical information, it seems to me that unfortunately, we will be unable to attain a total victory," he added.
Kazakov then asked "how effective would it be" if five SBU [Security Service of Ukraine] colonels and one CIA colonel "were to perish by any means—ran over by a car, fell out of a window, got shot, died in an explosion—in America, Europe or elsewhere."
But political scientist Igor Shishkin said: "It has to come back to bite them and doesn't have to be limited to some Colonel falling out of the window."
On Wednesday, Ravil Maganov, 67, who was the chairman of the Russian oil giant Lukoil, died after reportedly falling from the sixth floor of the Central Clinical Hospital in Moscow. He had criticized the war in Ukraine and became the latest Russian business executive to die in unusual circumstances this year.
Shishkin continued: "Americans have plenty of agencies and bases, located in hot spots, where something could fly over to that base and cause several dozen or hundreds of coffins to go back to the United States. If they start getting caskets, draped in stars and stripes flags, after every terrorist act they've authorized, it will finally force them to think."
The clip was tweeted by Daily Beast journalist and Russia watcher Julia Davis, who wrote, "Putin's propagandists on state TV casually discuss terrorist acts against Americans and murdering liberal opposition, all of whom they suspect of working with Western intelligence agencies."
When contacted for comment, a Pentagon spokesperson referred Newsweek to Wednesday's statement by Pentagon press secretary Pat Ryder that while there is "routine military-to-military dialogue with Ukraine...ultimately it is the Ukrainians that are making the final decisions when it comes to operations."
Update 9/2/22, 11:40 a.m. ET: This article has been updated with a response from the Pentagon.