Russian Troops Demand Ukrainians Pay Them Bribes to Flee Occupied Area
Russian troops are demanding monetary bribes from Ukrainian citizens who are attempting to flee the occupied southeastern city of Melitopol, according to a Ukrainian military administration.
The Zaporizhzhia Oblast Military Administration wrote in a message on Telegram that Russian troops are forcing civilians to pay 3,000 to 5,000 hryvnias ($100-$170) to leave the occupied territory.
The Zaporizhzhia region, which encompasses Melitopol, has largely been occupied by Russian forces since troops began focusing efforts on capturing Ukraine's southern and eastern territories.
"The Russians are trying to profit from armed pressure on Melitopol civilians. Russian soldiers at checkpoints are demanding that Melitopol residents who are trying to leave the city pay them between 3,000 and 5,000 hryvnias," the military administration wrote on Telegram, according to an English translation by the newspaper Ukrainska Pravda.

"Those who do not have the money are fated to remain the terrorists' hostages amid unemployment, shortages, and terror," it added.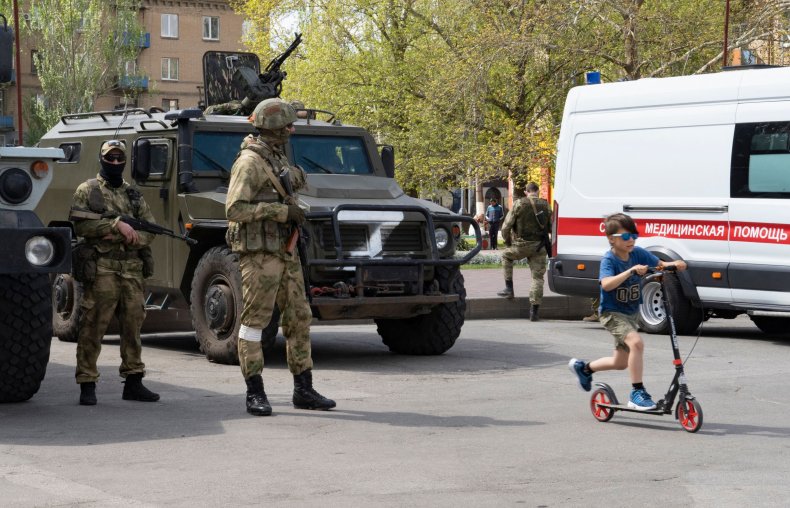 The media outlet also noted that in the nearby city of Enerhodar, Russian troops have stopped hundreds of Ukrainian cars from passing through checkpoints to leave the area. The Zaporizhzhia Oblast Military Administration said that some cars are only able to pass through after paying a 20,000-40,000 hryvnia bribe ($680 - $1360) to Russian occupiers, Ukrainska Pravda reported.
The latest report comes as the Russian invasion of Ukraine reached its third month on Tuesday. Ever since Russian President Vladimir Putin first ordered troops to invade the country on February 24, Russia's forces have faced heavy losses and had few military successes.
At the beginning of the war, Russia was met with fierce opposition from Ukrainian forces and failed to capture the capital city of Kyiv. Russian troops have since refocused their efforts around the eastern Donbas region, but have nonetheless faced significant losses and military deaths. Ukrainian officials estimate that over 20,000 Russian troops have died, while at least a dozen of the nation's top military generals have also been slain, Newsweek previously reported.
Pentagon Press Secretary John Kirby said Friday that the Russians "are still well behind where we believe they wanted to be when they started this revitalized effort in the eastern part of the country," while noting that small towns and villages are constantly changing hands in the region, the Associated Press reported.
The Russian military has also been suffering from a shortage of troops and low morale among fighters. In some areas across Russia, the military is reportedly offering soldiers significant pay increases in order to sign on for short-term military contracts.
"There are good reasons for low morale on the Russian side. The war isn't going well. Its purpose is unclear, and fighting a war against a neighbor—with whom it's easy to communicate—is psychologically burdensome to soldiers," Michael Kimmage, a Catholic University history professor and former member of the secretary's policy planning staff at the State Department, previously told Newsweek.
In Ukraine, the war has caused significant destruction across much of the country's infrastructure and has displaced over 8 million people. On Monday, Ukrainian prosecutors said Russia has so far killed at least 4,600 civilians, including 232 children, Pravda reported—though the real numbers are estimated to be even higher.