Russian State TV Host Says 'All Our Hope' Placed in 'Beloved' Donald Trump
Russian state television hosts and commentators have commended Donald Trump—heralding him as "beloved" and referring to him as "our candidate"—just days after the former president publicly praised Vladimir Putin.
The footage was collated and posted online with English translations by Daily Beast columnist Julia Davis, who created the Russian Media Monitor watchdog. Her Twitter bio, which says she has been hit by sanctions from Russia, ends with the words: "I watch Russian state TV, so you don't have to."
Davis uploaded the clips to Twitter late on Monday night. Her caption read: "Meanwhile in Russia: watch these highlights from today's state TV shows. The Kremlin's pet propagandists hate America, love Trump, find him 'incredible,' say they place all of their hope in him and Russia should continue to support 'its candidate.'"
The footage begins with a clip of Trump addressing crowds being shown and then cuts to state TV host Evgeny Popov, who says: "Trump is an incredible guy." After another cut, a panel discussion is shown in which Moscow State University Professor Vitaly Tretyakov said: "I believe there is no real need for us here to rip the masks off European politicians and American ones, to a certain extent—except for our beloved Trump, in whom we place all of our hope that he might sober up America." There is another cut in the footage and state TV host Olgra Skabeeva says, apparently referring to Trump: "As always, our candidate doesn't let us down. We need to support him."
The enthusiastic support for the former American president came after he praised Russian leader Vladimir Putin and Chinese President Xi Jinping during a rally in Wilkes-Barre, Pennsylvania, on Saturday.
He told the cheering crowd: "I got to know a lot of the foreign leaders and unlike our leader, they're at the top of their game. These are like central casting... nobody [in Hollywood] could play the role of President Xi of China...He's a fierce person. Putin: fierce. They're smart." He went on to apparently praise the Authoritarian regime in China, by adding: "[Xi] rules with an iron fist 1.5 billion people, yeah I'd say he's smart."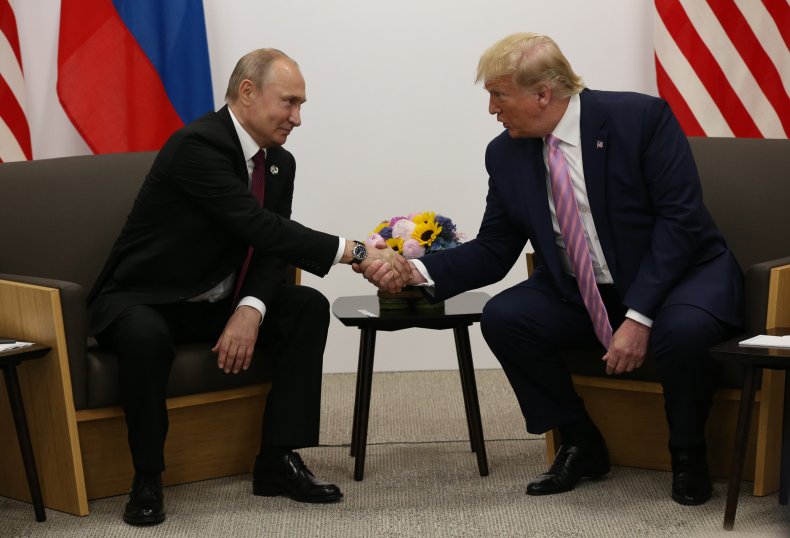 It's not the first time Trump has revealed his admiration for Putin. He has previously heaped praise on the Russian president, who invaded Ukraine in February sparking a bloody conflict resulting in thousands of deaths, and has seen his country hit by a range of punitive sanctions by the west.
Speaking in February, Trump described Putin as "very smart" for how he had played the lead-up to the invasion, saying his strategy was "genius." A month later, during an interview with Fox News host Sean Hannity, he declined to condemn Putin for his actions.
Trump had previously praised Putin and Xi during a rally back in 2020 during his presidential campaign against Joe Biden. He said: "One thing I've learned, President Xi of China's 100 percent. Putin of Russia, 100 percent. These people are sharp and they are smart. Joe has lost it, in his best day he wasn't a smart man, everybody knows that."
Television is the main news source for most Russians, according to a 2021 BBC report into Russian media, with the top national TV networks all state-run or owned by companies with close links to the Kremlin. The two leading stations—Channel 1 and Rossiya 1—are both under government control. Journalists who criticize Putin or denounce the war with Ukraine have been detained and prosecuted, including Marina Ovsyannikova, a Russian reporter for Channel 1 who made headlines worldwide when she held up a sign during a live broadcast slamming the war and denouncing her "lying" station's output as "propaganda."
Newsweek has reached out to Russia's Federal Agency for Press and Mass Media, which is responsible for managing the government's property in the field of mass media.