Ruth Bader Ginsburg's 'Cult of Personality' Doomed Roe v. Wade—Experts
The late Justice Ruth Bader Ginsburg's failure to retire from the Supreme Court may lead some of her admirers to reassess her legacy if the landmark abortion rights decision Roe v. Wade is overturned.
Political scientists who spoke to Newsweek about the leak of a draft Supreme Court majority opinion that would strike down the 1973 ruling suggested that a "cult of personality" around Ginsburg contributed to the current threat to Roe.
Ginsburg was an iconic figure who is still widely admired, particularly by progressives, but her decision not to retire from the nation's highest court has been criticized in the past. Her death in late 2020 enabled then President Donald Trump to nominate Amy Coney Barrett, a conservative to the Court.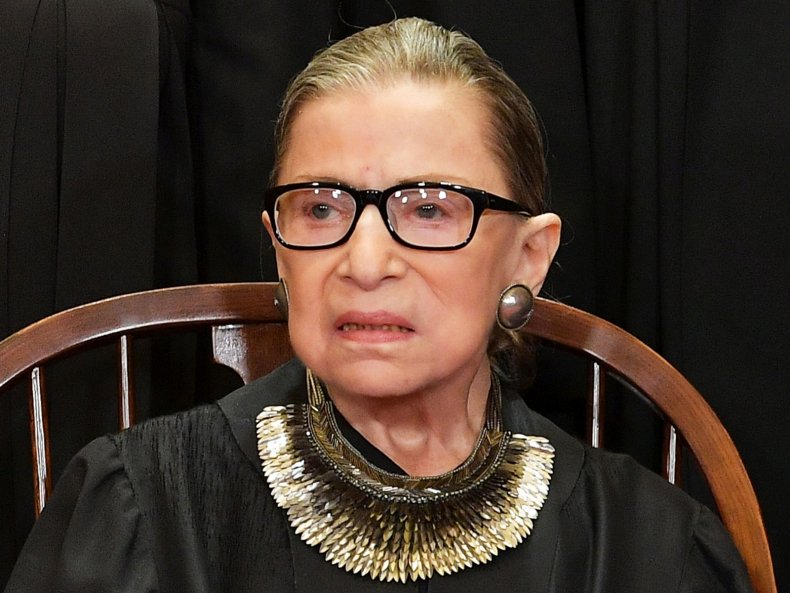 Ginsburg was appointed to the Court by then President Bill Clinton, a Democrat, in 1993 and was long considered the most prominent member of the liberal wing, becoming the subject of comedy sketches, memes and merchandise.
Politico reported on Monday that Barrett was one of the five justices who voted to overturn Roe in conference. She was joined by Justices Samuel Alito, Clarence Thomas, Neil Gorsuch and Brett Kavanaugh.
Before her appointment, the Court had a 5-4 conservative majority and Chief Justice John Roberts was considered the swing vote, joining the liberals in a number of important decisions.
Roberts' power has been diminished in the newly 6-3 conservative majority and Barrett's appointment could prove crucial in overturning Roe. It was also not clear how Roberts would vote, though the three liberal justices were reportedly preparing one or more dissenting opinions.
It is important to note that the draft opinion may not be the Court's final decision and justices have been known to change their votes during the process.
Cult of Personality
David A. Bateman, an associate professor of government at Cornell University, pointed out that Roe has not yet been overturned but told Newsweek that if it is overturned, it would represent, in part, "the failure of Ruth Bader Ginsburg to prepare for the consequences of her mortality."
He said it would also represent the failure of Democrats to win the 2016 presidential election. Bateman said these were normal failures and noted that just as Democrats can't win every election, "people don't like to get ready for their own demise."
"Something deeper must have gone wrong for the right to bodily autonomy—the right that for centuries has been recognized as foundational to the right of revolution—to be left to such normal failures," he said.
"Surely the cult of personality that progressives developed around Ginsburg—as though individual excellence, expertise, and achievement were any substitute for democratic power—didn't help," Bateman said.
He also pointed to the failure of progressives to "develop a sufficiently wide-based alternative to right-wing, Christian patriarchy movement-organizing in state legislatures, or to far-right elite legal movement that has captured the federal judiciary."
Who to Blame
Paul Quirk, a political scientist at the University of British Columbia in Canada, told Newsweek that those who admired Ginsburg could reassess their views if Roe is overturned.
"If the Supreme Court finally overturns Roe v. Wade, it will be one of the greatest policy disasters for the Democratic Party in many years. There will be bitter recriminations and heartfelt regrets," Quirk said.
Quirk said that some would blame President Joe Biden for not packing the Supreme Court but pointed to the difficulties of adding justices given the opposition in the evenly divided Senate.
"Who to blame, from a liberal or pro-choice perspective, could not be more obvious: The late Justice Ruth Bader Ginsburg," he went on.
"As an octogenarian cancer survivor during President Obama's second term, she rejected suggestions in 2014 and 2015 that she should retire to allow Obama to appoint her successor," Quirk said.
"Obama notably refrained from putting pressure on her to do so," he went on. "That Ginsburg's failure to retire would lead to the overturning of Roe, among other disasters from her own standpoint, was not entirely foreseeable. It was, however, fairly likely."
"The overturning of Roe, and more to come from the current Court, may lead liberals to revisit the adulation that was showered upon Ginsburg at the time of her death," Quirk said.
Polarization
John Owens, professor emeritus of United States government and politics at the Centre for the Study of Democracy at the University of Westminster in the U.K., told Newsweek that it was inevitable that the Supreme Court would eventually have a conservative majority.
"Some commentators have argued that if Ginsburg—and [former Justice Anthony] Kennedy—had been persuaded to retire earlier, the numbers on the Court would have been different," Owens said.
"But, given the extent of partisan polarization in the U.S. and contemporary combination of control of the White House switching between the parties and Senate majorities being narrow, the creation of a solid conservative majority on the Court was inevitable, and sooner rather than later," he said.
Owens also said he "can't see expanding the Court as a viable political remedy" and doubted "whether Biden will see political mileage in pushing for it."
Deeper Failure
Bateman said that the present situation went beyond the Supreme Court and pointed to "the deep, ever-present failure of the U.S. Constitution" and singled out "the structural and anti-democratic biases of federalism, the Senate and the Electoral College."
"These have given us a court far out of step with public opinion, only loosely tethered by law or precedent, whose understanding of rights is such that the most sacred, fundamental, and personal attributes of a person—their right to their bodies—are treated as scraps to be bargained away by empowered minorities against the settled majority opinion of the nation," he said.
Court Packing
Ginsburg's failure to retire may have been prompted by her desire to be succeeded by a like-minded justice on the nine-member Court. The Court's limited numbers and justices' life tenures may discourage retirement and one proposed solution is to increase the number of justices, often referred to as court packing.
Thomas Gift, founding director of University College London's Centre on U.S. Politics, told Newsweek that Democrats should be wary of pushing too hard if Roe is overturned.
"A real risk for Democrats right now is over-playing their hand," Gift said. "Many Americans may disagree with overturning Roe, but that doesn't mean they're four-square behind court packing, eliminating the filibuster, or other reforms popular with the far left."
Gift noted that most Americans have "nuanced views toward abortion—against the backdrop of a possibly monumental Supreme Court decision overturning decades of precedent."
"Democrats can use that fact to make inroads with voters heading into November," he said. "However, they risk a political backfire if the loudest, most strident voices in the progressive caucus drown out more tempered opinions within the party."